Biography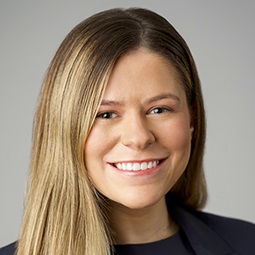 Gabriella Leonovicz is an associate in Weil's Capital Markets practice and is based in New York. Gabriella participates in advising issuers, underwriters and private equity sponsors in connection with public and private offerings of securities and other capital markets transactions. She has been involved in investment grade and high-yield debt offerings as well as primary and secondary equity offerings.
Gabriella has been part of the teams advising:
Advent International, as selling shareholder, in a $137 million secondary sale of 9.8 million shares of common stock of Sovos Brands, a company formed to acquire and build one-of-a-kind brands to establish a scale player in the consumer packaged goods (CPG) industry
Advent International and Batak LLC, as selling shareholders, in a $201.3 million secondary offering of shares of Sovos Brands
Citi and other financial institutions, as dealer managers, in a debt tender offer by Lear Corporation to purchase $200 million aggregate principal amount of its outstanding senior notes due 2027, financed by Lear's simultaneous $700 million offering of senior unsecured notes
Citi, HSBC and another financial institution, as representatives of the underwriters, in a $700 million senior unsecured notes offering by Lear Corporation to refinance existing indebtedness and for general corporate purposes, including to finance Lear's acquisition of Kongsberg Automotive's Interior Comfort Systems business unit
Goldman Sachs, as lender, in connection with commitment papers for a $8.1 billion senior unsecured bridge facility to fund Emerson Electric Co.'s acquisition of National Instruments Corporation (d/b/a NI)
Gores Holdings IX, Inc., a SPAC sponsored by The Gores Group, in its $525 million initial public offering
Jack Creek Investment Corp, a SPAC sponsored by KSH Capital, in its business combination with Bridger Aerospace Group Holdings, LLC, in a transaction that values Bridger at $869 million
TE Connectivity Ltd. in a $500 million offering of senior unsecured notes by Tyco Electronics Group S.A.
Gabriella joined Weil as a summer associate in 2020.
Gabriella received her J.D., magna cum laude and as a member of the Order of the Coif, from Tulane University Law School, where she served as the Senior Associate Editor of the Tulane Law Review, and her B.A., magna cum laude, from Tulane University.
Firm News & Announcements
Firm News & Announcements