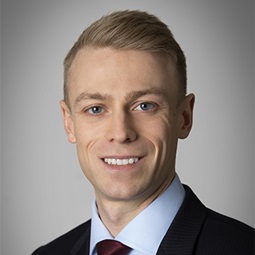 Alex Eagle is an associate in Weil's London office, specialising in cross-border acquisition and leveraged finance for private equity sponsors, corporates, funds and financial institutions.
Alex is conversant with debt products across the spectrum, including syndicated loans, high-yield bonds, unitranche facilities, second liens and mezzanine structures. In addition, Alex is also experienced in financial restructurings from a creditor, debtor and investor perspective.
Alex recently returned from secondment to Bain Capital's private equity team, where he was responsible for European leveraged finance and capital markets activities. Alex has also previously spent time on secondment to Oaktree Capital's private equity team and to Weil's Hong Kong office.
As Co-Chair of the London Innovation Taskforce, Alex takes a leading role in developing the firm's innovation strategy, working alongside the firm's executive leadership team to drive positive change and to implement new technologies for the benefit of our clients.
Representative experience includes advising:
Bain Capital in connection with its $3 billion financing package for the acquisition of a 60% stake in Kantar from WPP Group
OGF (an Ontario Teachers' Pension Plan portfolio company) in connection with the repricing of its senior facilities
The Ritz Hotel (London) Limited in connection with its senior and mezzanine facilities
Concardis (an Advent International and Bain Capital portfolio company) in connection with its senior facilities
Elementis plc in connection with its senior facilities to fund the acquisition of SummitReheis
Online retailer in connection with upsizing its senior facilities for the purpose of a dividend recapitalisation
Ad hoc committee of noteholders in connection with the restructuring of Edcon
UniCredit and UBS in connection with the financing of EQT's acquisition of LimaCorporate
Goldman Sachs, Morgan Stanley and other arrangers in connection with the senior financing of Hellman & Friedman's €2.7 billion acquisition of Bain Capital's holding in Securitas Direct