New Job?
New Email?
New Address?
6
Alumni Appointed to the Federal Bench
150+
Alumni Serving in the Judiciary and Government Agencies
220+
Alumni in the Financial Sector
60+
Alumni in the Technology Sector
4500+
Alumni in Our Global Network
Who Are Weil Alumni?
We are trusted advisors. We show grit and resolve in counseling the world's largest organizations during the best and most challenging of economic times. We serve our communities through pro bono work and philanthropy. We have fun doing what we do. We are diverse. We are Weil. Learn more.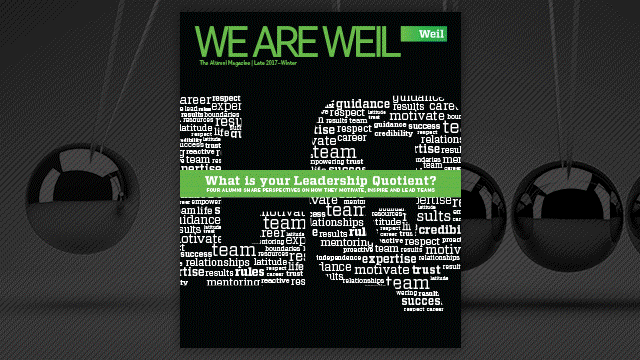 We Are Weil | "What's your Leadership Quotient?"
It just takes one push. One idea. One action. One decision to set into motion a series of events that, with perseverance, can turn vision into reality. And it takes one person to inspire others to believe in causes greater than themselves and motivate many more to "be the change they wish to see in the world."
We present this latest edition of We Are Weil to prompt you to go beyond asking the traditional self-assessment questions of IQ and EQ, and consider when carrying out your professional responsibilities and other pursuits, "What is your LQ?"