New Job?
New Email?
New Address?
7
Alumni Appointed to the Federal Bench
150+
Alumni Serving in the Judiciary and Government Agencies
220+
Alumni in the Financial Sector
60+
Alumni in the Technology Sector
4500+
Alumni in Our Global Network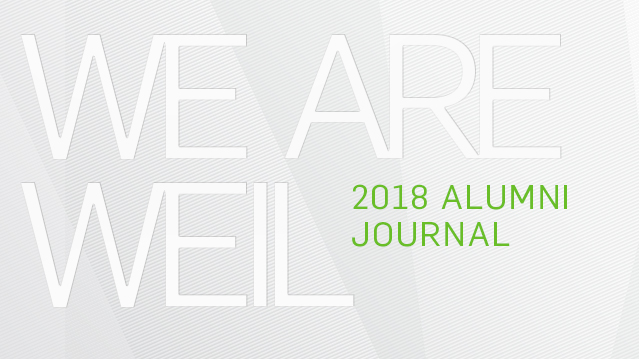 Alumni Journal
We pause to thank you who support our Firm as clients, influencers, ambassadors, social media supporters and employers of our talented attorneys and alumni. Your participation and re-engagement since 2013 has made WE ARE WEIL the success we celebrate today, and we hope this year-end review of what we accomplished in 2018 will further excite and embolden you to get involved in 2019 and beyond.

Read More
Kanarys Vision
Kanarys, founded by Weil alumnae Star Carter and Mandy Price, is a social enterprise that works with organizations to build more inclusive cultures. In this video, Kanarys' team members share why they are committed to creating a world where diversity is sought after, inclusiveness is honored and equity is evident. Click here to watch.