New Job?
New Email?
New Address?
6
Alumni Appointed to the Federal Bench
150+
Alumni Serving in the Judiciary and Government Agencies
220+
Alumni in the Financial Sector
60+
Alumni in the Technology Sector
4500+
Alumni in Our Global Network
Who Are Weil Alumni?
We are trusted advisors. We show grit and resolve in counseling the world's largest organizations during the best and most challenging of economic times. We serve our communities through pro bono work and philanthropy. We have fun doing what we do. We are diverse. We are Weil. Learn more.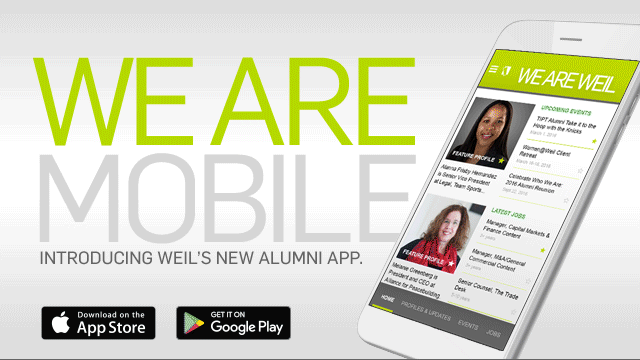 We Are Mobile | Introducing Weil's New Alumni App
Our new Alumni App, featured in The American Lawyer, is designed to support our efforts to educate, inspire and help our alumni remain connected to and engaged with the Firm and each other. We invite you to download the app to:
Stay current with the latest alumni profiles, updates, and events and our exclusive Beyond Weil job listings
Add content to your personal Favorites section
Access current and past issues of the alumni magazine
Receive notifications about significant Firm news and announcements
Contact us with an alumni query or to share your own updates
Visit the Apple App Store or Google Play to add the We Are Weil Alumni app to your favorite mobile device.