Biography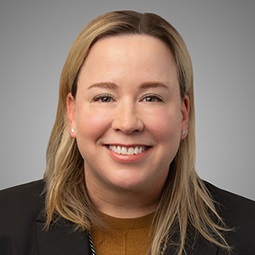 Brianne Kucerik, a partner in Weil's Antitrust/Competition practice, focuses on counseling clients through the antitrust merger review process and in antitrust government investigations and litigation.
Brianne has extensive experience obtaining regulatory clearance for complex, cross-border transactions in a wide range of industries and is regularly recognized among the top U.S. antitrust practitioners in Legal 500 for Antitrust: Merger Control and Who's Who Legal for Competition: Future Leaders – Partners. She counsels clients on all aspects of the antitrust merger review process, including advising on antitrust risk, engaging with the antitrust agencies, working with economic experts, negotiating remedies where necessary, coordinating with local counsel outside the United States, and advising on due diligence information exchange and pre-closing integration planning. Most recently, Brianne played a lead role in securing antitrust clearance for a number of multi-billion dollar transactions involving well-known pharmaceutical, medical device, retail, and media clients.
Brianne also has undertaken significant work for clients involved in antitrust government investigations and litigation, including persuading the antitrust enforcement agencies not to bring enforcement actions in non-merger matters and securing dismissal for clients in private antitrust class action litigations.
The multi-faceted nature of Brianne's work, combined with her creative, technical and strategic expertise earned her a spot on Global Competition Review's "Women in Antitrust 2021," a select list of the world's foremost female leaders in antitrust and competition law. Additionally, LMG Life Sciences recognized her as a "Leading Life Sciences Lawyer" in their 2022/23 guide. In 2017, Brianne was recognized as a "D.C. Rising Star" by the National Law Journal on a list of "game-changing" attorneys aged 40 or under practicing in Washington, D.C. who have "wielded great influence in their practice areas in the D.C. area and beyond." She is described by clients as an advisor with a "great deal of business acumen" and the "ability to bridge the regulatory requirements with [clients'] business objectives."
Prior to law school, Brianne was a paralegal at the U.S. Department of Justice Antitrust Division, where she worked on merger and non-merger investigations in the telecommunications and media industries.
Brianne received her Juris Doctorate from the University of Virginia School of Law, where she served on the editorial board of the Journal of Law & Politics, and earned her bachelor of arts degree, cum laude, from Duke University.
Select Representations:
Represented Allergan plc as both U.S. antitrust and global coordinating counsel, securing antitrust clearance in more than a dozen jurisdictions for its $63 billion sale to AbbVie Inc. as well as securing clearance for two distinct divestiture transactions involving the sale of certain Allergan assets to Nestlé S.A. and AstraZeneca plc.
Previously represented Allergan on numerous transactions, including securing antitrust clearances for Actavis plc's $70.5 billion acquisition of Allergan (the combined company adopted Allergan as its new global name following the acquisition), Allergan's $2.9 billion acquisition of LifeCell Corporation, Allergan's $2.4 billion acquisition of Zeltiq Aesthetics, Inc., Allergan's $2.1 billion acquisition of KYTHERA Biopharmaceuticals, Allergan's $500 million sale of its Anda, Inc. distribution business to Teva Pharmaceutical Industries Ltd., and Allergan's $650 million sale of its U.S. medical dermatology portfolio to Almirall, S.A.
Represented Scripps Networks Interactive, Inc., securing antitrust clearance for its $14.6 billion merger transaction with Discovery Communications, Inc.
Represented William Hill plc, securing antitrust clearance for its approximate £2.9 billion ($3.7 billion) transaction with Caesars Entertainment, Inc.
Represented Signet Jewelers Limited (Kay Jewelers, Jared The Galleria of Jewelry), in numerous transactions including securing antitrust clearances for its $1.4 billion acquisition of Zale Corporation and $328 million acquisition of R2Net, Inc.
Represented L'Oréal, in numerous transactions including securing antitrust clearance for its $1.1 billion sale of The Body Shop to Natura Cosméticos SA.
Represented Charles River Laboratories International, Inc., securing antitrust clearances for its $875 million acquisition of Cognate BioServices, Inc. and $292.5 million acquisition of Vigene Biosciences.
Represented Kantar Group (a portfolio company of Bain Capital Private Equity) in its acquisition of Numerator.
Represented Ontario Teachers' Pension Plan, in numerous transactions including securing antitrust clearance for the formation of Trivium Packaging through a combination of OTPP's portfolio company, Exal Corporation, with the Food & Specialty Metal Packaging business of Ardagh Group.
Represented athenahealth Inc., securing antitrust clearance for its $5.7 billion sale to Veritas Capital and Evergreen Coast Capital, an affiliate of Elliott Management Corporation.
Represented Sanofi S.A., securing antitrust clearance for its $25 billion transaction to exchange Sanofi's animal health business with the consumer healthcare business of Boehringer Ingelheim.
Represented JAB Holding Company, as leader of an investment group in securing antitrust clearance for that group's $13.9 billion take-private of Keurig Green Mountain, Inc.
Represented Array Biopharma Inc., obtaining approval for Array as the divestiture buyer of Novartis AG's BRAF and MEK inhibitor drugs, which were required to be divested by the U.S. Federal Trade Commission and European Commission in order to secure clearance for Novartis AG's acquisition of GlaxoSmithKline's oncology portfolio.
Represented First Data Corporation, securing antitrust clearances for its acquisitions of CardConnect Corporation and BluePay Holdings, Inc.
Represented Johnson & Johnson, securing antitrust clearance for its $19.7 billion acquisition of Synthes Inc., a Swiss-American orthopedic device manufacturer.
Represented Florida Rock Industries, securing antitrust clearance for its $4.2 billion sale to Vulcan Materials Company.
Represented The Sherwin-Williams Company, securing antitrust clearances for its acquisitions of M.A. Bruder & Sons and Duron Co.
Represented Hilton Worldwide in the Online Hotel Booking Antitrust Litigation, a federal action filed against Hilton and other major hotel chains alleging that defendant hotel companies conspired to eliminate competition for branded keyword search advertising and seeking damages and injunctive relief under the Sherman Act.
Represented Hilton Worldwide in the OTA Antitrust Litigation, securing dismissal of a federal multidistrict antitrust class action challenging alleged agreements between online travel companies and hotels regarding the retail prices for online hotel room reservations.
Represented Chrysler in the Grey Market Antitrust Litigation, lawsuits brought in both state and federal courts alleged that the automaker had illegally conspired to prevent new vehicles sold in Canada from entering the United States for resale. Weil achieved victory for Chrysler when the federal district court granted summary judgment in favor of all remaining and non-bankrupt defendants, including Chrysler Canada.
Awards and Recognition, Speaking Engagements, Guides and Resources, Latest Thinking, Firm News & Announcements
Antitrust Basics 2022

Speaker(s): Adam C. Hemlock, Brianne L. Kucerik and Carrie C. Mahan

April 21, 2022 — Weil Antitrust/Competition partners taught Antitrust Basics 2022 for the D.C. Bar Continuing Legal Education Program. This webinar class reviewed the basics of U.S. antitrust law and principal areas of antitrust enforcement in the U.S.. Specific topics covered included relevant considerations for assessing horizontal and vertical restraints, and single-firm conduct, as well as the antitrust agency review process for mergers, joint ventures, and other transactions; criminal antitrust investigations and enforcement; and civil government and private antitrust enforcement.

Killer Acquisitions in the Pharmaceutical Sector

Speaker(s): Brianne L. Kucerik

February 27, 2020 — New York, New York — Weil Antitrust/Competition partner Brianne Kucerik participated in a panel discussion at the GCR LIVE 2nd Annual Pharmaceuticals conference.
Firm News & Announcements