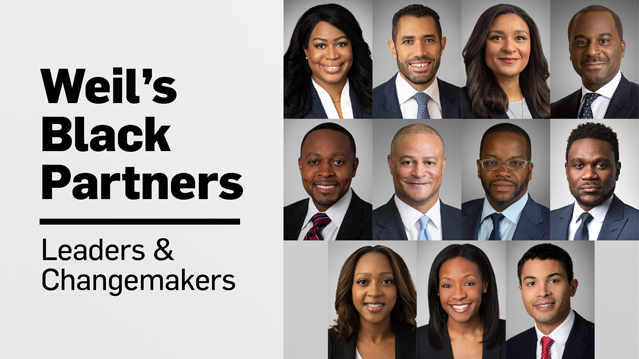 Leaders and Changemakers
Weil is proudly the professional home of an accomplished, dynamic community of Black partners who are all go-to advisors in their fields and mentors to future generations of leaders. We remain steadfast and passionate in our commitment to attracting, retaining and developing the most talented and diverse practitioners in our profession.
Learn more about the work of our Black partners.
Given their collective level of achievement, our Black partners offer guidance for Black associates and law students who want to follow in their footsteps. Read more.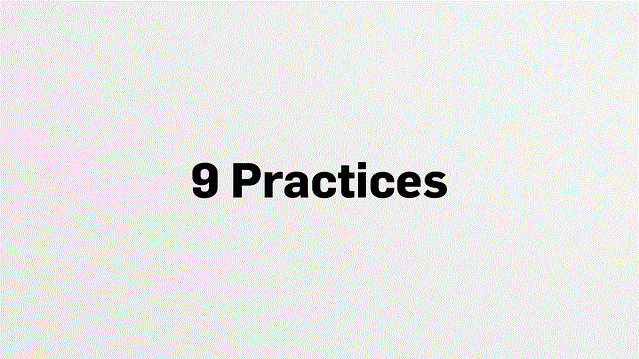 Latest News
Weil's Black partners span five of our global offices and seven practice areas throughout our Corporate, Litigation and Restructuring Departments.
Three hold Firm leadership positions: Chantale Fiebig is Co-Managing Partner of our Washington, D.C. office and Adé Heyliger and Adam Banks are Co-Chairs of our global Diversity Committee.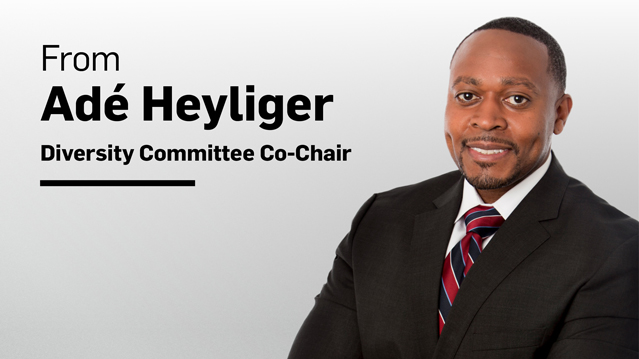 Ade Heyliger
"As Diversity Committee Co-Chair and one of Weil's proud Black partners, I am gratified that our Firm stands out for nurturing a culture of equity and inclusion. We work closely with our colleagues every day to strengthen an environment where all feel comfortable and encouraged to excel.
The success stories and insights highlighted on this site are just a few examples of what can result from shared values and ongoing collaboration, but we never lose focus on making further progress. I encourage you to learn more about Weil's commitment to Diversity, Equity and Inclusion."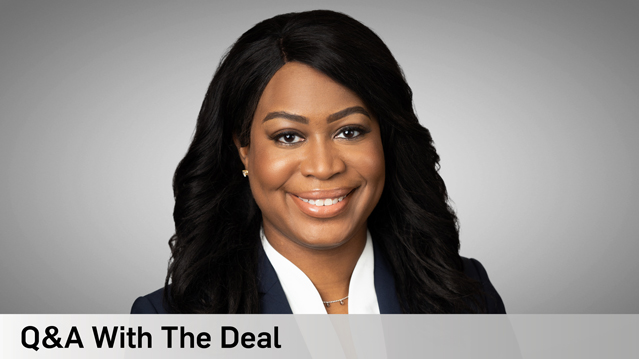 Candace Arthur
Candace Arthur was recently featured in a Q&A with The Deal after being named among the Top Women in Dealmaking. She discussed her decision to become a restructuring attorney as well as the first "big deal" she worked on in her career – representing Lehman Brothers and its affiliated debtors in the largest chapter 11 case in U.S. history. The profile also highlighted her work advising Kabbage Inc., AMC Entertainment Holdings Inc. and J.Crew Group Inc.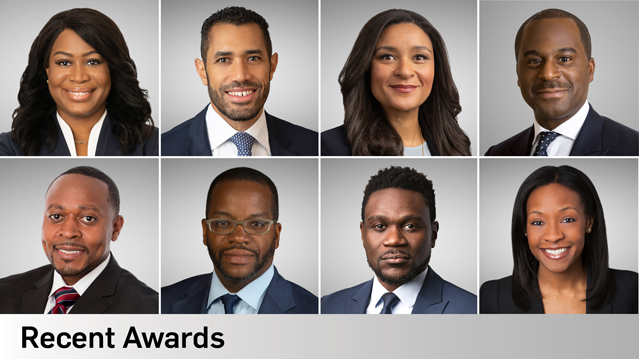 Latest News
Weil's Black partners are recognized as leaders in their respective fields by the business and legal press. Our partners have recently earned the following distinctions:
Candace Arthur was named among the "Notable Women in Law" by Crain's New York Business; one of the "Top Women in Dealmaking" by The Deal (2023); a "Rising Star" by Legal Media Group's Expert Guides; a "U.S. Bankruptcy and Restructuring Leader" by Lawdragon (2022); a "Rising Star" by Law360; an "Outstanding Young Restructuring Lawyer" by Turnarounds & Workouts; an "Emerging Leader" by The M&A Advisor (2021); and a "Top Young Restructuring Lawyer" by Bloomberg Law (2020).
Adam Banks was shortlisted for the "Diversity & Inclusion: Outstanding Contribution" award at the 2023 Chambers USA Awards.
Chantale Fiebig was recognized as a "Winning Litigator" at the National Law Journal's 2023 Legal Awards. She was recognized as "Managing Partner of the Year" at Corporate Counsel's 2023 Women, Influence & Power in Law Awards. She was shortlisted for "Litigator of the Year" by Euromoney Legal Media Group in its 2023 Women in Business Law Americas Awards. She was named among Lawdragon's 500 Leading Lawyers in America (2023).
Barry Fishley was ranked among the "Top Intellectual Property Lawyers in EMEA" in MergerLinks 2021 League Tables.
Adé Heyliger was named among the NACD Directorship 100 honorees for 2023, an annual list recognizing the most influential people in the boardroom. He was also named among Savoy magazine's "2022 Most Influential Black Lawyers," and to the 2022 Capital Pro Bono Honor Roll in recognition of his significant contribution of pro bono legal services. 
Trey Muldrow was named a "Notable Diverse Leader in Law" by Crain's New York Business (2022).
Bambo Obaro has been recognized on Benchmark Litigation's "40 & Under Hot List" (2021 and 2022) and among Daily Journal's "Top 40 Under 40" (2020).
Jannelle Seales was shortlisted for "Real Estate Lawyer of the Year" by Euromoney Legal Media Group in its 2023 Women in Business Law Americas Awards.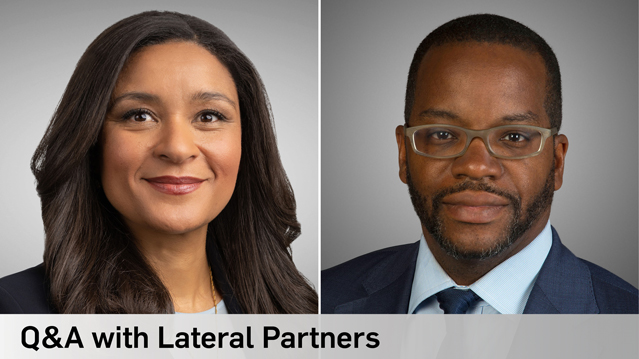 Latest News
Complex Commercial Litigation partner Chantale Fiebig and Private Equity partner Trey Muldrow joined Weil in 2021.
In this Q&A, they share why they choose to practice at Weil, experiences serving clients through the pandemic, exciting trends in litigation and private equity, and the legal profession's efforts to advance equity and inclusion. Read more.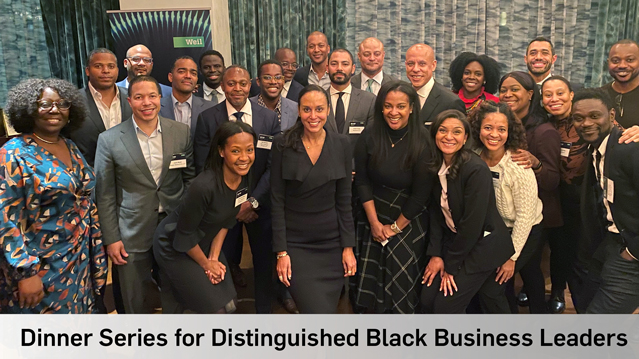 Latest News
Our global Black partners launched a dinner series for distinguished Black business leaders. The inaugural dinner featured professionals from Blackstone, Carlyle, Evercore, JPMorgan Chase, Morgan Stanley, Paramount and Warburg Pincus, among others.
Our speaker this evening was Dasha Smith, Executive Vice President & Chief Administrative Officer, NFL. Our dinner series will take place quarterly and will focus on the evolution of particular industries and sectors.
Weil partners featured in this photo are: Candace Arthur, Adam Banks, Chantale Fiebig, Adé Heyliger, Jeff Malonson, Trey Muldrow, Bambo Obaro and Jannelle Seales.
The event was held in conjunction with our BLAST (Black Lawyers Achieving Success Together) initiative, which provides leadership and business development opportunities for partners, counsel and senior associates.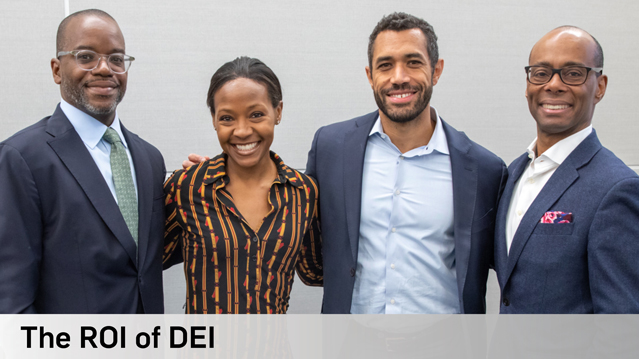 Latest News
Weil welcomed acclaimed Wall Street executive Duane Hughes for a fireside chat centered around optimizing DEI principles to bring in business and enable strong commercial growth. Duane is the Managing Director and Chair of the Americas Advisory Council at UBS. He is pictured above with partners Trey Muldrow, Jannelle Seales and Adam Banks.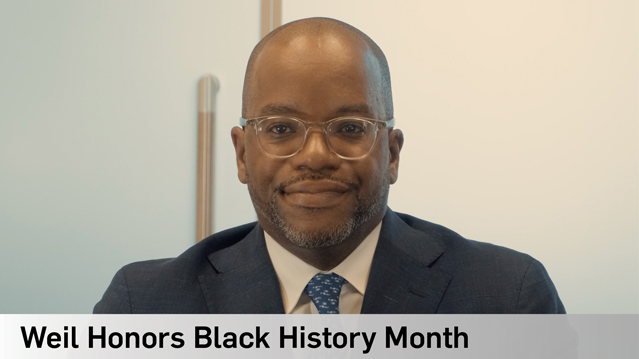 Latest News
Trey Muldrow underscores Weil's commitment to racial equity, and spotlights initiatives and Firm programs which are dedicated to the recruitment, retention and advancement of our Black lawyers and staff in this video for Black History Month.
Latest News
Leading in the C-Suite After Decades at Weil
Holly Loiseau is General Counsel, Chief Compliance Officer and Chief Privacy Officer of KServicing, a prominent online loan servicer for the Paycheck Protection Program. Prior to this role, Holly was a Litigation partner in Weil's Washington, D.C. office for almost three decades, where she represented companies and individuals in various investigations and received numerous accolades for her work.
In this edition of the Weil Alumni Interview Series, Candace Arthur, partner in our Restructuring Department, speaks with Holly about her career. Holly discusses working in-house, partnering with Weil on KServicing's restructuring, taking a top-down approach to DEI, her role in hosting women's executive leadership retreats, and her continued connection to the Weil family.
Marsha Simms Video
Marsha Simms: The Iconic Career of a Weil Legend
In 1987, Marsha Simms became the first Black partner at Weil. She helped develop our Banking practice, representing some of the Firm's biggest clients at the time. She was also a member of the Hiring Committee for more than a decade, paying particular focus to the recruitment of lawyers of color.
In this video interview, Jannelle Seales – our most recent Black partner – speaks with Marsha about her profound impact on Weil and the law.