Administrative Staff Opportunities
Weil seeks the best and brightest talent to join our Administrative Staff team. Our employees are the future of Weil so we invest in their training and development. Our environment embraces and encourages positive-minded professionals who seek to be challenged and acquire knowledge and skills in an atmosphere built on teamwork. Highly skilled and knowledgeable Administrative Staff assist our attorneys in successfully meeting and exceeding client needs and are vital to the overall success of the Firm.

For information about opportunities in our global offices, please consult
Weil in Europe
and
Weil in Asia
.
Key Elements of Weil's Culture and Values
One Firm
Highest Standards of Professionalism
Customer Service
Teamwork
Diversity and Inclusion
Respect and Dignity
Integrity
It has been and will continue to be the policy of Weil to provide equal opportunity to all applicants for employment. Weil administers its personnel practices, including recruitment, hiring, promotions and other terms and conditions of employment, in a manner that does not discriminate on the basis of race, color, sex, age, religion, national origin, disability, marital status, sexual orientation, gender identity or expression, pregnancy, veteran's status, genetic information or any other legally protected status.
Weil respects your privacy. By submitting information to us, you agree to the terms of Weil's privacy policy, https://www.weil.com/about-weil/privacy-policy, which addresses the personal information Weil collects and the purposes for which Weil will use that information in Sections 2 and 3.
Employee Benefits
Weil's Benefits Program represents an important part of the total compensation of the Firm's employees. Some of the components of the benefits package which are currently available to full-time Administrative Staff include:
Paid Time Off (PTO) and Paid Holidays
Medical, Dental and Vision Plans
Life and Accidental Death and Dismemberment Insurance
Supplemental Life Insurance
Short-Term and Long-Term Disability Plans
Qualified Transit and Parking Program
Flexible Spending Account Plans
Emergency Childcare Service
401(k) Savings Plan
EAP and Work-Life Services
We at Weil believe it is the Firm's responsibility to give back. Learn more about our commitment to corporate citizenship in our inaugural edition of the Weil Foundation & Corporate Social Responsibility U.S. Annual Report.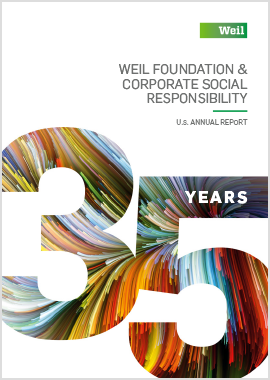 View the PDF Report