Biography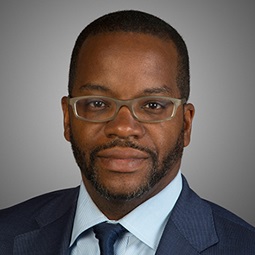 Trey Muldrow is a partner in Weil's Private Equity practice and is based in New York. Trey advises corporations, sovereign wealth groups and private equity sponsors around the world on market-leading transactions, including cross-border merger, buyout, SPAC, spinout, carve-out and divestiture transactions. Trey also has a well-recognized practice in asset manager mergers and acquisitions and complex secondaries transactions.
Prior to joining Weil, Trey was the partner in charge of the New York office of another international law firm and a member of its global Corporate Steering Committee.
Trey has been recommended for M&A by Legal 500 US. He was named 2015 "Private Practitioner of the Year" by the Metropolitan Black Bar Association and named among the 2013 "CUP Catalysts: Change Agents" in the area of law by the Council of Urban Professionals.
Trey is Chair of the Corporation Law Committee of the New York City Bar, whose mission is to promote the development of New York laws and jurisprudence governing business entities to make the city an attractive jurisdiction for the formation of new businesses. He is also Chair of the Board of Dance Theatre of Harlem.
Experience*
Corporate & Private Equity Transactions
Archaea Energy LLC in its acquisition of PEI Power LLC
Brightwood Capital in connection with the acquisition of the following companies by financial sponsors

BioVectra
EzShield
InHealth MD
Jenny Craig
Hojeij Branded Foods

Carlyle U.S. Equity Opportunity Fund L.P. in the sale of interests in Luminex Corporation
CIIG Merger Corp. in connection with its merger with Arrival Group
Cognizant Domestic Holdings Corporation in its acquisition of Bolder Healthcare Solutions, LLC
Cyrus Capital in debt and equity investments in Virgin America
Cyrus Capital in the sale of its equity interest in CM Finance LLC to an affiliate of Investcorp
Durational Capital Management, GIC and The Jordan Company in their acquisition of Bojangles', Inc.
Farol Capital in the sale of Delphon Industries LLC to Perella Weinberg Partners
Intermediate Capital Australia Pty Limited in the sale of a controlling interest in parent company of American Stock Transfer  & Trust Company, LLC for $595 million sale to Siris Capital Group LLC
JPMorgan Chase in connection with its acquisition of The Infatuation, Inc.
Management team of Organix Recycling in its recapitalization transaction involving Pegasus Capital and A&M Capital
Management team of Organix Recycling in the pending sale of the business to Denali Water Solutions, a portfolio company of TPG Growth
Mubadala Development Company in its equity investments in:

D.E. Master Blenders
The Carlyle Group, L.P.
The Raine Group LLC
The Related Companies
The Viceroy Hotel Group

Mubadala Capital in its liquidity transactions involving:

The Related Companies
Silver Lake Partners

Northleaf Capital in its investments in:

Seapine Investments
Material Sciences Corporation
Meridian Waste Corporation

New York Yankees in their joint venture with ManCity to launch New York City Football Club
Siemens Corporation in the acquisition of Russelectric
Siemens Financial Services in its co-investment in the acquisition by Colony Capital sponsored DataBank of data center assets from Zayo Group Holdings
Siemens Government Technologies in the divestiture of the Dresser-Rand Government Business to Curtiss-Wright Corporation
Solar Capital Ltd. in its acquisitions of:

Crystal Financial LLC
Gemino Healthcare
North Mill Capital LLC
NEF Holdings LLC
Kingsbridge Holdings LLC

Vivial Corporation in connection with its recapitalization by Kennedy Lewis Investment Partners
Vivial Media LLC (a portfolio company of Blackstone Credit) and its subsidiary mGage in the $215 million sale of mGage to Kaleyra, Inc.
Warburg Pincus, as a co-investor with One Equity Partners, in the formation of Eco Material Technologies Inc. through a business combination with Green Cement Inc. and the $1 billion acquisition of Boral Resources LLC
Asset Manager Transactions
Apollo in a single asset transaction sponsored by Alpine Investors involving Ingenio LLC for $232 million of additional equity capital as part of a broader $462.4 million single asset secondary market transaction to fund future growth for Ingenio
Enhanced Healthcare Partners in connection a confidential single asset transaction
Carlyle U.S. Equity Opportunity Fund L.P. in the sale of interests in multiple portfolio companies to Whitehorse Capital Partners
ICG Strategic Equity in the fund recapitalizations of:

Acon Partners
Aretex Capital Partners
Diamond Castle Partners
EdgeStone Capital Partners
Monitor Clipper Partners
PineBridge New European Partners
Southern Cross Group
Third Avenue Credit
VSS Communications
Quadriga Capital

ICG Strategic Equity in single asset transactions involving:

Class Appraisal LLC
Creative Artists Agency
DigiCert
The Execu|Search Group
Ivanti, Inc.
Precisely Holdings, LLC (f/k/a Syncsort Incorporated)
Wheels Pro Holdings, LLC

Northleaf Capital in single asset transactions involving:

Capa International Education Limited Partnership
Culture Experiences Abroad, Inc. SSP Innovation Holdings

Northleaf Capital in the fund recapitalization of:
Affiliates of Novacap Management Company  in its pending single asset transaction of Syntax Systems
Halcyon Capital Management, LLC in the sale of a minority stake to TPG Sixth Street Partners and Dyal Capital Partners
Octavian Advisors, Octavian Global Partners and their affiliates in the sale of control to TPG Special Situations Partners
Pharmakon Advisors, an affiliate of Royalty Pharma, in its fund restructuring and initial public offering of BioPharma Credit PLC
*Includes matters handled prior to joining Weil.
Firm News & Announcements, Speaking Engagements
Firm News & Announcements