Tax
Comprehensive knowledge of how the complex and continually evolving nature of tax law plays a crucial role in corporate transactions, restructurings and other commercial matters. Weil's Tax lawyers deliver value to clients by providing creative, strategic solutions that make sound business sense and are pragmatic commercially.
Notable Representations, Key Contacts
Global Practice
Weil's Tax practice, mirroring the Firm's profile, is global in scope. Our more than 50 lawyers located throughout our U.S. and European offices regularly work with multinational clients and private equity sponsors to navigate the often complex tax aspects of mergers and acquisitions that cross national borders. Our Tax lawyers in the United States advise both U.S. companies investing abroad and non-U.S. investors in the United States. Similarly, our Tax lawyers in London, Paris, Munich and Frankfurt advise local clients on the national tax impacts of their international transactions. We pride ourselves on working together as one integrated team.
High-Profile, Complex Cross-Border Transactions
Weil's global Tax Group advises on some of the biggest, most complex and highest profile domestic and cross-border transactions. We not only understand the nature of our clients' transactions, but also understand their businesses, and are a critical part of the team that works to accomplish each client's business goals. Our clients rely on us to deliver innovative, comprehensive, and tax-efficient solutions on nearly every type of domestic and cross-border transaction presenting significant tax issues, including:
Complex M&A;
Private Equity and Private Funds matters;
Restructurings and Recapitalizations;
Securitizations;
Real Estate and Real Estate Investment Trusts (REITs); and
Capital Markets and other financing matters.
Our global tax practice is largely a transactional and financing practice. We provide sophisticated, deal-specific tax advice that allows our clients to accomplish their commercial objectives on a tax-efficient basis. Our extensive deal experience and deep bench allows us to provide real-time advice that takes into account current tax developments. We regularly counsel clients across multiple jurisdictions in connection with acquisitions and dispositions of global business operations, spin-offs, joint ventures, financings, and offerings of both debt and equity.
Private Funds – From Formation through Exit
Weil's Tax Group is a critical partner to Weil's Private Funds Group. We advise on all tax aspects related to fund formation, fundraising and investment into domestic and international private funds, from large multi-billion U.S. Dollar/Euro funds to smaller growth capital funds for emerging managers.
Weil's Tax Group has a diverse range of experience in all major industry segments– buyout funds, growth equity funds, middle market funds, infrastructure funds, real estate funds, debt funds, fund-of-funds, secondary funds, special situations funds, hedge funds and other industry-specific funds, and in the entire fund life cycle, from formation to exit. We take full advantage of our global presence in designing investment vehicles to meet diverse needs. On the fundraising side, we are able to offer, and negotiate, a wide range of structures tailored to the needs of the important constituencies – U.S. taxable, U.S. tax-exempt and non-U.S. investors and sponsors. For sponsors, we also design general partner and management company arrangements to maximize the after-tax returns for the lead individuals and the investment professionals who support them. We work with large, middle market and small funds. In all our projects, we strive through our extensive experience and up-to-date knowledge to create structures that are acceptable to investors and that enable our clients and transactional tax lawyers to efficiently enter and exit investments, both onshore and offshore.
Weil's Tax Group regularly counsels large investors in funds. Our tax teams in the United States and United Kingdom, in particular, have extensive experience counseling institutional and sovereign investors on the particular tax consequences of investing in private equity funds, REITs and co-investment opportunities globally.
Tax Aspects of Bankruptcy and Restructuring
Weil's Tax Group also has extensive experience in the bankruptcy tax field, advising debtors, creditors (including creditors committees, banks, financial institutions and insurance companies), equity holders (including fund sponsors), investors, buyers and sellers alike.
Our tax lawyers assist in all phases of a restructuring (whether in or outside of bankruptcy), including:
Advising in connection with modifications of debt, and debt/equity exchanges;
Structuring tax efficient plans of reorganization and liquidation, including evaluating and designing structures to retain valuable corporate tax attributes and to protect debt holders and equity holders from phantom income;
Working to align or otherwise take into consideration the needs of all parties-in-interest in tax matters;
Pre-bankruptcy planning to manage sales and employment tax liabilities to protect management and controlling persons from personal liability for such taxes;
Representing debtors before the Internal Revenue Service (IRS) and other tax authorities in resolving disputes over prepetition and administrative tax liabilities; and
Dealing with the IRS and other tax authorities in obtaining rulings and closing agreements where appropriate.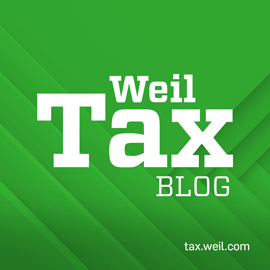 Named Tax "Practice Group of the Year"

Law360 2021
Named "U.S.: Washington, D.C. Tax Firm of the Year"

ITR Americas Tax Awards 2021 and 2022
Ranked Tier 1 for U.S. Taxes: Non-Contentious

Legal 500 US 2023
Ranked Tier 1 for Tax in New York and Washington D.C.

International Tax Review's World Tax 2023
Named a "Leading" Firm for Tax, Global-wide, in the U.K. and in the U.S.

Chambers Global 2023
Named a "Leading" Firm for Tax in France

Chambers Europe 2022
Named a "Leading" Firm for Tax in New York, District of Columbia and the U.S.

Chambers USA 2023
Named a "Leading" Firm for International Tax

Legal 500 US 2022
Named a "Leading" Firm for Tax in London

Chambers UK 2022
Winner of "Tax: Transactional" New York Award

Chambers USA 2019
Joseph Pari Named a "Washington, D.C. Trailblazer" for Tax

The National Law Journal 2020
Twelve partners named among the leading "Bankruptcy Tax Specialists in the Nation's Major Law Firms"

Turnarounds & Workouts 2022
Firm News & Announcements
Weil Named Tax "Practice Group of the Year"

Award Brief — Law360 2021

Weil Named "U.S.: Washington, D.C. Tax Firm of the Year"

Award Brief — ITR Americas Tax Awards 2021 and 2022

Weil Ranked Tier 1 for Tax in New York and Washington D.C.

Award Brief — ITR World Tax 2024

Weil Named a "Leading" Firm for Tax in Texas and United Kingdom

Award Brief — ITR World Tax 2024

Weil Ranked Tier 1 for U.S. Taxes: Non-Contentious

Award Brief — Legal 500 US 2023

Weil Named a "Leading" Firm for Tax, Global-wide, in the U.K. and in the U.S.

Award Brief — Chambers Global 2023

Weil Named a "Leading" Firm for Tax in France

Award Brief — Chambers Europe 2022

Weil Named a "Leading" Firm for International Tax

Award Brief — Legal 500 US 2022

Weil Named a "Leading" Firm for Tax in the U.S., New York and District of Columbia

Award Brief — Chambers USA 2023

Weil Named a "Leading" Firm for Tax in London

Award Brief — Chambers UK 2022
Firm News & Announcements