Biography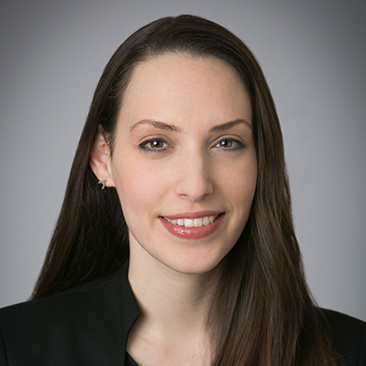 Olivia J. Greer is an associate in Weil's Technology & IP Transactions practice and a member of the Firm's Cybersecurity, Data Privacy & Information Management group. Ms. Greer participates in representing clients in connection with privacy and data security matters, as well as copyright, trademark, and other intellectual property-related issues. She has also litigated numerous intellectual property-related commercial disputes.
Ms. Greer is a certified information privacy professional (CIPP/US), with extensive experience counseling clients on privacy and data security issues. She has played a lead role on Weil teams advising technology companies, private equity firms, and other public and private companies on privacy and data security matters in corporate transactions, and in connection with government investigations and data breaches. She regularly counsels clients regarding compliance with data privacy laws and regulations affecting various industries and jurisdictions.
Ms. Greer has been part of the teams advising on the data privacy and cybersecurity aspects of matters that include:
Advent International Corporation in its acquisition of a 45% stake in Conservice, LLC;
AxiomSL Group, Inc. in the sale of a controlling stake to Thoma Bravo by AxiomSL's founder, TCV and certain other investors;
Black Knight, Inc. in its acquisition of Optimal Blue LLC, in a transaction that implied an enterprise value of $1.8 billion;
Brookfield Asset Management Inc. in its approximately $4.8 billion acquisition of a 61.2% stake in Oaktree Capital Management, L.P.;
Centerbridge Partners and its portfolio company, P.F. Chang's China Bistro, Inc. (PFCCB), in the sale of PFCCB to TriArtisan Capital Partners and Paulson & Co.;
CoStar Group in its $450 million acquisition of STR, Inc. and its acquisitions of Cozy Services, Ltd. and Ten-X, LLC;
Emerald Performance Materials, LLC (a portfolio company of American Securities) in its $300 million sale of CVC Thermoset Specialties;
EQT Infrastructure in its sale of Synagro Technologies, Inc.;
Genstar Capital in its acquisition of Truck-Lite Company LLC and in, together with TA Associates, the acquisition of Orion Advisor Solutions, following the merger of Orion and Brinker Capital;
Goldman Sachs Merchant Banking Division in its acquisition of Restaurant Technologies, Inc.;
Gores Holdings IV, Inc., a SPAC sponsored by an affiliate of The Gores Group, in its $16.1 billion business combination with United Wholesale Mortgage, LLC (UWM);
Gores Metropoulos, Inc., a SPAC sponsored by affiliates of The Gores Group and Metropoulos & Co., in its $3.4 billion merger with Luminar Technologies, Inc.;
Hayfin Capital Management in, together with EW Healthcare Partners, a $100 million convertible preferred equity investment in MiMedx Group, Inc. and Hayfin, as lender, in the concurrent provision of $75 million term facilities for MiMedx;
Healthcare Merger Corp., a SPAC sponsored principally by Shulman Ventures and MTS Health Partners, in its merger with SOC Telemed in a transaction that implies an initial enterprise value of $720 million;
Kainos Capital in its acquisition of good2grow LLC;
Lee Equity Partners in its investment agreement with McLarens;
L'Oréal USA in its acquisition of Thayers Natural Remedies;
Magellan Health, Inc. in its $850 million sale of Magellan Complete Care to Molina Healthcare, Inc.;
Oak Hill Capital and its portfolio company EPIC Insurance Brokers and Consultants (EPIC) in the merger of EPIC and JenCap Holdings, LLC (a portfolio company of The Carlyle Group);
OMERS in its acquisition of a controlling stake in Premise Health Holding Corp. and Oxford Properties Group as an investor in the $1.6 billion capital raise for Lineage Logistics;
Ontario Teachers' Pension Plan Board in its participation in a Series L preferred funding round for Space Exploration Technologies Corp. (SpaceX);
Providence Equity Partners in its acquisition of GlobalTranz Enterprises, Inc., and in its acquisition of a majority stake in n2y, LLC;
Providence Strategic Growth Partners in its acquisition of Next Glass, Inc.; in its acquisition, together with Blue Star Innovation Partners, of PatientNOW; in its investments in Semarchy SAS and Boston Logic Technology Partners; and as lead investor in a Series B funding round for Sevenrooms Inc.;
Rakuten USA, Inc. in its acquisition of Curbside, Inc.;
Softbank Vision Fund in its $500 million minority investment into Cambridge Mobile Telematics, Inc., and in its Series E minority investment in GetYourGuide AG;
Software Luxembourg Holding S.A. in its $1.3 billion merger with and into Churchill Capital Corp II, a SPAC sponsored by the Churchill Capital Group;
Sumeru Equity Partners in its $100 million acquisition of SocialChorus, Inc.;
TCV in its acquisition, via tender offer and recapitalization, of a minority stake in Sojern Inc.;
Thomas H. Lee Partners in its sale of a majority stake in Juvare, LLC;
Topgolf International, Inc. (a portfolio company of Providence Equity Partners, Dundon Capital Partners and WestRiver Group) in its $2 billion merger of equals with Callaway Golf Company;
TPG in its participation as a minority investor in a $200 million financing for Trumid;
Transaction Services Group Limited (a portfolio company of Advent International) in its acquisitions of TrueCoach, BrandBot LLC and Triib, Inc.; and
Willis Towers Watson PLC in its pending $80 billion combination with Aon PLC.
Ms. Greer has also counseled clients on a variety of intellectual property matters (as well as related areas such as publicity rights and defamation), including with respect to online platforms' rights and obligations under the Digital Millennium Copyright Act (DMCA), the Communications Decency Act (CDA), and related laws. In the litigation context, Ms. Greer has served on Weil teams representing a variety of companies in matters and disputes arising in connection with the development and evolution of new technology and media, including in the e-commerce, digital music, and social media sectors. She has worked on matters for AIG, eBay, Facebook, HarperCollins, Hilton, Samsung, and Sirius XM Satellite Radio, among others.
Ms. Greer focuses extensively on pro bono projects. She has represented pro bono clients in asylum and other legal status proceedings, including under the Violence Against Women Act, and has counseled pro bono clients on various intellectual property and privacy matters. She has served on the "Counsel's Council" of pro bono representatives for Lincoln Center for the Performing Arts since 2013.
Ms. Greer graduated cum laude from the Benjamin N. Cardozo School of Law, where she received the Charles Ballon Writing Award, was a Public Service and Dean's Merit Scholar, and served as Acquisitions Editor of the Cardozo Arts & Entertainment Law Journal.
Awards and Recognition, Speaking Engagements, Guides and Resources, Firm News & Announcements, Latest Thinking
Firm News & Announcements