Biography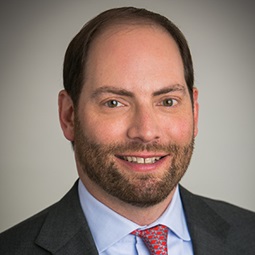 Brian Gingold is a partner in Weil's Private Equity practice and is based in New York. Brian has extensive experience representing private equity sponsors and their portfolio companies in acquisitions and dispositions (both public and private), joint ventures, minority investments, recapitalizations and other complex corporate transactions. Brian has substantial experience in the consumer, energy, healthcare, infrastructure, life sciences, real estate and technology industries.
Brian has represented several leading private equity firms and their portfolio companies, including AMP Capital, Antin Infrastructure, Apollo Global Management/Apollo Infrastructure Partners, Blackstone, Centerbridge, CVC, J.C. Flowers, KKR, L Catterton Partners and Silver Lake, among others. He has also represented various public and private companies, as well as investment banks, on similar transactions.
Prior to joining Weil, Brian was a partner at an international law firm. Brian has written and spoken on numerous topics pertinent to private equity and mergers and acquisitions industries. He received his J.D., cum laude, from University of Michigan Law School, where he was a member of The Journal of Law Reform and winner of the Solomon Nadler Award for outstanding work related to commercial law, corporate law and securities regulation, as well as the Board Award for Excellence in Legal Writing and Oral Advocacy. He received his B.A., magna cum laude, from University of Pennsylvania. 
Representative Experience* 
AMP Capital Investors in its acquisition of ITS ConGlobal.
Antin Infrastructure Partners in its acquisition of FirstLight Fiber.
Anuvu Operations LLC, as a joint venture partner with AT&T, in the sale of Wireless Maritime Services, LLC to CCP Capital Strategies.
Apollo Infrastructure in its acquisition of Lendlease (US) Telecom Holdings LLC (n/k/a Parallel Infrastructure).

Apollo 

Global Management and its portfolio company Parallel Infrastructure LLC in Parallel's sale to Harmoni Towers (a portfolio company of Palistar Capital).
Aurora Resurgence Management Partners and Equity Group Investments in the sale of SIRVA, Inc.Blackstone in various matters, including in the establishment of a joint venture with Crescent Heights for the construction and management of 10000 Santa Monica Boulevard; the sale of Sigecom, LLC to WideOpen West; and the acquisition of MeriStar Hospitality, a publicly traded REIT, valued at approximately $2.6 million.
Calera Capital and the founding family in connection with the sale of Sleepy's to Mattress Firm, a J.W. Childs portfolio company, for approximately $780 million.
CD&R in the acquisitions of Atalian and the Facilities Services business of OCS Group.
Centerbridge Partners in the A$400 million sale of Billabong International Limited to Boardriders, Inc. and its sale of P.F. Chang's China Bistro, Inc.
Cintra Infraestructuras in the establishment of a joint venture with Aberdeen Asset Management, John Lain and other minority investment partners, to develop and operate the I-77 Express Lanes project in Charlotte, NC.
Cintra Infraestructuras and Macquarie Infrastructure Partners in the sale of the toll-road operator of the Chicago Skyway to CPP Investments, Ontario Municipal Employees Retirement System and Ontario Teachers' Pension Plan for approximately $2.8 billion.
CVC in the sale of its majority ownership stake in AlixPartners to Caisse de dépôt et placement du Québec, PSP Investments and Investcorp, as well as bids to purchase other consumer product and technology companies.
Dex Media, Inc. (n/k/a Thryv) (a portfolio company of Mudrick Capital Management and Paulson & Co.) in its acquisition of YP Holdings LLC.
First Reserve in various matters, including in the acquisition of Brand Energy & Infrastructure Services, Inc., a public portfolio company of JPMorgan Partners, valued at approximately $1.175 billion; and the establishment of a joint venture designed to invest in MLPs.
The founder of a cloud computing company in the sale of a 50% interest to Guggenheim Partners.
General Electric in the sale of its Wayne fuel dispensers and forecourt technologies business to Riverstone Holdings LLC, an energy and power-focused private equity firm.
GPSi Holdings, LLC (a portfolio company of Falconhead Capital, LLC) in its sale to Ingersoll-Rand plc.
Hellman & Friedman in connection with a recapitalization of Jay Alix Partners, pursuant to which it purchased a majority stake in the enterprise and Jay Alix and 78 other managing directors of the company retained an equity stake.
Investcorp in numerous acquisitions, including a majority investment in The Wrench Group, a company controlled by Alpine Investors and Skylight capital; the sale of its portfolio company, American Tire Distributors, to TPG for approximately $1.3 billion; its minority investment in a portfolio company owned by Riverside Capital Appreciation Fund; and various other matters.
J.C. Flowers in its acquisition of Jefferson Capital Systems, LLC and Jefferson's acquisition of Canastream Holdings Ltd.
KIK Custom Products, Inc. (a portfolio company of Centerbridge Partners) in its acquisition of NC Brands LP (f/k/a Natural Chemistry) and in its sale of its KIK Personal Care business.
KKR in various matters, including the acquisition of Dollar General Corporation for approximately $7.3 billion; the sale of Nexstar Financial Corporation to MBNA; and the issuance and sale of various series of convertible preferred stock of Nexstar Financial Corporation.
Kuwait Investment Authority in the establishment of an approximately $2.98 billion investment company with Fondo Strategico Italiano, an Italian state-backed private equity fund.
L Catterton Partners in various acquisition transactions, including their purchase of ClearChoice Holdings, LLC and a majority investment in SteelSeries.
Louis Dreyfus Highbridge Energy, the energy trading and marketing arm of Louis Dreyfus Group, in connection with the sale of its midstream assets segment to a joint venture owned by Energy Transfer Partners, L.P and Regency Energy Partners LP, for approximately $1.9 billion.
Macquarie Infrastructure and Real Estate Partners in the establishment of a joint venture to purchase Maher Terminals USA, the entity that controls and operates a 454-acre multi-user container terminal in Port Elizabeth, NJ, from Deutsche Bank.
Meridian Infrastructure Partners and Cintra Infraestructuras in the establishment of a joint venture to develop a toll road in Virginia.
Mudrick Capital Management and its portfolio company Thryv Holdings, Inc. in Thryv's $200 million acquisition of Sensis Pty Ltd.
The NORDAM Group, Inc. in its receipt of a minority investment from The Carlyle Group to finance in part NORDAM's exit from chapter 11 bankruptcy proceedings.
Pigments Spain, S.L. (a company of the Esmalglass-Itaca-Fritta group, a portfolio company of Lone Star Funds) in its up to $492 million acquisition of the Tile Coatings Business of Ferro Corporation.
Searchlight Capital Partners, together with co-investors, in the acquisition of Integrated Power Services, LLC.
Sterling Backcheck and Calera Capital in connection with the sale of Sterling Backcheck to Goldman Sachs Private Equity.
Stratus Technologies, an Investcorp portfolio company and provider of infrastructure-based solutions that keep applications running continuously, in its sale to an affiliate of Siris Capital Group, LLC for approximately $352 million.
Summit Materials, a Blackstone portfolio company, in connection with various private acquisition transactions, including Norris Asphalt Paving; Continental Cement Co.; EnerCrest Products Inc.; and Harper-Ready Mix Concrete.
Trilantic Capital Partners in its minority investment in Highgate Hotels, L.P., a premier operator of hotels in the nation's largest gateway markets.
*Includes matters handled prior to joining Weil.
Awards and Recognition, Firm News & Announcements
Brian Gingold Recommended for Telecoms and Broadcast: Transactional

Award Brief — Legal 500 US
Firm News & Announcements