Biography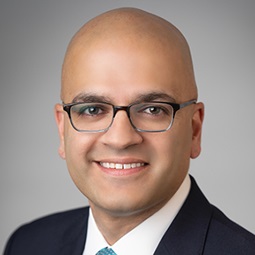 Sachin Kohli is a partner in Weil's Mergers & Acquisitions practice and is based in New York. Sachin has experience in all aspects of representing public and private companies, as well as private equity funds, in connection with acquisitions and divestitures. He is also involved in providing counsel regarding general corporate matters, including reporting requirements, corporate governance issues, defensive measures and other strategic considerations.
Experience:
The Dow Chemical Company in its $130 billion all-stock merger of equals with E. I. du Pont de Nemours and Company
Kinder Morgan in its $76 billion acquisition of all the outstanding equity securities of Kinder Morgan Energy Partners, Kinder Morgan Management and El Paso Pipeline Partners
DIRECTV in its $67.1 billion sale to AT&T
Dow in its approximately $40 billion spin-off from DowDuPont Inc. as part of DowDuPont's separation into three independent, publicly traded companies, one each for its agriculture, materials science and specialty products businesses
Kinder Morgan in its $38 billion acquisition of El Paso Corporation
DIRECTV in its $28.5 billion stock-for-stock merger with Liberty Entertainment
Intel Corporation in its $16.7 billion acquisition of Altera Corporation
JAB Holding Company, as leader of an investment group, in that group's $13.9 billion take-private of Keurig Green Mountain, Inc.
Sanofi in its $11.6 billion acquisition of Bioverativ Inc.
American Realty Capital Properties, Inc. in its proposed $9.7 billion offer to acquire Cole Credit Property Trust III, Inc.
Health Management Associates in its $7.6 billion sale to Community Health Systems
Apergy Corporation (n/k/a ChampionX Corporation) in a Reverse Morris Trust acquisition of ChampionX (f/k/a Nalco Champion) from Ecolab Inc. creating an entity with a combined $7.4 billion enterprise value
Foley Trasimene Acquisition Corp., a SPAC sponsored by Bilcar FT, LP and Trasimene Capital FT, LP., in its pending $7.3 billion combination with Alight Solutions LLC
Legg Mason, Inc. in its $6.5 billion sale to Franklin Templeton Investments
athenahealth, Inc. in its evaluation of an unsolicited takeover bid by Elliott Management Corporation and its subsequent $5.7 billion sale to Veritas Capital and Evergreen Coast Capital (an affiliate of Elliott Management Corporation) and planned combination with Virence Health
Churchill Capital Corp III, a SPAC sponsored by Churchill Capital Group, in its $5.7 billion merger with MultiPlan, Inc. that has an enterprise value based on the transaction of approximately $11 billion
Kinder Morgan Energy Partners, L.P. in its $5 billion acquisition of Copano Energy LLC
inVentiv Health, Inc. in its $4.6 billion merger with INC Research Holdings, Inc. creating Syneos Health, Inc.
MGM Resorts International (MGM Resorts) in the formation of a joint venture between MGM Growth Properties LLC and Blackstone Real Estate Income Trust to acquire the Las Vegas real estate assets of the MGM Grand and Mandalay Bay for $4.6 billion and to lease back these assets to subsidiaries of MGM Resorts
Lincare Holdings Inc. in its $4.6 billion acquisition by Linde Group
Media General Inc. in its $4.6 billion sale to Nexstar Broadcasting Group Inc.
MGM Resorts International (MGM Resorts) in its $4.25 billion sale of the Bellagio to a joint venture MGM Resorts formed with Blackstone Real Estate Income Trust and its leaseback of the Bellagio
Thomas H. Lee Partners (THL) and inVentiv Health, Inc. (n/k/a Syneos Health, Inc.) in THL's sale of a 50% interest in inVentiv to Advent International, valuing inVentiv at $3.8 billion
Sanofi in its $3.7 billion acquisition of Principia Biopharma Inc.
NBC Universal in, together with The Blackstone Group LLC and Bain Capital LLC, its $3.5 billion acquisition of The Weather Channel, LLC
Special Committee of McMoRan Exploration in the $3.4 billion sale of the company as part of three-way merger with Freeport-McMoRan and Plains Exploration & Production Company – a deal with total transaction value of approximately $20 billion
Belmond Ltd. in its $3.2 billion sale to LVMH Moet Hennessy Louis Vuitton SE
Fidelity National Financial, Inc. in its $2.9 billion acquisition of Lender Processing Services Inc. (n/k/a Black Knight, Inc.)
Ontario Teachers' Pension Plan, as a member of a consortium that also includes BC Partners and Beamer Investment (GIC) and that is the sponsor of GFL Environmental Holdings Inc., in GFL's $2.8 billion merger with Waste Industries, Inc.
Front Yard Residential Corporation in its $2.5 billion take-private by a partnership formed by Pretium Partners and Ares Management
Ontario Teachers' Pension Plan in the sale of its stake in Cole-Parmer Instrument Company (C-P) to GTCR in connection with a $2.1 billion recapitalization of C-P led by GTCR in which Golden Gate Capital and C-P management retained minority stakes
Nexeo Solutions, Inc. in its $2 billion sale to Univar Inc.
Black Knight, Inc. in its acquisition of Optimal Blue LLC, in a transaction that implied an enterprise value of $1.8 billion
Verizon Communications in its $1.4 billion acquisition of Terremark Worldwide Inc.
MGM Resorts International in its $1.175 billion sale of the real property of the Borgata Hotel Casino & Spa in Atlantic City, New Jersey to MGM Growth Properties LLC
MGM Resorts International in its formation of MGM Growth Properties LLC (MGP) and on the corporate aspects of MGP's $1.05 billion initial public offering
Whirlpool Corporation in its $1 billion modified Dutch auction tender offer for its common stock
Nexeo Solutions, Inc. (a subsidiary of Univar Inc.) in its $640 million sale of Nexeo Solutions Plastics to One Rock Capital Partners
Ontario Teachers' Pension Plan in the formation of Trivium Packaging through a combination of OTPP's portfolio company, Exal Corporation, with the Food & Specialty Metal Packaging business of Ardagh Group
Fidelity National Financial (FNF) in its redemption of all tracking stock shares of Fidelity National Financial Ventures in exchange for shares of common stock of Cannae Holdings, Inc., following which Cannae became an independent, publicly traded company, and FNF ceased to have a tracking stock structure
Arca Contal in the establishment of a Central and South American beverage bottling joint venture with Ecuador Bottling Company
PSAV, Inc., Goldman Sachs and Olympus Partners (PSAV's sponsors) in the sale of PSAV to Blackstone
Goldman Sachs in its acquisition of PSAV, Inc. (f/k/a PSAV Presentation Services)
Ontario Teachers' Pension Plan in its acquisition of Flynn Restaurant Group LP
Ontario Teachers' Pension Plan in its acquisition of Plano Molding Company and in Plano's acquisition of Synergy Outdoors LLC
Ontario Teachers' Pension Plan in its minority investment in CSC ServiceWorks Holdings, Inc.
Morgan Stanley, as financial advisor to WillScot Corporation, in WillScot's approximately $6.6 billion merger of equals with Mobile Mini, Inc.
Morgan Stanley and Goldman Sachs as financial advisors to XL Group plc in XL Group's $4.1 billion acquisition of Catlin Group Limited
A major financial institution as financial advisor to Gentiva Health Services, Inc. in Gentiva's $1.8 billion sale to Kindred Healthcare, Inc.
Sachin is recognized as a "Rising Star" for M&A in the U.S. by IFLR1000. He was named a 2017 "Rising Star" for M&A by Law360 and named among The M&A Advisor's 2017 "Emerging Leaders." He was also named a "Rising Star" for M&A by Super Lawyers 2013-2017. Sachin previously served on the Corporations Law Committee of the New York City Bar.
Sachin received his J.D./M.B.A., magna cum laude, from the University at Buffalo, where he was Editor-in-Chief of the Buffalo Law Review.
Awards and Recognition, Speaking Engagements, Guides and Resources, Firm News & Announcements
Sachin Kohli Named a "Rising Star" for M&A in the U.S.

Award Brief — IFLR1000

Sachin Kohli Named 2017 Rising Star for M&A

Award Brief — Law360

Sachin Kohli Named Among 2017 Emerging Leaders

Award Brief — The M&A Advisor

Sachin Kohli Shortlisted for "Best in M&A" Award

Award Brief — Euromoney Legal Media Group Americas Rising Star Awards 2019, 2018

Sachin Kohli Named "Rising Star" for Mergers & Acquisitions

Award Brief — Super Lawyers 2013-2017
Firm News & Announcements