Notable Representations, Key Contacts
Strategic Business Partners in Global M&A
At Weil, we partner with our clients and make it a priority to understand and appreciate their corporate organization and business strategy. We understand that any M&A transaction is part of this overarching strategy and can be the most significant business event in the history of an organization and in the lives of its executives. Our clients include the largest and most sophisticated public and private companies, boards of directors and special committees as parties on any side, and in any context, of the deal. Our decades of experience across industries and throughout geographies allow us to guide our clients through these transformative, and often complex, corporate events.
Our pragmatic, business-focused approach allows us to get the deal done. We offer clients solutions rather than simply pinpoint and analyze legal issues. Our record of success in volume, scope and size of deals speaks to the value we bring to a range of clients throughout the world daily.
Thinking Outside the Box
Clients come to Weil for M&A advice when the stakes are high and the typical game plan won't do. Weil M&A lawyers know the playbook but also have the creativity, confidence and experience to know when to rewrite it. Our M&A team has done and seen it all – whether it's navigating the turnover of a board mid-transaction; helping to bridge the valuation gap between buyer and seller; helping to turn a hostile deal into a friendly transaction; assessing and proactively addressing the complex regulatory schemes across jurisdictions; crafting a sophisticated cross-border joint venture structure to get a deal done in an inhospitable regime or jurisdiction; or juggling multiple contingent transactions for the same client simultaneously.
Boards of Directors, Special Board Committees and Governance
We represent Boards of Directors and Special Board Committees of companies ranging from the Fortune 100 companies to mid and smaller cap companies, including representations involving complex M&A transactions, takeover defense, actual or potential conflicts of interest, accounting issues, Sarbanes-Oxley compliance and other matters.
We have substantial experience assisting Boards of Directors and Special Board Committees with internal investigations, governmental investigations and litigation (including securities, class action and derivative litigations arising out of M&A transactions involving affiliated entities).
Nuanced Understanding of Activism and Takeover Defense
Weil has vast experience advising on sensitive matters involving hostile M&A, takeover defense, issues of shareholder activism and other efforts for corporate control. We take a multidisciplinary approach – which involves cross-disciplinary team efforts among our M&A, Public Company Advisory Group and Securities Litigation lawyers – and work successfully and proactively in situations involving all manner of active shareholders. We do not engage adversarially with active shareholders but rather seek to understand their objectives and help our clients work to achieve resolution that is successful to all parties.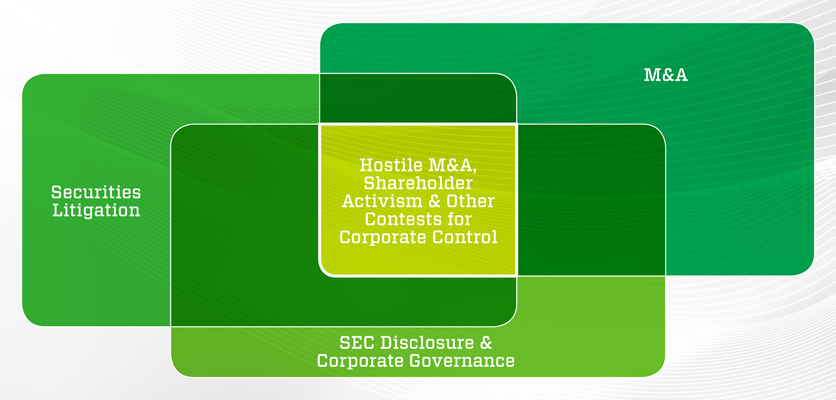 Significant Recent Global M&A Matters
Ranked Tier 1 for M&A: Large Deals ($1bn+)

Legal 500 US 2023
Ranked Tier 1 in M&A Category in the United States for the 10th Year Running

IFLR1000 2022
Winner of "France M&A Legal Adviser of the Year"

Mergermarket European M&A Awards 2022
Beyond the very high-level legal expertise, the firm stands out for its creativity, legal innovation and strategic sense."
Chambers Europe 2022
Named a "Leading" Firm for Corporate/M&A

Chambers USA 2023; Chambers Global 2023; Chambers Europe 2022
Named "SPAC Legal Advisory Firm of the Year"

Mergermarket North America M&A Awards 2021
M&A Partner Michael J. Aiello Ranked Band 1 for Corporate/M&A

Chambers Global 2023 and Chambers USA 2022
M&A Partner Michael J. Aiello Named MVP for M&A

Law360 2020, 2017, 2016
Recognized for "M&A Deal of the Year, $250-$999 million category" for Advising Main Event Entertainment in its Sale to Dave & Buster's, Inc.

D CEO and Association for Corporate Growth-DFW Mergers & Acquisitions Awards 2023
It's a super, full-service Firm that does cutting-edge deals" and "the Firm always brings its A-team to every deal."
Chambers USA 2021
Diverse, talented group of practitioners" who "work seamlessly to drive outcomes and provide guidance and support in complex transactions."
Legal 500 US 2021
Awards and Recognition, Speaking Engagements, Guides and Resources, Latest Thinking, Firm News & Announcements
Weil Ranked Tier 1 for M&A: Large Deals ($1bn+)

Award Brief — Legal 500 2023

Weil Ranked Tier 1 for M&A in the U.S. for the 10th Year Running

Award Brief — IFLR1000 2022

Weil Named "France M&A Legal Adviser of the Year"

Award Brief — Mergermarket European M&A Awards 2022

Weil Named "SPAC Legal Advisory Firm of the Year"

Award Brief — Mergermarket North America M&A Awards 2021

Weil Named a "Leading" Firm for M&A in the U.K., France, Germany, China and Hong Kong

Award Brief — IFLR1000 2022

Weil Named a "Leading" Firm for Corporate/M&A, Global-wide and in the U.S., U.K., France and China

Award Brief — Chambers Global 2023

Weil Ranked Tier 1 for M&A in New York

Award Brief — IFLR1000 2022

Weil Named a "Leading" Firm for Corporate/M&A in the U.K. and France

Award Brief — Chambers Europe 2022

Michael J. Aiello Ranked Band 1 for Corporate/M&A in New York

Award Brief — Chambers USA 2022 and Chambers Global 2023

Weil Named a "Leading" Firm for Corporate/M&A: The Elite in New York, Northern California, Texas and the U.S.

Award Brief — Chambers USA 2023

Weil Named a "Leading" Firm for Corporate/M&A in Massachusetts

Award Brief — Chambers USA 2023
Firm News & Announcements