Biography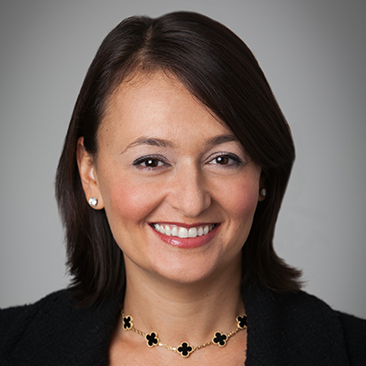 Lyuba Goltser is a partner in Weil's Public Company Advisory Group and is based in New York. Ms. Goltser advises public and private companies, foreign private issuers, and private equity sponsors on a full range of corporate governance and compliance issues, including in M&A, capital markets and corporate restructuring transactions.
She represents boards of directors, audit committees and special committees on complex governance matters, including internal investigations, shareholder activism, leadership transitions, and related party transactions. She advises public companies on financial restatements and internal control issues and Sarbanes-Oxley implementation. She also regularly advises on SEC regulations and compliance issues faced by newly-listed public companies and companies preparing to go public. Ms. Goltser is recognized as a "Next Generation Lawyer" for Corporate Governance by Legal 500 US. She was also named among Law360's 2015 "Rising Star" for Capital Markets.
Ms. Goltser advised on the corporate governance and securities regulation issues in connection with the following recent transactions:
The Dow Chemical Company in its $130 billion all-stock merger of equals with E. I. du Pont de Nemours and Company
Dow in its approximately $40 billion spin-off from DowDuPont Inc. as part of DowDuPont's separation into three independent, publicly traded companies, one each for its agriculture, materials science and specialty products businesses
York Capital Management, Valinor Management and Halcyon Capital Management, principal equity owners of NextDecade, LLC, in the $1 billion reverse merger of NextDecade with SPAC Harmony Merger Corp.
Metaldyne Performance Group Inc. in its $3.3 billion sale to American Axle & Manufacturing Holdings, Inc.
Nortek, Inc. in its $2.8 billion merger with Melrose Industries PLC and its acquisitions of 2GIG Technologies and the HVAC business of Thomas & Betts Corporation
Engility Holdings, Inc. in its approximately $1.3 billion stock-for-stock merger with TASC, Inc.
DIRECTV in the $67.1 billion transaction with AT&T
Ditech Holding Corporation (f/k/a Walter Investment Management Corp.) in its pending sale of Ditech Financial LLC and its sale of Reverse Mortgage Solutions, Inc.
MGM Resorts International in its formation of MGM Growth Properties LLC (MGP) and on the corporate aspects of MGP's $1.05 billion initial public offering
The Kroger Company in its $280 million acquisition of Vitacost.com, Inc.
Board of Directors of Herbalife in defense of a position taken by Pershing Square and in connection with a financial restatement
Health Management Associates, Inc. in its $7.6 billion sale to Community Health Systems, Inc., defense of a position taken by Glenview Capital Management and a financial restatement
Fidelity National Financial, Inc. in its $2.9 billion acquisition of Lender Processing Services Inc. (n/k/a Black Knight, Inc.) and in the distribution of two tracking stocks
Avista Healthcare Public Acquisition Corp. in its acquisition of Organogenesis Inc. and its proposed merger with Envigo International Holdings, Inc.
Leucadia National Corporation in its $534 million acquisition of a minority interest in Jefferies Group, Inc.
Eli Lilly and Company in its $7.9 billion exchange of its approximately 82% remaining interest in Elanco Animal Health Incorporated for Lilly common shares held by its shareholders
Ms. Goltser has played a key role advising on the following recent IPOs:
Elanco Animal Health Incorporated, the animal health division of Eli Lilly and Company, in its $1.7 billion initial public offering to finance, primarily, its purchase of the portion of Lilly's animal health businesses Elanco is acquiring in connection with its spin-off from Lilly
Ceridian HCM Holding, Inc. (a portfolio company of Thomas H. Lee Partners and Cannae Holdings, LLC) in its $531 million initial public offering and concurrent $100 million private placement of common shares at the IPO price
NCS Multistage Holdings, Inc. (a portfolio company of Advent International) in its $186 million initial public offering
Cotiviti Holdings, Inc. (f/k/a Connolly iHealth Technologies and a portfolio company of Advent International Corporation) in its $246 million initial public offering
Ollie's Bargain Outlet, Inc. (a portfolio company of CCMP Capital Advisors) in its $164 million initial public offering
Black Knight Financial Services, Inc. (an indirect partially owned subsidiary of Fidelity National Financial, Inc.) in its $507 million initial public offering
Metaldyne Performance Group Inc. (a portfolio company of American Securities) in its $170 million initial public offering
Dave & Buster's Entertainment, Inc. (a portfolio company of Oak Hill Capital Partners) in its $100 million initial public offering
Papa Murphy's Holdings, Inc. (a portfolio company of Lee Equity Partners) in its $64 million initial public offering
Vantiv, Inc. (a joint venture of Advent International and Fifth Third Bank) in its $575 million initial public offering
AMC Entertainment Inc. (a subsidiary of China-based Dalian Wanda Group Co.) in its $379 million initial public offering
Generac Holdings (a portfolio company of CCMP Capital Advisors) in its $270 million initial public offering
Ms. Goltser provides day-to-day counseling to numerous companies ranging from PE portfolio companies to the Fortune 500. She regularly advises on board-related issues, including director independence, board and committee structure, securities law compliance, board leadership structures, proxy access and other shareholder proposals, shareholder outreach and the impact of evolving institutional investor and proxy advisory firm policies.
Ms. Goltser writes and speaks on legal developments affecting public companies and is a frequent contributor to Weil's Governance & Securities Watch.
Ms. Goltser is also an expert in Not-For-Profit governance. Ms. Goltser is involved with the Firm's representation of numerous pro bono clients and is one of the leaders of the Firm's representation of The Breast Cancer Research Foundation. Ms. Goltser was recognized by Legal Services NYC as one of the "Top 25 Pro Bono Advocates of 2015." She is a member of the Firm's Not‑for‑Profit practice and is a panelist at the Firm's annual Symposium on Not-for-Profit Governance. She is the co-Chair of the Firm's Summer Program Committee, serves on the Firm's Hiring Committee and Diversity Committee, and is co-Chair of Women@Weil in New York.
Awards and Recognition, Speaking Engagements, Latest Thinking, Firm News & Announcements
The Society for Corporate Governance: 2017 Essentials Seminar

Speaker(s): Lyuba Goltser

January 25, 2017 — Orlando, Florida — Public Company Advisory Group partner Lyuba Goltser speaks on cybersecurity at The Society for Corporate Governance's 2017 Essentials Seminar, a program focusing on the fundamentals of corporate governance and the role of the corporate secretary. Topics include fundamentals of corporate governance, internal sources of limits on governance authority, board responsibilities, structure & process, enterprise risk management for the corporate secretary, and cybersecurity.

What to Expect for the 2017 Proxy Season: Shareholder Proposals, Proxy Access, ISS & Glass Lewis Updates and Engagement

Speaker(s): Lyuba Goltser and P.J. Himelfarb

December 15, 2016 — Public Company Advisory Group partners Lyuba Goltser and P.J. Himelfarb partner with senior members of proxy solicitor Georgeson to discuss the 2017 proxy season, as part of Weil's What's New for Public Companies: Governance & Disclosure Webinar Series.
Firm News & Announcements