Biography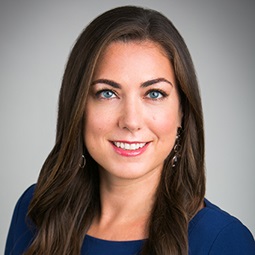 Caroline Hickey Zalka is Co-Head of Weil's Securities Litigation practice. She focuses on litigation of securities, derivative, and complex business matters at the trial and appellate levels in both federal and state courts, and before arbitration panels. 
Caroline is currently recognized as a leading securities litigator in New York by Chambers USA, in which clients called her "a brilliant lawyer [who is] not only a great strategist and a great writer but … a very, very commanding personality in an adversarial setting," and noted that "she has great instincts," "shows excellent judgment" and "is very sharp at seeing around corners." She is also recognized by Legal 500 as a national "Leading Lawyer" for Securities Litigation: Defense, and by Benchmark Litigation as a "Local Litigation Star" in New York for Securities Litigation, after being recognized by that publication in prior years as both a "Future Star" and a member of its "40 & Under Hot List." Caroline has been shortlisted for Euromoney's "Rising Star" award for Securities Litigation, and recognized as a national "Rising Star" by several other legal industry publications, including for Securities Litigation by Law360, and for Litigation by Euromoney in its Americas Women in Business Law Awards.
Caroline also has extensive experience advising in connection with internal investigations as well as federal, state, and foreign governmental and regulatory investigations, including those commenced by the Department of Justice, the Securities and Exchange Commission, the New York District Attorney's Office and the New York Attorney General's Office. She also is involved in counseling boards of directors, board committees, and senior management with respect to a broad range of matters, including securities, corporate governance, disclosure, and regulatory issues.
Recent experience includes:
Aéropostale – representation of clothing retailer Aéropostale in securities class action relating to its quarterly earnings projections.
Archstone-Smith Real Estate Trust – representation of Archstone in nationwide multidistrict litigation related to $22 billion REIT merger, obtaining post-trial verdicts dismissing claims in multiple arbitrations involving breach of contract claims, as well as summary judgment, affirmed on appeal, dismissing all claims in a related $4 billion investor class action.
Ascena Retail Group – representation of Ascena Retail Group and its former CEO and CFO in federal securities class action related to goodwill impairment charge.
BTG Pactual – representation of BTG Pactual, a Brazilian investment bank, in a multi-billion dollar dispute arising out of BTG's acquisition of a Swiss bank, which was determined, post-closing, to be a conduit for frauds perpetrated by individuals associated with the sovereign wealth fund 1MBD. Following a multi-week arbitration trial in May 2019 before a Swiss tribunal, secured a $270M settlement for BTG.
Carlyle Group – representation of Carlyle Group in a seminal business litigation in Delaware Chancery Court arising out of the triggering of a material adverse effects clause in a deal negotiation in the wake of the COVID-19 pandemic. Defeated motion for an expedited trial of claims seeking to force Carlyle to close on a significant investment in a stake in AmEx Global Business Travel, which experienced considerable financial turbulence as a result of the pandemic.
General Electric – representation of GE, its senior officers and directors in securities class action arising out of the 2008 financial crisis.
Genworth Financial – representation of Genworth Financial in securities class action and shareholder derivative actions relating to the planned IPO of its Australian unit, Genworth Mortgage Insurance Australia Ltd., and Genworth's long-term care insurance policy reserves, among other issues.
Lululemon – representation of clothing retailer lululemon athletica, inc., its senior officers and directors in securities class action and shareholder derivative actions.
Massey Energy – representation of Advisory Committee of the Board and a Committee member in connection with shareholder demand and litigation arising out of 2010 mining incident.
Morgan Stanley – representation of Morgan Stanley as financial advisor in shareholder litigation relating to the sale of Constant Contact to Endurance Internal Group Holdings, successfully securing a voluntary dismissal from the plaintiffs following oral argument.
Pilgrim's Pride – successful representation of the second largest poultry producer in the U.S. in securities class action and shareholder derivative actions related to alleged industry-wide price fixing. Motions to dismiss granted in all cases. 
Sanofi – representation of Sanofi and its wholly-owned subsidiary Genzyme Corporation and certain of their senior executives in federal securities class actions.
Sasol Ltd. – representation of Sasol Ltd. and senior executives in securities class action relating to the construction of a multi-billion dollar chemical plant in Louisiana.
VOXX International – representation of VOXX and its CEO and CFO in federal securities class action.
Walgreens Boots Alliance – representation of Walgreens and its senior executives in a securities fraud class action (motion for judgment on the pleadings granted) relating to statements the company made about a proposed merger.
Caroline has devoted considerable time to pro bono matters and co-heads Weil's Violence against Women Act initiative, representing immigrant victims of domestic abuse. She is a member of the Leadership Advisory Committee of the National Women's Law Center, and recently worked with the NWLC to submit an amicus brief to the Sixth Circuit Court of Appeals in support of former Ohio State University students who were victims of sexual abuse. She also serves on the board of the New York Legal Assistance Group, one of New York City's largest legal aid providers.
Awards and Recognition, Latest Thinking, Speaking Engagements, Guides and Resources, Firm News & Announcements
Firm News & Announcements