Biography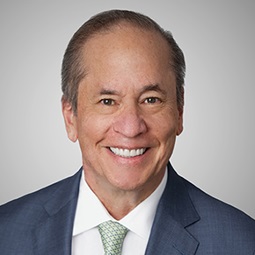 Harvey Eisenberg is a partner in Weil's Private Equity practice and is based in New York. Since he began his career in 1985, Harvey's practice has focused on representing alternative asset managers, particularly private equity firms and their portfolio companies. He has been recognized as a "Highly Regarded" lawyer for Private Equity in the U.S. by IFLR1000 and by International Who's Who as one of the leading lawyers in his field. Harvey was named "Private Equity Dealmaker of the Year" by The Deal and among the 2018 "Dealmakers of the Year" by The American Lawyer for his work representing SoftBank Group Corp. in its $3.3 billion acquisition of Fortress Investment Group, marking the first time a publicly traded U.S. private equity and asset-management firm was taken private.
Harvey's recent professional experience includes:
Asset Management M&A/Strategic Transactions: Control and minority investments in asset management firms, public offerings of financial firms, joint ventures, corporate spinouts and structured secondary transactions, including SoftBank Group Corp. in its $3.3 billion going private acquisition of Fortress Investment Group LLC; Brookfield Asset Management Inc. in its approximately $4.8 billion acquisition of a 61.2% stake in Oaktree Capital Group, LLC; TPG Inc. in its pending approximately $2.7 billion acquisition of Angelo, Gordon & Co., L.P.; TPG Global in its agreement with Sixth Street Partners, to become independent, unaffiliated businesses, with TPG retaining a passive minority economic stake in Sixth Street; TPG Inc. in its $1.1 billion IPO; Brent R. Nicklas, as founder, non-executive chairman and majority shareholder of Lexington Partners L.P., in Lexington's $1.75 billion sale to Franklin Templeton Investments; InfraRed Capital Partners in its $396 million sale of a majority stake to Sun Life Financial Inc.; Apollo Global Management, as a selling shareholder, in the $1.08 billion IPO of Athene Holding Ltd.; Sun Life Financial in its acquisition of a majority stake in Bentall GreenOak; the IPO of Apollo Global Management; Centricus Partners in its going private acquisition of CIFC; the formation of more than 30 start-ups of alternatives asset firms seeded by JPMorgan Partners; the formation, build-up and sale of Octagon Credit Investors; representing teams in the spin-outs of CCMP Capital and Irving Place Capital from JPMorgan Chase; and representing JPMorgan Chase on the separation of One Equity Partners.
Private Equity Investments: Leveraged buy-outs, going-private transactions, distressed investments, growth investments, PIPES, mezzanine capital and co-investments. Clients have included American Securities, Apollo Global Management, Aquiline Capital Partners, Brookfield Asset Management Inc., CCMP Capital, Centricus Partners LP, Goldman Sachs PIA, GreyLion Capital, InfraRed Capital Partners, Irving Place Capital, JPMorgan Partners, Magnetar Capital and SoftBank Group Corp. Transactions range in size from the middle market to over $10B.
Fund Formation: Formation of private equity funds, capital market funds, leveraged co-investment funds, employee securities companies and joint ventures; and creation of internal carry, compensation and governance agreements among fund sponsors. Representative past transactions include publicly traded multi-strategy and other private equity, debt and capital market funds for Apollo Global Management; funds for JPMorgan Partners (including its $8B global fund); and CCMP Capital ($3.5B).
Regulatory: Advise alternative asset managers on regulatory matters and compliance programs, including the Advisers Act, Bank Holding Company Act and the Dodd-Frank Wall Street Reform & Consumer Protection Act.
Counseling: Provide strategic counseling to the senior partners of alternative asset management firms.
Harvey received his JD, with highest honors, in 1985 and a BA in Economics (with significant quantitative analysis) in 1982, both from George Washington University.
Awards and Recognition, Speaking Engagements, Guides and Resources, Latest Thinking, Firm News & Announcements
Harvey Eisenberg Named "Private Equity Dealmaker of the Year"

Award Brief — The Deal 2019

Harvey Eisenberg Named a "Dealmaker of the Year"

Award Brief — PDF — The American Lawyer 2018

Harvey Eisenberg Recognized as a "Highly Regarded" Lawyer for Private Equity in the U.S.

Award Brief — IFLR1000
Firm News & Announcements