Patent Litigation
When the world's leading companies face critical patent issues – disputes where the stakes are high, the jurisdiction is unfriendly, or the technology is complex – they turn to Weil's patent litigators. Weil is consistently retained by some of the highest-profile companies in the technology and life sciences sectors, among others, to handle their most pressing strategic needs.
Notable Representations, Key Contacts
Extensive experience in the major patent venues
Weil's patent litigators regularly appear in the major patent venues across the country.
U.S. District Courts. Our litigators have extensive experience, and have achieved significant wins, in the Northern District of California, the Eastern District of Texas, the District of Delaware, the Central District of California, the Eastern District of Virginia, and others.
Federal Circuit. Clients rely on Weil's patent appeals practice for its experience, acumen, and ability to deliver win after win in the Federal Circuit Court of Appeals.
U.S. International Trade Commission. Our lawyers have extensive experience litigating high-stakes investigations under the ITC's fast-paced procedures and deep understanding of ITC protocol and procedure.
Patent Trial and Appeal Board. We regularly work with clients in challenging the validity of patents at the PTAB, both in Inter Partes Review (IPR) and Covered Business Method proceedings.
Strong technical backgrounds
Our lawyers have strong technical backgrounds in areas relevant to our clients' disputes. Most of our patent litigators have technical degrees, and their areas of study range from electrical engineering, computer science, and physics, to biology and chemistry.
Deep bench
With more than 40 patent litigators nationwide, we can staff any patent litigation matter locally or nationally, bringing to each matter the lawyers with the strongest experience for that case.
Weil was recognized as a top firm in IAM Patent 1000 – The World's Leading Patent Practitioners 2015, with the survey noting that "Flawless delivery of a quality service keeps clients of Weil, Gotshal & Manges coming back for more. On the contentious side, the firm has proven its ability to deliver the goods in all forums and patrons bring bet-the-company suits here with confidence. It has been handling high-stakes patent litigation since before this became fashionable – years of experience give its lawyers a natural feel for how judges in different venues might respond to various arguments and approaches."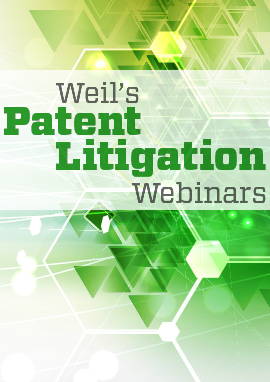 Top 10 firm in the U.S. for Intellectual Property: Patent

Chambers Global 2016
The team is "noted for its expertise in complex life sciences patent disputes."
Chambers USA
This hard-hitting team combines deep technical understanding with extensive experience of fighting cases in the high-end life sciences and electronics arenas.
Chambers USA
Weil was named to the National Law Journal's 2013 "IP Hot List," with the publication noting that "for much of the past year, the firm's patent litigation practice has handled some of the biggest names in technology and media"

The National Law Journal
Clients look to Weil to protect their interests in disputes which threaten their most important product lines or growing revenue streams. The firm's enviable squad of lawyers marry trial skill and technical dexterity in a potent blend which has scored them some notable victories.
IAM Patent 1000 2015
Terrific firm. A top-notch trial team for significant matters anywhere in the USA.
Chambers USA
They have a very deep bench and the results are phenomenal.
Chambers USA
Awards and Recognition, Speaking Engagements, Latest Thinking, Firm News & Announcements, Recent Announcement
Edward Reines and Elizabeth Weiswasser Named 2016 Life Science Stars

Award Brief — LMG Life Sciences Guide

Weil Named a "Leading" Firm in Intellectual Property: Patent, USA

Award Brief — Chambers Global 2016

Anne Cappella Named a "Leader in Tech Law"

Award Brief — The Recorder

Weil "Recommended" for Patent Litigation nationwide

Award Brief — IAM Patent 1000 – The World's Leading Patent Practitioners

Weil Named a "Leading" Firm for Patent Litigation: Full Coverage

Award Brief — Legal 500 US

Elizabeth Weiswasser Named "Recommended" Lawyer for Healthcare: Life Sciences in the US

Award Brief — Legal 500 US
After Lexmark: Patent Exhaustion Is Not Optional

Speaker(s): Elizabeth S. Weiswasser and Jeffrey D. Osterman

August 03, 2017 — American Law Institute

Three Patent Cases to Watch in 2017

Speaker(s): Elizabeth S. Weiswasser

February 04, 2017 — Ft. Lauderdale, FL — As part of the American Intellectual Property Law Association's Mid-Winter Institute, Weil Litigation partner Elizabeth Weiswasser will give a presentation at the closing plenary session entitled "Three Patent Cases to Watch in 2017."
Firm News & Announcements