Biography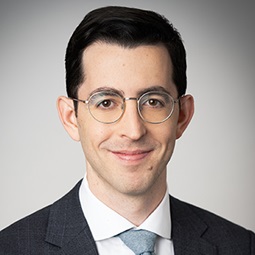 Robert B. Niles-Weed is an associate, elected partner effective January 1, 2024, in Weil's Complex Commercial Litigation and Appeals and Strategic Counseling practices, where he focuses on various commercial disputes at all phases of trial court litigation, as well as appeals in state and federal courts, including the U.S. Supreme Court.
Robert's work mainly involves developing case strategy, drafting and arguing dispositive motions and appeals, and serving as appellate counsel at trial in cases addressing high-stakes and cutting-edge legal issues. His practice encompasses a variety of subject matters and disciplines, including bankruptcy, intellectual property, antitrust, securities and M&A, constitutional and administrative law, and other complex commercial litigation.
Robert's notable recent experience on Weil teams includes:
Bankruptcy
Securing a unanimous win for the respondent in the U.S. Supreme Court in Bartenwerfer v. Buckley, a case involving the Bankruptcy Code's fraud exception to discharge.
Representing Westinghouse Electric Company in a successful certified interlocutory appeal before the Third Circuit on a first-impression issue of bankruptcy claims administration. (Robert's successful oral argument can be heard here.)
Winning significant appellate victories in the Second Circuit in multi-hundred million dollar cases arising out of the bankruptcies of Sears and Lehman Brothers.
Intellectual Property
Drafting an amicus brief in the U.S. Supreme Court on behalf of small and medium biotechnology companies in Amgen v. Sanofi on the standard for patent enablement.
Securing pre-verdict judgment as a matter of law of non-infringement for Comcast in a $150M+ patent infringement case initiated by WhereverTV, Inc. in the Middle District of Florida related to Comcast's X1 interactive guide.
Antitrust
Representing Microsoft in litigation arising from its $68.7 billion acquisition of Activision Blizzard, Inc., a leading publisher of popular PC, console and mobile games.
Representing Regeneron in connection with a monopolization claim in Delaware federal court against Amgen for leveraging sales of Otezla and Embrel to boost sales of Amgen's drug, Repatha.
Securities and M&A
Winning a significant victory in Delaware Chancery Court on behalf of Carlyle Group in a seminal business litigation arising out of the triggering of a material adverse effects clause in a deal negotiation in the wake of the COVID-19 pandemic.
Representing Sasol Ltd., a South African energy and chemical company, and senior executives in a securities class action in the Southern District of New York relating to the construction of a multi-billion dollar chemical plant in Louisiana.
Constitutional and Administrative Law
Successfully bringing and arguing a landmark First Amendment case for Upsolve Inc. in the Southern District of New York to empower non-attorney justice advocates to provide legal advice to expand access to justice for low-income defendants in debt collection lawsuits. The case was featured in the New York Times and described by Law360 as one of "the cases that most affected access to justice in 2022."
Winning a significant victory against the Small Business Administration in a case under the Administrative Procedure Act that helped to obtain loan forgiveness for small business owners with prior criminal history struggling with the impact of the COVID-19 crisis.
Complex Commercial Litigation
Representing NBA #1 draft pick Zion Williamson in high-profile multi-jurisdictional litigation, including several appeals in Florida state court and North Carolina federal court arising out of a dispute with a marketing agency, with asserted claims of more than $100M in potential damages.
Prior to joining Weil, Robert clerked for Justice Elena Kagan of the United States Supreme Court. He also previously served as a law clerk for Judge David Tatel of the U.S. Court of Appeals for the D.C. Circuit and Judge J. Paul Oetken of the U.S. District Court for the Southern District of New York.
Robert graduated magna cum laude from Harvard Law School, where he was a member of the Harvard Law Review. He received his M.B.A. from Harvard Business School and his A.B., magna cum laude, from Harvard College.
Awards and Recognition, Speaking Engagements, Guides and Resources, Latest Thinking, Firm News & Announcements
Trials & Tribulations: Technology as a Tool of the Law

Speaker(s): Robert B. Niles-Weed

April 14, 2023 — Weil associate Robert Niles-Weed participated in a panel discussion entitled "Trials & Tribulations: Technology as a Tool of the Law," which covered the use of technology and AI during discovery and in the courtroom, including in the recent opioid litigation in New York. The panel was part of a conference called "It's Alive!": Technological Growth in Tort Liability & Practice, sponsored by Hofstra University School of Law's Perry Weitz Mass Tort Institute.
Firm News & Announcements