Biography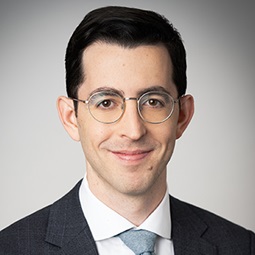 Robert B. Niles-Weed is an associate in Weil's Complex Commercial Litigation and Appeals and Strategic Counseling practices, where he focuses on various commercial, intellectual property, securities and bankruptcy disputes, as well as appeals in state and federal courts.
Robert has experience at all phases of bankruptcy, trial court, and appellate litigation, including drafting dispositive motions and appellate briefs, and arguing in bankruptcy, district, and appellate court. Recently, Robert argued an appeal before the Third Circuit, on behalf of Westinghouse Electric Company, in a case raising novel issues about the scope of a bankruptcy court's authority to discharge administrative claims.
Robert's notable recent experience includes serving on Weil teams representing:
NBA #1 draft pick Zion Williamson in the successful appeal of a Florida state court's denial of Mr. Williamson's motion to dismiss a breach of contract action that is a part of a series of high-profile litigation arising out of a dispute with a marketing agency, with asserted claims of more than $100M in potential damages.
Carlyle Group in a seminal business litigation in Delaware Chancery Court arising out of the triggering of a material adverse effects clause in a deal negotiation in the wake of the COVID-19 pandemic.
Sasol Ltd., a South African energy and chemical company, and senior executives in a securities class action in the Southern District of New York relating to the construction of a multi-billion dollar chemical plant in Louisiana.
Robert also has particular expertise in bankruptcy proceedings. His selected bankruptcy litigation experience includes:
Lehman Brothers in a successful appeal before the Second Circuit relating to the trial court's interpretation of the $1.2 trillion bankruptcy plan of Lehman and its affiliates.
EP Energy, a public oil and natural gas exploration and production company, and its affiliated debtors in their chapter 11 cases involving approximately $4.9 billion in funded debt obligations.
Robert also maintains an active pro bono practice, including serving as a member of the Weil team that, in June 2020, won a significant victory against the Small Business Administration that helped to obtain loan forgiveness for myriad small business owners with prior criminal history struggling with the impact of the COVID-19 crisis.
Prior to joining Weil, Robert clerked for Justice Elena Kagan of the United States Supreme Court. He also previously served as a law clerk for Judge David Tatel of the U.S. Court of Appeals for the D.C. Circuit and Judge J. Paul Oetken of the U.S. District Court for the Southern District of New York.
Robert graduated magna cum laude from Harvard Law School, where he was a member of the Harvard Law Review. He received his M.B.A. from Harvard Business School and his A.B. magna cum laude from Harvard College.
Speaking Engagements, Firm News & Announcements
Trials & Tribulations: Technology as a Tool of the Law

Speaker(s): Robert B. Niles-Weed

April 14, 2023 — Weil associate Robert Niles-Weed participated in a panel discussion entitled "Trials & Tribulations: Technology as a Tool of the Law," which covered the use of technology and AI during discovery and in the courtroom, including in the recent opioid litigation in New York. The panel was part of a conference called "It's Alive!": Technological Growth in Tort Liability & Practice, sponsored by Hofstra University School of Law's Perry Weitz Mass Tort Institute.
Firm News & Announcements