Women@Weil
Women@Weil embraces the talents and energy of women attorneys across Weil, focusing on mentoring, networking, recruiting, retention, advancement, pro bono initiatives, business development and outreach.
Women's Advancement
Management Committee Sponsor: Each affinity group has an appointed senior leader sponsor, who is not a member of that demographic group. The sponsors are charged with understanding key issues the group members' face and advocating for necessary change. Michael Francies, managing partner of Weil's London office and a partner in the Corporate group is the sponsor for Women@Weil.
Women Leaders: There are 59 women partners globally. Twenty-three percent of the Firm's U.S. partners are women. Nine women serve as leaders of departments, offices, or practice groups, or are firmwide committee chairs or Management Committee members. The General Counsel and four Management Committee members are women.
New Women Partners: Forty-one percent of the U.S. partners (32% globally) promoted since 2007 are women.
By the numbers: Women represent 36% of European attorneys, 23% of Asian attorneys, and 42% of U.S. attorneys.
TOWER (Taskforce on Women's Engagement & Retention): A committee of women and men partners are focused on the advancement and development of women attorneys globally.
Women@Weil: Since many of the challenges facing women in the workplace transcend borders, our women's affinity group has a global outlook. There is a global Leadership Board that oversees Firmwide efforts, with office leaders spearheading local efforts.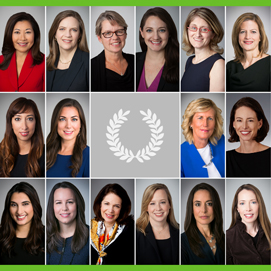 To date, 16 women lawyers have been recognized for expertise and excellence in their respective practices and sectors in 2017.
Learn more about their successes here.