Biography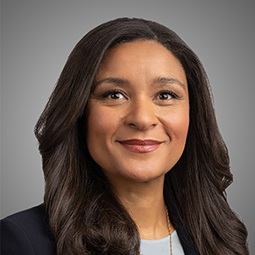 Chantale Fiebig is a partner in Weil's Complex Commercial Litigation practice.
Chantale's practice focuses on representing corporate clients in complex commercial litigation and high-stakes business disputes in federal court, including matters involving transactional disputes, business torts, commercial fraud, and consumer protection claims. She has successfully led the defense of clients in a range of industries, including financial services, consumer products, transportation, media, and technology.
She also has extensive experience defeating nationwide class actions. Chantale has served as lead counsel in nearly 15 putative class actions, most involving high-profile claims of corporate fraud, unfair business practices, false advertising, or consumer deception. She also represents clients in related proceedings or parallel litigation, including against state attorneys general.
Some of Chantale's recent representative engagements include*:
Representing Facebook in civil litigation alleging consumer deception claims relating to Cambridge Analytica
Representing a defendant against Blueprint Capital Advisors' allegations of RICO, discrimination, and breach of contract violations by multiple Wall Street institutions
Representing the former chief investment officer of a hedge fund in civil litigation in the S.D.N.Y. alleging widespread RICO violations and corporate fraud by Beechwood Re
Representing a defendant in civil litigation alleging securities violations relating to the dissolution of a mutual fund
Representing a global manufacturer in a derivative suit alleging false and misleading corporate statements and disclosures
Representing a global food and beverage manufacturer in nationwide class actions alleging consumer deception
Representing Daimler AG and Mercedes-Benz USA, LLC in a nationwide class action alleging RICO and consumer protection violations
In 2019, Chantale was named a "Rising Star" by Law360, featuring "attorneys under 40 whose legal accomplishments transcend their age." She serves as an adjunct professor at Georgetown University Law Center, where she teaches an advanced seminar on class action law and practice. Chantale is a frequent writer and speaker on issues relating to class action law and complex litigation.
Prior to joining Weil, Chantale was a partner at another international law firm. Earlier, she served as an Assistant United States Attorney in the Eastern District of Michigan. As an AUSA, Chantale helped prosecute former Detroit Mayor Kwame Kilpatrick on public corruption charges, and successfully represented the federal government in more than 20 appeals in the Sixth Circuit, including in cases involving widespread commercial and financial fraud.
Chantale received her law degree from Stanford Law School, where she was an articles editor on the Stanford Law Review. She received her undergraduate degree in economics from the University of Virginia, where she was an Echols Scholar. Chantale also served as a judicial clerk for Judge Rosemary Barkett on the Eleventh Circuit Court of Appeals. Before law school, she worked as a financial analyst at a global investment management firm in New York.
Chantale is admitted to practice in Washington, D.C. She is also a member of the bar of the State of New York, and admitted to practice in S.D.N.Y and E.D.N.Y.
*includes matters handled prior to joining Weil
Firm News & Announcements, Awards and Recognition, Speaking Engagements, Latest Thinking
Firm News & Announcements