Biography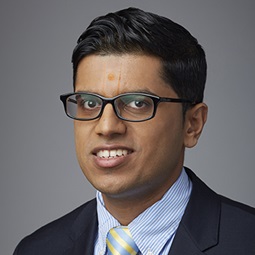 Pravin Patel is counsel in Weil's Complex Commercial Litigation practice, where he has significant experience across a broad range of disputes, including class actions, product liability, business torts, breach of contract, fraud, bankruptcy, healthcare, and environmental cases. These engagements have involved complex financial instruments and deal instruments, sophisticated corporate governance issues, and significant product defect allegations, and implicated billions in potential claims. 
Pravin has been intimately involved in and led the defense of numerous nationwide and multi-state putative class actions, and he is directly involved in all aspects of these and other cases, ranging from discovery and dispositive motions to settlement and case resolution. He has assisted with the representation of clients across various industries, including consumer products, investment banking, healthcare, insurance, media and entertainment, oil and gas, and energy.
Pravin has been recognized by Florida Super Lawyers as a "Rising Star" since 2016 and as a "Top Rated Class Action & Mass Torts Attorney in Miami, FL" since 2018. In 2023, he was named a Recommended Lawyer for General Commercial Disputes by Legal 500, and as a "Lawyer to Watch" in the areas of Commercial Litigation and Product Liability by Best Lawyers: Ones to Watch in America. In 2020, he was honored as one of just 25 recipients of Daily Business Review's "On the Rise" award, which recognizes attorneys under 40 years of age for their early-career accomplishments. 
Some of Pravin's recent notable experience includes serving on Weil teams representing:
2019 NBA #1 draft pick Zion Williamson and Creative Artists Agency (CAA) in connection with two multi-hundred million dollar litigations arising out of a marketing agreement with his former agent.
Pilgrim's Pride in federal class actions across the country brought by direct and indirect purchasers alleging that the major chicken producers reduced output to raise the price of broiler chickens.
Dometic, a major manufacturer of gas absorption refrigerators, in securing summary judgment and defeating class certification, as well as transfer and consolidation victories prior to those case dispositive rulings, in numerous putative nationwide consumer class actions in Florida and California federal courts alleging that the cooling units in several models of Dometic's refrigerators purportedly contained a latent defect.
Repsol, a global energy company, in complex environmental litigation concerning liabilities associated with the pollution and clean-up of the Passaic River in New Jersey, which involved, amongst a host of others, claims of "alter ego" and fraudulent conveyance. Pravin and the Weil team first secured a victory defeating all claims involving more than $1 billion in damages, and then won summary judgment upholding Repsol's $65 million counterclaim.
Nortek, a global manufacturer of HVAC systems, in multiple putative class actions in Florida and Tennessee federal courts alleging that Nortek failed to disclose defects in its air conditioning equipment. Pravin and the Weil team obtained the denial of plaintiffs' motion for class certification in the Florida case, as well as the dismissal of all claims, with prejudice, in the Tennessee case.
UnitedHealth Group in the successful defense of multi-billion dollar RICO and related conspiracy claims brought by a nationwide class of 700,000 doctors.
Various creditors and debtors in significant chapter 11 bankruptcies and related litigation, including Claire's Stores, Westinghouse Electric, and Lehman Brothers Holdings.
Pravin also is actively involved in the Firm's pro bono initiatives and in the local community, and has achieved nationally recognized results in these engagements. Notable among these are: his representation of members of the Humane Society of the United States in a nationwide putative class action challenging the sales of puppies from "puppy mills"; and his representation of members of the Florida Immigrant Coalition and WeCount!, amongst others, in a putative class action challenging the constitutionality of Miami-Dade County's practice of compliance with voluntary detainer requests by U.S. Immigrations and Customs Enforcement to hold individuals for up to 48 hours after they are entitled to lawful release.
Pravin is the Associate Editor of Weil's quarterly Class Action Monitor, Co-Chair of the Discovery Strategies subcommittee of the American Bar Association's Mass Torts Committee, and a member of the Florida Bar and the Dade County Bar Association. Pravin received his B.A. from the University of Miami, where he majored in political science and graduated summa cum laude in 2009. He was also tapped into Iron Arrow while at the University. Pravin received his J.D. from the University of Chicago Law School in 2012, where he was an Edith Lowenstein Scholar and a Caplan Fellow.
Awards and Recognition, Speaking Engagements, Guides and Resources, Latest Thinking, Firm News & Announcements
Pravin Patel Recognized as "Top Rated Class Action & Mass Tort Attorney" in Miami, FL

Award Brief — Super Lawyers

Pravin Patel Recognized as a Florida "Rising Star"

Award Brief — Super Lawyers 2016 - 2020

Pravin Patel Recognized as 2020 "On the Rise" Honoree

Award Brief — Daily Business Review
Firm News & Announcements