Biography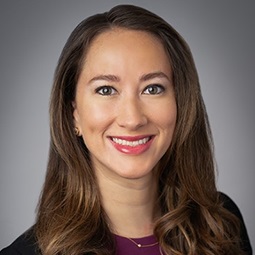 Elaina Aquila is an associate in Weil's Litigation Department, where she focuses on a broad range of complex commercial disputes, including class actions, product liability cases, and bankruptcy matters, in state and federal courts nationwide. Some of her recent representative experience includes serving on Weil teams representing:
A global technology company in successfully defending several consumer class actions in California regarding alleged defects in its laptops. The Weil team prevailed on motions to dismiss in both cases, and secured affirmation by the Ninth Circuit in one of them.
Sears in connection with disputes arising as part of the company's chapter 11 bankruptcy proceedings in the S.D.N.Y., including winning a number of victories before the bankruptcy court and on appeal before the district court enforcing an asset purchase agreement.
A major consumer products company in several environmental litigations in the E.D.N.Y.
She is also deeply committed to her pro bono practice, which has included successfully representing a low-income tenant who was facing illegal housing conditions and harassment. Among her other victories in this matter, the court issued an order to correct and granted our client's motion for contempt, with sanction.
Prior to joining Weil, Elaina served as a Judicial Law Clerk to the Honorable Claire C. Cecchi of the U.S. District Court for the District of New Jersey.
Elaina received her J.D. from Fordham University School of Law, cum laude, where she served as an Articles and Notes Editor of the Fordham Law Review. Upon graduation, she received the Archibald R. Murray Public Service Award, magna cum laude, and the Ann Moynihan Award for her outstanding performance in the Law School's Clinical Program, where she successfully advocated for a financial hardship exemption to New York State Tax Law § 171-v. During law school, Elaina served as a Judicial Extern to the Honorable Loretta A. Preska of the U.S. District Court for the Southern District of New York and as a Judicial Intern to the Honorable Claire R. Kelly of the U.S. Court of International Trade. Elaina earned her B.A. in Philosophy, cum laude, from Skidmore College.
Speaking Engagements, Latest Thinking, Firm News & Announcements
Looking Beyond Predominance: A Survey of Alternatives to Defeat Class Certification Alert — Class Action Monitor — By David R. Singh, Pravin R. Patel, Elaina Aquila, Patrick Lyons, Zhi Yang Tan, Natalie Howard, Evelyn Medai, Krystel Delauney and Katheryn Maldonado — PDF — July 31, 2023
Supreme Court Holds That "But-For" Causation Is Not Required For Specific Jurisdiction Publication — By Zack Tripp, Pravin R. Patel, Brian Liegel and Elaina Aquila — April 08, 2021
Supreme Court Holds That "But-For" Causation Is Not Required For Specific Jurisdiction Alert — Class Action Monitor — By Zack Tripp, Pravin R. Patel, Brian Liegel and Elaina Aquila — PDF — March 26, 2021
Firm News & Announcements