Biography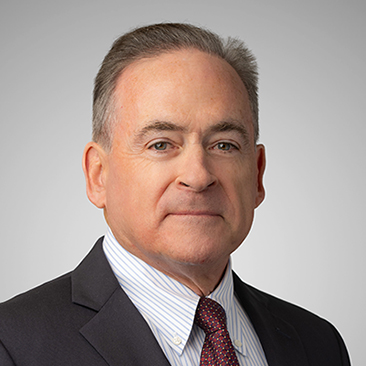 John B. O'Loughlin, Jr. is counsel in Weil's Corporate Department and is based in Washington, D.C. His practice is devoted to product safety and environmental law.
Mr. O'Loughlin advises clients on a wide range of administrative and regulatory compliance matters, with a particular focus on health and safety issues. He represents corporations in administrative proceedings before regulatory agencies such as the Food and Drug Administration (FDA), the Consumer Product Safety Commission (CPSC), the Environmental Protection Agency (EPA), the Occupational Safety and Health Administration (OSHA), and the Nuclear Regulatory Commission (NRC). He also counsels clients on how to minimize and allocate risks in mergers, acquisitions, and financing transactions.
Mr. O'Loughlin was educated at Towson University and Richmond University in London. He holds an M.A. from Boston University's international relations program in Brussels and a J.D. from the University of Maryland School of Law, where he was a member of the moot court board and served as Associate Editor of the Maryland Law Review. Prior to becoming a lawyer, Mr. O'Loughlin was a national security consultant for the Department of Defense and the Department of Energy.
Mr. O'Loughlin is recommended for Environment: Transactional by Legal 500 US.
Key Representations
Represented Churchill Capital Corp III, a SPAC sponsored by Churchill Capital Group, in its $5.7 billion merger with MultiPlan, Inc. that has an enterprise value based on the transaction of approximately $11 billion.

Represented athenahealth, Inc. in its $5.7 billion sale to Veritas Capital and Evergreen Coast Capital (an affiliate of Elliott Management Corporation) and planned combination with Virence Health

Represented Froneri International Limited (a joint venture between Nestlé and PAI Partners) in its $4 billion acquisition of Dreyer's Grand Ice Cream Holdings, Inc.
Represented Gores Metropoulos, Inc., a SPAC sponsored by affiliates of The Gores Group and Metropoulos & Co., in its $3.4 billion merger with Luminar Technologies, Inc.
Represented Fortress Value Acquisition Corp., a SPAC sponsored by Fortress Investment Group, in its pending acquisition of Secure Natural Resources and MP Materials, together the owner and operator of Mountain Pass in a stock-for-stock transaction that values the combined company at $1.5 billion.
Represented American Securities in its $825 million acquisition of the Life Sciences Business of NN, Inc.
Represented Hayfin Capital Management in, together with EW Healthcare Partners, a $100 million convertible preferred equity investment in MiMedx Group, Inc. and Hayfin, as lender, in the concurrent provision of $75 million term facilities for MiMedx.
Represented Healthcare Merger Corp., a SPAC sponsored principally by Shulman Ventures and MTS Health Partners, in its merger with SOC Telemed in a transaction that implies an initial enterprise value of $720 million
Represented Quest Diagnostics Inc. in its acquisition of Blueprint Genetics Oy.
Represented TCV as lead investor in a $200 million Series C funding round for Capsule Corporation.
Represented Mudrick Capital Acquisition Corporation, a SPAC sponsored by Mudrick Capital, in its acquisition of substantially all of the assets of Hycroft Mining Corporation, with an initial enterprise value of approximately $537 million.
Represented Vander-Bend Manufacturing, Inc. (a portfolio company of Aterian Investment Partners) in its acquisition of substantially all the assets of TMK Manufacturing, Inc.
Represented Aquiline Capital Partners in its acquisition of Ontellus.
Represented Pioneer Metal Finishing, LLC (a portfolio company of Aterian Investment Partners) in its acquisition of Pilkington Metal Finishing LLC.
Represented Montagu Private Equity in its $490 million acquisition of the original equipment manufacturing (OEM) and tissue processing businesses of RTI Surgical, Inc.
Represented Cornell Capital in the business combination of Knowlton Development Corporation (KDC/ONE) and HCT Group Holdings Limited and in KDC/ONE's acquisition of Zobele Holding S.p.A.

Represented Irving Place Capital Management and Agiliti Holdco, Inc. (f/k/a Universal Hospital Services, Inc.) in Agliti's combination with Federal Street Acquisition Corp. (FSAC), a SPAC sponsored by Thomas H. Lee Partners, in a new holding company formed by FSAC named Agiliti Health, Inc., having an implied enterprise value of approximately $1.74 billion.

Represented AMP Capital Investors in its acquisition of ITS ConGlobal, a provider of intermodal rail terminal services, auto loading and unloading, and container depot services for clients in the United States, Canada and Mexico.

Represented Campbell Soup Company in various matters, including its $6.1 billion acquisition of Snyder's-Lance, Inc.; in its $2.2 billion sale of Campbell International, Inc.; and in its sales of Bolthouse Farms, Garden Fresh Gourmet and Kelsen Group A/S.

Represented Brookfield Asset Management Inc. in its approximately $4.8 billion acquisition of a 61.2% stake in Oaktree Capital Group, LLC, parent of Oaktree Capital Management, L.P., a hedge fund sponsor.

Represented inVentiv Health, Inc. in its $4.6 billion merger with INC Research Holdings, Inc. creating Syneos Health, Inc.

Represented Antin Infrastructure Partners in its acquisition of FirstLight Fiber and in FirstLight Fiber's acquisition of Maine Fiber Company.

Represented Advent International in its acquisitions of Culligan International Company, The Coffee Bean & Tea Leaf, Definitive Healthcare, LLC and a 45% stake in Conservice, LLC; its majority investment in First Watch Restaurants, Inc.; in its sale of The Coffee Bean & Tea Leaf; in Culligan's $1.1 billion take-private acquisition of AquaVenture Holdings Limited and acquisition of TWH Filtration Industries, Inc. including its principal subsidiary Paragon Water Systems Inc. and OASIS Corporation; and Sovos Brands in its acquisition of Birch Benders, LLC.

Represented Berkshire Partners, together with WCAS and Tetrad Ventures (GIC), in a sizable minority investment in U.S. Anesthesia Partners, Inc., a single-specialty physician service provider of practice management services to anesthesiologists in the United States, with physician shareholders of U.S. Anesthesia retaining a majority stake.

Represented Berkshire Partners, together with Warburg Pincus, in the recapitalization of Consolidated Precision Products Corp.

Represented Eli Lilly and Company in its approximately $8 billion acquisition of Loxo Oncology, Inc. and in its $1.1 billion acquisition of Dermira, Inc.

Represented Centerbridge Partners in its sale of P.F. Chang's China Bistro, Inc., a chain of, at the time, approximately 210 restaurants in the United States, Mexico, the Middle East and Puerto Rico

Represented EQT Partners and its portfolio company Sivantos Pte. Ltd. (n/k/a WS Audiology A/S) in its acquisitions of TruHearing, Inc. and Clearwater Clinical Limited.

Represented Genstar Capital in its acquisition of Tecomet, a precision contract manufacturer supporting the medical device and aerospace and defense industries, from Charlesbank Capital Partners, LLC.

Represented Knowlton Development Corporation (a portfolio company of Cornell Capital) in its acquisition of Benchmark Cosmetic Laboratories, Inc.

Represented Thomas H. Lee Partners and Broad Street Principal Investments, a private-equity affiliate of Goldman Sachs & Co., in the acquisition of CTI Foods Holdings, an independent provider of custom food products to major chain restaurants in North America, from Littlejohn & Co. LLC;

Represented Thomas H. Lee Partners in its acquisition of 1-800 CONTACTS, an online retailer of contact lenses, from WellPoint, a health benefits company; and in Intermedix Corporation (a portfolio company of Thomas H. Lee Partners) $460 million sale to R1 RCM Inc.

Advised Sweden-based Investor AB, a publicly traded private equity firm, on the international aspects of its acquisition of Sweden-based Permobil, a developer, manufacturer and marketer of transport and communication systems for people with functional disabilities which has an enterprise value of $783 million from Nordic Capital Fund V, L.P., a Jersey-based private equity investment fund.

Represented Sanofi, a listed France-based pharmaceuticals company, in its $25 billion exchange of Merial, its animal health business, for the consumer healthcare business of Boehringer Ingelheim GmbH, a developer, manufacturer, and marketer of human and veterinary pharmaceutical products; in its $11.6 billion acquisition of Bioverativ Inc., a developer of therapies for the treatment of hemophilia and other rare blood disorders; in its $3.7 billion acquisition of Principia Biopharma Inc., a late-stage biopharmaceutical developer of treatments for immune-mediated diseases; in its $1.9 billion acquisition of Chattem, Inc., a consumer healthcare company with a strong over-the-counter presence in the United States healthcare market; in its $125 million investment in Warp Drive Bio, a start-up focusing on proprietary genomic technology to discover dugs of natural origin; and in its acquisition of Pluromed, a U.S.-based maker of polymer inserts for medical procedures.

Represented Avista Capital Partners and its portfolio company BioReliance, provider of biologic testing, specialized toxicology and animal health services to the pharmaceutical and biopharmaceutical industries, in the $350 million sale of BioReliance to Sigma-Aldrich, publicly listed producer of chemical and biochemical products used in scientific research, biotechnology and pharmaceutical development.

Represented Avista Healthcare Public Acquisition Corp. in its acquisition of Organogenesis Inc., a developer of regenerative medicine that offers bioactive and acellular biomaterials products in advanced wound care and surgical biologics, and its proposed merger with Envigo International Holdings, Inc., an early stage non-clinical contract research organization.

Represented OMERS Private Equity in credit facilities to finance OMERS' acquisition of Great Expressions Dental Company, a provider of dental care services at more than one hundred US locations.

Represented Morgan Stanley as lead bookrunner in a $1 billion senior notes offering by DENTSPLY International, designer and manufacturer of laboratory and specialty dental products and consumable supplies with proceeds to fund a portion of its $1.785 billion acquisition of Sweden-based Astra Tech, manufacturer and marketer of dental implants, abutments and surgical medical devices.

Represented OPE Accelerated (a portfolio company of OMERS Private Equity) in term and revolving financing supporting OMERS' acquisition of Accelerated Rehabilitation Centers, a chain of 180 physical therapy centers in six midwest and southern US states.

Represented Snow Phipps Group in its acquisition of DecoPac, Inc., a supplier of cake decorating products to professional cake decorators and bakeries.

Counsel to radiology services provider Virtual Radiologic (a portfolio company of Providence Equity Partners LLC) in its $80 million syndicated mezzanine financing supporting its acquisition of publicly traded NightHawk Radiology Holdings, a remote interpreter of MRI, X-ray and other diagnostic images.
Awards and Recognition, Speaking Engagements, Guides and Resources, Latest Thinking, Firm News & Announcements
John O'Loughlin Recommended for Environment: Transactional

Award Brief — Legal 500 US
Firm News & Announcements