February 07, 2022
NEW YORK, February 7, 2022: International law firm Weil, Gotshal & Manges LLP announced today that Robert Rizzo has joined the Firm as a partner in the global Private Equity practice, based in Weil's New York office.
"We are delighted to welcome Robert to the Firm," said Weil Executive Partner Barry Wolf. "His extensive experience in private equity and longstanding commitment to providing excellent client service make him a great fit with our culture."
"Robert is an accomplished transactional lawyer with a proven talent for deal execution, having advised on a wide range of growth equity transactions," said Michael Aiello, Chairman of Weil's global Corporate Department. "He is also a collaborative team player who will be a great addition to our global Private Equity practice."
Robert joins Weil from the New York office of Willkie Farr & Gallagher LLP, where he was a partner. Robert's global practice focuses on structuring and negotiating complex business transactions for private equity sponsors, their portfolio companies and other corporate clients. His broad experience includes SPACs, mergers, acquisitions, divestitures, leveraged buyouts, recapitalizations, spinoffs, formation of private equity funds, venture and growth capital investments, and debt and equity financings.
"I am very excited to be joining Weil's global Private Equity practice," said Robert. "The team at Weil has consistently impressed me, and I look forward to advising sophisticated global clients on their most important strategic transactions."
About Weil's Private Equity Practice
Weil's global Private Equity practice is recognized by the industry as being one of only a very small number of elite market leaders in this field. Our clients include many of the highest-profile private equity funds, sovereign wealth funds and pension funds, as well as family offices and other equity financial investors. Weil advises more than 300 private equity clients worldwide, including 8 of the 10 largest global private equity funds and 80% of the top 25 largest global private equity funds as ranked by PEI 300 2021. Our advice covers all aspects of the full life cycle of investments.
About Weil
Founded in 1931, Weil, Gotshal & Manges LLP has been a preeminent provider of legal services for more than 90 years. With approximately 1,100 lawyers in offices on three continents, Weil has been a pioneer in establishing a geographic footprint that has allowed the Firm to partner with clients wherever they do business. The Firm's four departments, Corporate, Litigation, Restructuring, and Tax, Executive Compensation & Benefits, and more than two dozen practice groups are consistently recognized as leaders in their respective fields.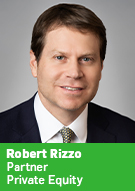 ---
Media Inquiries
Weil Public Relations
Christopher Rieck
Director, Communications
Peter Ottaviano
Senior Manager, Communications