Executive Partner

New York
Biography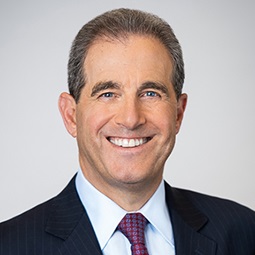 Barry Wolf is Weil's Executive Partner and is Chair of the Firm's Management Committee.
Barry has extensive experience representing private investment funds and their sponsors in their organization and operation, as well as advising institutional investors investing in private equity funds – providing counsel on both commercial and tax matters.
In 2021, Barry was named to the Law Power 100, City & State's list of the most influential attorneys in New York. In 2019, Barry was recognized as a Distinguished Leader by the New York Law Journal's Professional Excellence Awards. In 2018, the Financial Times' North America Innovative Lawyers report named Barry as one of ten legal innovators. He also has been recognized as a leading private equity lawyer by Practical Law Company in Global Counsel and is recognized as an "Eminent Practitioner" for Fund Formation by Chambers Global and Chambers USA, where "[he] is regarded as an 'absolute star, with searing intelligence.' A frequent adviser to private equity firms and their sponsors, he tends to get involved at the early stages of structuring and has the additional benefit of a background in tax law. He combines his management role with an active workload."
Barry has been named a "Best Lawyer" for Private Funds in New York by Best Lawyers in America and recognized as a "Highly Regarded" lawyer for Investment Funds in the U.S. by IFLR1000. In addition, Barry was included among Private Equity Manager magazine's "Legal Power 30" list of the 30 most influential private equity lawyers in the industry. Barry has also been named one of America's "Top 25 Pre-Eminent Private Equity Lawyers" by The Best of the Best USA.
In 2019, Barry was presented with the Outstanding Ally award at the Chambers Diversity and Inclusion Awards. He was honored for his dedication to myriad efforts to increase diversity and inclusion at Weil, such as through the Firm's ally-initiative Upstander@Weil, as well as for his own involvement in multiple mentoring circles and promotion of innovative diversity trainings.
Barry is very active in a range of philanthropic activities, including through board positions with both Weill Cornell Medicine and the Central Park Conservancy.
Awards and Recognition, Speaking Engagements, Guides and Resources, Firm News & Announcements, Latest Thinking
Barry Wolf Named to Law Power 100

Award Brief — City & State 2021

Barry Wolf Named a Distinguished Leader

Award Brief — New York Law Journal's Professional Excellence Awards 2019

Barry Wolf Named Outstanding Ally

Award Brief — Chambers Diversity & Inclusion Awards 2019

Barry Wolf Named a Legal Innovator

Award Brief — Financial Times North America Innovative Lawyers Report 2018

Barry Wolf Recognized as an "Eminent Practitioner" for Fund Formation in the U.S.

Award Brief — Chambers Global

Barry Wolf Recognized as an "Eminent Practitioner" for Fund Formation, Nationwide

Award Brief — Chambers USA

Barry Wolf Recognized as a "Highly Regarded" Lawyer for Investment Funds in the U.S.

Award Brief — IFLR1000
Firm News & Announcements