December 02, 2019
NEW YORK, December 2, 2019: International law firm Weil, Gotshal & Manges LLP announced today that Zachary Tripp has joined the Firm as a partner. Mr. Tripp joins Weil from the Office of the Solicitor General at the U.S. Department of Justice, where he was an Assistant to the Solicitor General. He will be serving as Co-Head of Weil's Appellate practice and will be based in Washington, D.C.
Executive Partner Barry Wolf commented: "Zack brings significant experience before the U.S. Supreme Court and other appellate courts from his time working in government as well as private practice.  He will be a great asset to our clients and to our Appellate practice, and we are thrilled to welcome him to Weil."
Jonathan Polkes, Co-Chair of the Litigation Department, commented: "In his time as an Assistant to the Solicitor General, Zack argued 11 cases before the U.S. Supreme Court, winning nine. He also briefed many other cases and filed more than 100 briefs at the certiorari stage. His experience at the Supreme Court spans a wide variety of subject areas, including intellectual property, bankruptcy, antitrust, securities, and foreign state immunity. Zack also has significant experience in the U.S. Circuit Courts of Appeals and will enhance our appellate and trial court advocacy for clients.  We are very happy to have him on board."
Mr. Tripp has worked at the Office of the Solicitor General, the division of the U.S. Department of Justice that represents the United States before the U.S. Supreme Court, since 2014.  Prior to that, he was a partner at an appellate boutique firm in Washington, D.C.  He also served as Special Counsel to the General Counsel of the U.S. Department of Defense and Attorney Adviser at the U.S. Department of State.  He clerked for both Judge Amalya Kearse of the U.S. Court of Appeals for the Second Circuit and Justice Ruth Bader Ginsburg of the U.S. Supreme Court.
Mr. Tripp commented: "When I decided to move on from the Solicitor General's Office, I wanted to join a firm with a premier litigation platform and with a highly talented appellate group, where I could help enhance its Supreme Court capabilities. So Weil is really a perfect fit, and I look forward to building out the Appellate practice and helping the Firm's extraordinary client base to achieve success throughout all stages of litigation."
About Weil's Appellate Practice
Weil's appellate capabilities cover all of the Firm's substantive areas of expertise and have been honed by extensive experience prosecuting and defending appeals before the U.S. Supreme Court, every federal circuit court, and a range of state intermediate and supreme courts. Our seasoned appellate lawyers are effective in any situation, whether it be obtaining mandamus relief on behalf of corporate defendants facing unwieldy discovery demands, challenging the applicability or constitutionality of unfairly applied statutory schemes, enforcing arbitration rights, defending nationwide class actions, and preserving important trial court issues for eventual appeal. Our team includes many former clerks to federal appellate judges and U.S. Supreme Court justices, constitutional scholars, a former Assistant Solicitor General for the State of New York, and now a former Assistant to the Solicitor General of the United States.
About Weil
Founded in 1931, Weil, Gotshal & Manges LLP has been a preeminent provider of legal services for more than 80 years. With approximately 1,100 lawyers in offices on three continents, Weil has been a pioneer in establishing a geographic footprint that has allowed the Firm to partner with clients wherever they do business. The Firm's four departments, Corporate, Litigation, Business Finance & Restructuring, and Tax, Executive Compensation & Benefits, and more than two dozen practice groups are consistently recognized as leaders in their respective fields.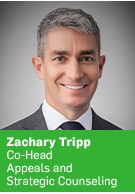 ---
Media Inquiries
Weil Public Relations
Christopher Rieck
Director, Communications
Rachel Losowski
Senior Manager, Business Development Communications