March 08, 2021
NEW YORK, March 8, 2021: International law firm Weil, Gotshal & Manges LLP announced today that Elizabeth Ryan has joined the Firm as a partner in the Complex Commercial Litigation practice. Liz is based in Weil's Dallas office.
"Liz brings an impressive track record as a trial attorney and advisor to clients facing complicated disputes," said Weil Executive Partner Barry Wolf. "She shares our commitment to providing excellent service and will be a great addition to our market-leading team of litigators."
Weil's global Litigation Department Co-Chair David Lender commented: "Companies across a wide range of industries turn to Liz when navigating high-stakes litigation and business matters. We are pleased that our clients will benefit from her experience, creativity and sound judgment."
"Liz is known for her relentless advocacy and her dedication to her clients," said Courtney S. Marcus, Co-Managing Partner of Weil's Dallas office. "She will enhance our Firm's ability to serve clients at the highest level in Texas and beyond."
Liz joins Weil from Lynn Pinker Hurst & Schwegmann, where she was a partner who achieved numerous trial victories in both state and federal court. She counsels corporations and individuals in a variety of disputes – including breach of contract, fraud and tort cases.
"I am delighted to be part of Weil's global platform and forward-thinking culture, which I have admired for years," Liz commented. "I look forward to collaborating with the Firm's talented attorneys around the world."
About Weil's Litigation Department
Weil's more than 350-lawyer global Litigation Department provides clients with integrated and innovative legal advice in all major substantive areas of the law. Our multidisciplinary, trial-ready approach helps clients manage risk across jurisdictions and geographies, at every stage of the dispute resolution process. One of our biggest strengths is our ability to assemble the cross-practice teams necessary to tackle everything from pre-dispute counseling to multi-faceted crisis situations, whether they involve bankruptcies, product recalls, or government investigations, among other bet-the company scenarios. The Complex Commercial Litigation practice is the largest single component of the Department and includes more than 130 litigators around the U.S. and Europe who collectively possess comprehensive experience in successful high-stakes litigation on behalf of the world's largest and most sophisticated clients and across industries.
About Weil
Founded in 1931, Weil, Gotshal & Manges LLP has been a preeminent provider of legal services for the past 90 years. With approximately 1,100 lawyers in offices on three continents, Weil has been a pioneer in establishing a geographic footprint that has allowed the Firm to partner with clients wherever they do business. The Firm's four departments, Corporate, Litigation, Restructuring, and Tax, Executive Compensation & Benefits, and more than two dozen practice groups are consistently recognized as leaders in their respective fields.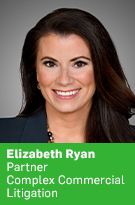 ---
Media Inquiries
Weil Public Relations
Christopher Rieck
Director, Communications