Biography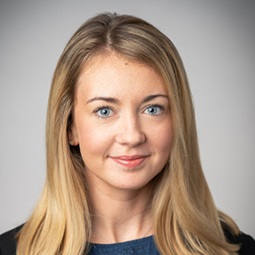 Kaitlin Bond is an associate in Weil's Banking & Finance practice and is based in Dallas. Kaitlin participates in advising borrowers, private equity sponsors, banks and other financial institutions in a variety of financing transactions, including first and second lien credit facilities, middle market and large cap financings, cross-border and domestic acquisition financings, and debt restructuring transactions.
Kaitlin has been part of the teams advising:
American Securities and its portfolio companies in transactions involving Chromaflo Technologies Corporation and RealManage, LLC
Subsidiaries of Black Knight, Inc. in various senior secured credit facilities and refinancing facilities and amendments thereto
Cornell Capital and its portfolio companies in transactions involving kdc/one Development Corporation, Inc., Swallowfield plc and Zobele Holding S.p.A
Dave & Buster's, Inc. in $500 million senior secured facilities
Fidelity National Financial, Inc. (FNF) in an amendment to its $800 million revolving facility to extend the maturities of its loans and commitments thereunder
Genstar Capital in:

together with TA Associates, the acquisition of Orion Advisor Solutions and the simultaneous acquisition of Brinker Capital, and the related $1.1 billion first and second lien facilities to finance their acquisitions; and
first and second lien credit facilities and investment in preferred equity to finance its acquisition of Brook & Whittle Ltd. (B&W) and to refinance existing B&W indebtedness

Goldman Sachs and certain other initial purchasers of $770 million second lien floating rate notes of Sotera Health LLC (a portfolio company of Warburg Pincus) to refinance existing indebtedness and $100 million of first lien floating rate notes to finance a tuck-in acquisition
Healogics, Inc. (a portfolio company of Clayton Dubilier & Rice, Partners Group and Northwestern Mutual) in senior secured term and revolving restructuring facilities to refinance existing indebtedness
Lee Equity Partners in senior secured multicurrency facilities to finance its investment in McLarens
RentPath, Inc. in a $74 million senior secured debtor-in-possession term facility to finance business operations during its chapter 11 bankruptcy proceedings
Snow Phipps Group (n/k/a TruArc Partners) and its portfolio companies in transactions involving FeraDyne Outdoors, LLC
Thrasio, Inc. (a company in which Advent International has a substantial minority investment) in $650 million incremental facilities, comprised of a $325 million funded term loan and a $325 million delayed draw term loan facility
Thryv Holdings, Inc. in $875 million senior secured term and ABL revolving facilities to finance its acquisition of Sensis Pty Ltd. and to extend and refinance existing commitments and outstanding indebtedness
Trebia Acquisition Corp., a SPAC sponsored by affiliates of Trasimene Capital Management and Bridgeport Partners, in $450 million senior secured revolving and term facilities to finance its $1.4 billion business combination with System1, LLC and Protected.net Group Limited (together with Trebia n/k/a System1) and to refinance existing indebtedness
Kaitlin received her J.D. from Brooklyn Law School, where she was an Articles Editor for the Brooklyn Law Review and a member of the Moot Court Honor Society, and her B.A. from Marist College.