Biography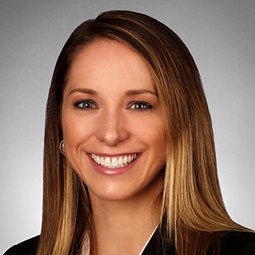 Jennifer Brooks Crozier is an associate in Weil's Complex Commercial Litigation practice. She has significant experience litigating a broad variety of disputes in state and federal courts around the U.S., including the defense of breach of contract, fraud, business tort, unfair business practice, products liability, drug and medical device, and antitrust claims, as well as securities and consumer class actions.
Jennifer has participated in every phase of complex litigation, including at trial and in arbitration, on behalf of clients in the medical devices, pharmaceutical, healthcare, financial services, investments, automotive, and energy sectors, among others. She has played a lead role in conducting and preparing for depositions, preparing expert witnesses, drafting and arguing summary judgment, Daubert, and other motions, and managing trial teams. Some of her recent notable experience includes serving on Weil teams that:
Defend a worldwide provider of legal services in an action brought in New York state court by a plaintiff seeking to recover damages for the provider's alleged breach of an anti-assignment provision in connection with a merger-and-acquisition transaction. Weil recently prevailed on an interlocutory appeal to the Appellate Division of the trial court's order denying our clients' motion for summary judgment, securing a significant reversal of the trial court's decision concerning the meaning and application of a contractual limitation-of-liability provision, and reducing the scope of the provider's potential damages exposure by tens of millions of dollars.

Represent an American multinational oil and gas corporation as claimant in an arbitration proceeding to recover damages for the respondent's breach of an agreement relating to groundwater remediation.

Defended chapter 11 debtors in an adversary proceeding brought in federal bankruptcy court in White Plains, New York and prevailed against plaintiff attempting to collect more than $88 million from debtors and to avoid assuming $166 million in liabilities pursuant to a contract with debtors.
Defended a multinational pharmaceutical and medical-device manufacturer in a months-long jury trial of four plaintiffs' products-liability, breach of warranty, and misrepresentation claims brought in state court in New Brunswick, New Jersey.

Represented the ad hoc group of first-lien creditors of a North American industrials company in connection with the company's chapter 11 cases and prevailed on a motion to quash the deposition of a corporate representative of the ad hoc group.

Won dismissal of a securities fraud claim brought in federal district court in Houston, Texas by a stockholder against an executive of a multinational oil and gas exploration corporation relating to an oil well explosion.
Defended a large retailer's acceptance at auction of a prospective purchaser's bid to purchase substantially all of the retailer's assets and operations as a going concern in connection with the retailer's chapter 11 bankruptcy filing.
Represented a U.S. healthcare company and national hospital-based physician group as plaintiff in a complex breach of contract suit to recover hundreds of millions of dollars in physician-services fees, which was recently tried to a jury verdict.
Jennifer earned her J.D., with high honors, from the University of Connecticut School of Law, where she was an articles editor of the Connecticut Law Review, a member of the Connecticut Moot Court Board, and a semifinalist in the Alva P. Loiselle Moot Court Competition. While in law school, Jennifer received four CALI Awards for academic excellence in individual courses and the Thomson Reuters Book Award for excellence in the study of health law. She received an M.A. in English and a B.A. in English with departmental honors from Indiana University, where as an undergraduate, she received the Founders' Award for Academic Excellence, and served as captain of the NCAA Division I Women's Swimming Team.
In 2018, Jennifer was recognized as a Rising Star in the product liability area by SuperLawyers, and in 2021, she was named a New York Metro Rising Star.
Before joining Weil, Jennifer worked as an associate at two national law firms, and prior to attending law school, taught Upper School English and history at the Hockaday School in Dallas, Texas.