May 24, 2018
There is, unfortunately, no shortage of hardship and injustice in the world. At Weil, we are committed to doing our share – and more than our share – to help those in need. We believe that pro bono work is an integral part of every lawyer's professional identity and central to our identity as a firm. Great firms do great pro bono work.
Last year, our pro bono work had a significant impact across an array of causes and clients. Our matters spanned the spectrum of need, including human rights, criminal justice reform, civil and constitutional rights, asylum and refuge, community and economic development, and children's welfare. We won a landmark civil rights victory for Mexican-American students and their families when the State of Arizona outlawed the highly successful Mexican-American Studies programs in Tucson public schools. We proved that senior state officials – including the former Arizona Attorney General and former Arizona Superintendent of Education – acted out of bias against Mexican-Americans in formulating, enacting and enforcing the program ban; and violated the students' right to learn about their heritage free from political and ideological interference. In another case, we fought for the right of transgender youth to use the school bathroom of the gender with which they identify as a matter of human rights and dignity.
In criminal justice, we continued our efforts to aid the victims of human trafficking by clearing their records of crimes they were forced to commit by their traffickers. We secured parole for a long incarcerated victim of domestic abuse. In a high-profile case in Kentucky, we helped free a client wrongfully convicted of murder and imprisoned for more than two decades.
Our asylum and refugee work continues to be a top priority. We assisted those stranded at airports after the January 2017 Executive Order restricted immigration; and we found safe haven for individuals persecuted in their home countries for their sexual orientation.
Much of the good we do depends on collaboration with our nonprofit partners. They are experts in their field and unselfishly committed to making the world a better place. We consider it a privilege to be able to work with such partners as the Innocence Project, the Legal Aid Society, the International Refugee Assistance Program, Sanctuary for Families and so many others.
In the end it comes down to the great dedication and skill of our lawyers, who commit themselves to the welfare of our pro bono clients. They spent more than 50,000 hours in 2017 assisting those who needed our assistance. Our belief in the importance of pro bono work is reflected in our pro bono policy: We expect every lawyer to do at least 50 hours of pro bono work a year.
In these pages, you will find the names of both our nonprofit partners and, in the back, a list of Weil attorneys who rose to the challenge and devoted many hours to pro bono. After reading about their efforts, we think you will understand why we consider the time we devote to pro bono "Our Finest Hours."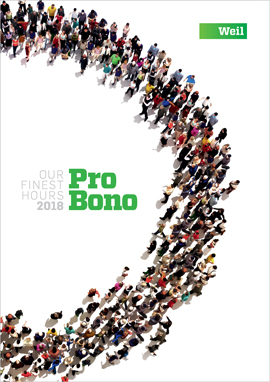 View the 2018 Pro Bono Annual Review
---
Many Weil attorneys and paralegals dedicated 50 hours or more to pro bono service in 2017:
View the list of 50-Hour Plus Performers.
---
For more information on our
Pro Bono
practice, please contact:

Miriam Buhl
Pro Bono Counsel
New York