September 28, 2023
HOUSTON, SEPTEMBER 28, 2023: International law firm Weil, Gotshal & Manges LLP announced today that leading energy transactions lawyer Irina Tsveklova has joined the Firm as a partner in the Corporate Department, based in the Houston office. She is the fourth partner to join Weil's expanding energy team in Houston in the past five months.
"We're very pleased to welcome Irina as the latest addition to our Houston energy practice. Her energy transition expertise and extensive industry relationships will make her an invaluable advisor to our clients," said Weil Executive Partner Barry Wolf.
"Weil's energy practice expansion continues in high gear with Irina Tsveklova's arrival. Her impressive transactional background and commitment to building a market-leading group align perfectly with Weil's strategic goals and culture. We are delighted to welcome her aboard," said Michael J. Aiello, Chairman of Weil's global Corporate Department.
The addition of Irina is yet another milestone in Weil's continued commitment to building a top-tier energy practice, supporting the Firm's ongoing efforts to be at the forefront of advising on ESG and sustainability issues. Earlier this year, notable energy partners Omar Samji, Chris Bennett and Cody Carper joined Weil's Houston office.
Irina's experience includes renewable energy, power generation, transmission and energy storage projects, as well as hydrogen and electric vehicle infrastructure projects. Irina regularly represents sponsors, developers, private equity investors, clean energy technology companies, and design and construction contractors. Her background includes M&A, project development, joint ventures, and engineering, procurement and construction (EPC) contracts.
"Irina will be a key addition to our Houston energy team, which has attracted four outstanding new laterals in just the past few months," said Alfredo Pérez, Managing Partner of Weil's Houston office. "This ongoing investment in market-leading talent reflects Weil's commitment to developing a nimble team that can address the demands of a dynamic industry and adapt to the evolving needs of our clients."
Irina joins from Pillsbury Winthrop Shaw Pittman LLP.
"It is an incredibly exciting time to be joining Weil as the Firm continues to add transactional strength to its Houston energy team," said Irina. "I look forward to contributing my energy transition experience and working closely with my new colleagues as Weil continues expanding its footprint in the energy sector."
About Weil's Energy Practice
Weil has been involved in many of the significant M&A, restructurings, financing transactions and complex disputes that have helped shape the energy industry in recent years. The Firm has significant experience in the energy industry, which extends to all facets of the oil and gas, power and renewable sectors. Our experience includes upstream, midstream and downstream work and ranges from oil and gas exploration and production to marketing, retail power, and energy trading operations, as well as to the growing area of low carbon energy.
About Weil
Founded in 1931, Weil, Gotshal & Manges LLP has been a preeminent provider of legal services for more than 90 years. With approximately 1,100 lawyers in offices on three continents, Weil has been a pioneer in establishing a geographic footprint that has allowed the Firm to partner with clients wherever they do business. The Firm's four departments, Corporate, Litigation, Restructuring, and Tax, Executive Compensation & Benefits, and more than two dozen practice groups are consistently recognized as leaders in their respective fields.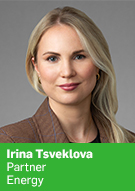 ---
Media Inquiries
Weil Public Relations
Christopher Rieck
Director, Communications
Peter Ottaviano
Senior Manager, Communications