September 07, 2021
NEW YORK, September 7, 2021: International law firm Weil, Gotshal & Manges LLP announced today that Jason Vollbracht has joined the Firm as a partner in the global Tax practice, based in Weil's Silicon Valley office. 
"We are very pleased to welcome Jason to the Firm and know that he will be a wonderful addition to our Silicon Valley office," said Weil Executive Partner Barry Wolf. "Jason's significant experience advising sophisticated clients on sensitive and complex tax matters, his commitment to excellent client service and his collaborative team approach make him a fantastic fit within our Tax practice and across our broader Weil culture."
"Jason's deep knowledge of the tax aspects of complex private equity and M&A transactions will be an invaluable resource to our clients across multiple industries as they execute large and sophisticated deals," commented Joseph Pari, Co-Chair of Weil's global Tax Department.
Jason joins Weil from the San Francisco office of Deloitte, where he was a principal. Prior to his time at Deloitte, Jason was a Tax partner at Goodwin Procter LLP. His practice focuses on federal income taxation, with an emphasis on mergers and acquisitions, formation of investment funds, partnerships and other joint ventures, and real estate transactions.
"I'm extremely proud to be joining Weil's premier Tax practice," Jason said, "and I look forward to collaborating with my colleagues across the Firm as we advise our clients on their most complex and sophisticated transactions."
About Weil's Tax Practice
Weil's Tax practice, mirroring the Firm's profile, is global in scope. Our lawyers are broadly recognized as among the best in the field. Our more than 50 lawyers located throughout our U.S. and European offices regularly work with multinational clients and private equity sponsors to navigate the often complex tax aspects of mergers and acquisitions that cross national borders. Our Tax lawyers in the United States advise both U.S. companies investing abroad and non-U.S. investors in the United States. Similarly, our Tax lawyers in London, Paris, Munich and Frankfurt advise local clients on the national tax impacts of their international transactions. We pride ourselves on working together as one integrated team.
About Weil
Founded in 1931, Weil, Gotshal & Manges LLP has been a preeminent provider of legal services for the past 90 years. With approximately 1,100 lawyers in offices on three continents, Weil has been a pioneer in establishing a geographic footprint that has allowed the Firm to partner with clients wherever they do business. The Firm's four departments, Corporate, Litigation, Restructuring, and Tax, Executive Compensation & Benefits, and more than two dozen practice groups are consistently recognized as leaders in their respective fields.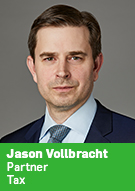 Key Contacts
Media Inquiries
Weil Public Relations
Christopher Rieck
Director, Communications