March 21, 2022
NEW YORK, March 21, 2022: International law firm Weil, Gotshal & Manges LLP announced today that Jeffrey D. Saferstein has joined the Firm as a partner in its market-leading Restructuring practice, based in Weil's New York office.
"We are very pleased to welcome Jeff to the Firm," said Weil Executive Partner Barry Wolf. "He brings a wealth of high-profile experience advising clients on their most important and complex restructuring matters as well as the collaborative team approach that is a critical part of our Firm culture."
"Jeff is a highly regarded restructuring lawyer in the market with an impressive track record advising clients across a variety of distressed situations and shares our unwavering dedication to excellence and reaching client goals," said Matt Barr, Co-Chair of Weil's Restructuring Department. "My Department Co-Chairs, Gary Holtzer and Ray Schrock, the entire Restructuring Department, and I are excited to welcome Jeff to the Firm and know he will be an outstanding addition to our global Restructuring team."
Jeff joins Weil from the New York office of Paul, Weiss, Rifkind, Wharton & Garrison LLP, where he was a partner. He practices exclusively in the areas of corporate restructurings and workouts, bankruptcy and specialized financings. Jeff has advised companies, creditors, postpetition lenders and sponsors across a wide range of distressed situations and industries.
"Weil is one of the leading restructuring firms in the world, and I am thrilled to be joining a team of colleagues with whom I have worked so closely over many years," said Jeff. "I look forward to contributing to Weil's unparalleled global platform and continuing to work with clients to develop and implement novel solutions to their most significant restructuring matters."
About Weil's Restructuring Department
Weil invented much of what has become standard practice in the restructuring field. For more than 50 years, Weil has played a pivotal role in defining this field by offering creative, practical and thoughtful solutions for its clients. The Firm has served as chief debtors' counsel in six of the seven largest U.S. bankruptcy filings in history and has represented clients in numerous complicated cross-border insolvency and restructuring matters. Weil's global Restructuring group of more than 100 dedicated lawyers coordinate across the United States, Europe, Middle East and Asia to provide clients with innovative, bespoke solutions to complex cross-border restructurings. Weil's broad-based experience also includes numerous significant creditor representations, representations of purchasers and sellers of distressed assets, and substantial litigation.
About Weil
Founded in 1931, Weil, Gotshal & Manges LLP has been a preeminent provider of legal services for more than 90 years. With approximately 1,100 lawyers in offices on three continents, Weil has been a pioneer in establishing a geographic footprint that has allowed the Firm to partner with clients wherever they do business. The Firm's four departments, Corporate, Litigation, Restructuring, and Tax, Executive Compensation & Benefits, and more than two dozen practice groups are consistently recognized as leaders in their respective fields.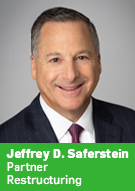 ---
Media Inquiries
Weil Public Relations
Christopher Rieck
Director, Communications