September 13, 2022
NEW YORK, SEPTEMBER 13, 2022: International law firm Weil, Gotshal & Manges LLP announced today that Daniel L. Stein has joined the Firm as Co-Head of the global White Collar Defense, Regulatory and Investigations practice, based in Weil's New York office.
"Dan is both a nationally recognized white collar defense lawyer and a former federal prosecutor who brings a wealth of valuable experience to our clients," said Weil Executive Partner Barry Wolf.  "Dan's impressive record of success in the most complex, high-stakes litigation and investigations will be an enormous asset to the Firm, and we are delighted to welcome him to Weil."
"Dan joins us at an exciting time as we continue to expand our capabilities in key areas of litigation," said Jonathan Polkes, Co-Chair of Weil's global Litigation Department. "A savvy, first-chair litigator with broad market knowledge, Dan brings a sophisticated ability to advise clients across a range of issues both in and out of the courtroom."
Dan joins Weil from the New York office of Mayer Brown, where he was a co-leader of the firm's White Collar Defense & Compliance group. A former federal prosecutor, Dan has extensive experience in regulatory enforcement, government and internal investigations, white collar criminal defense and complex civil litigation. He advises financial services firms and other corporate clients, as well as individual clients, in a range of complex issues, including US Securities Exchange Commission and Financial Industry Regulatory Authority investigations and enforcement actions.
Dan previously served for a decade in the US Attorney's Office in Manhattan, with two terms of duty. Most recently, he was Chief of the Criminal Division for the United States Attorney's Office for the Southern District of New York (SDNY), where he oversaw all of the SDNY's criminal prosecutions and investigations, including those involving securities fraud, insider trading, public corruption, foreign corrupt practices, criminal tax offenses, money laundering, economic sanctions, cybercrime, narcotics trafficking, violent crimes and terrorism. Between his roles with the SDNY, Dan spent several years in private practice, where he handled criminal and regulatory matters for a number of major financial institutions and other clients.
"It's a great pleasure to join Weil's highly regarded White Collar practice and to become part of the Firm's world-class team of litigators," Dan said. "I look forward to helping Weil's sophisticated global clients successfully navigate their most complex and high-stakes matters."
Weil's White Collar Defense, Regulatory and Investigations Practice
Our lawyers handle sensitive internal and governmental investigations, regulatory proceedings, and related litigation for global public companies, financial institutions, boards, special committees, directors and senior executives, and develop comprehensive compliance programs to help our clients avoid unanticipated scrutiny and manage risks.
About Weil
Founded in 1931, Weil, Gotshal & Manges LLP has been a preeminent provider of legal services for more than 90 years. With approximately 1,100 lawyers in offices on three continents, Weil has been a pioneer in establishing a geographic footprint that has allowed the Firm to partner with clients wherever they do business. The Firm's four departments, Corporate, Litigation, Restructuring, and Tax, Executive Compensation & Benefits, and more than two dozen practice groups are consistently recognized as leaders in their respective fields.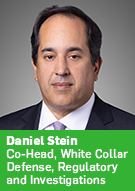 ---
Media Inquiries
Weil Public Relations
Christopher Rieck
Director, Communications
Peter Ottaviano
Senior Manager, Communications