September 01, 2021
NEW YORK, September 1, 2021: International law firm Weil, Gotshal & Manges LLP announced today that John P. Barry has joined the Firm as Head of the Employment Litigation practice, based in Weil's New York office.
"John is a seasoned trial lawyer and trusted advisor who consistently provides sound employment law counsel in court, the workplace and other important contexts," said Weil Executive Partner Barry Wolf. "He will be a fantastic addition to the Firm, and he will be a highly collaborative partner with our litigators and corporate attorneys across our global offices – particularly given his steadfast commitment to excellent client service and his unwavering client advocacy."
Weil's global Litigation Department Co-Chair Jonathan Polkes commented: "We have been impressed by John's track record of achieving top results for his clients across the country and world over his outstanding professional career, so we are delighted that he will further enhance our renowned Employment Litigation practice. Clients rely on John for their most sensitive employment matters – which are often issues of first impression – making him an invaluable addition to our Litigation Department."
John joins Weil from Proskauer Rose, where he was a partner and served as both Labor & Employment Law Department Operating Partner and as Co-Head of the Non-Compete and Trade Secrets Group. An experienced trial lawyer who has appeared in courts across the United States, he provides advice on complex employment, restrictive covenant and trade secret matters to clients in a number of industries – including financial services, private equity, hedge funds, alternative asset management funds, pharmaceuticals, medical devices, retail and technology. In addition to serving as lead counsel in the defense of numerous employment discrimination, retaliation and whistleblower lawsuits, John advises clients on a range of high-stakes situations such as executive departures; mass exoduses and raids; planned hires of employees or teams from competitors; incentive compensation programs; acquisitions; investments and agreements between business partners, vendors and customers; and disputes involving harassment and other sensitive issues.
"I am honored to join Weil's outstanding Employment Litigation team, which has earned a stellar reputation for handling significant and often transformational matters on behalf of many of the most sophisticated clients in the world," John commented. "Employers, management teams and boards face enormous challenges and opportunities during these unprecedented times, and I look forward to teaming with my new colleagues and drawing on Weil's incredible resources to benefit our clients."
About Weil's Litigation Department
Weil's more than 350-lawyer global Litigation Department provides clients with integrated and innovative legal advice in all major substantive areas of the law. Our multidisciplinary, trial-ready approach helps clients manage risk across jurisdictions and geographies, at every stage of the dispute resolution process. One of our biggest strengths is our ability to assemble the cross-practice teams necessary to tackle everything from pre-dispute counseling to multi-faceted crisis situations, whether they involve bankruptcies, product recalls, or government investigations, among other bet-the company scenarios. Weil's Employment Litigation practice group is a dedicated, full-service team known for providing employers, boards, board committees, directors and executives with sound, practical advice regarding their most complex and sensitive employment matters, whether they arise in the boardroom, courtroom or the human resources suite.
About Weil
Founded in 1931, Weil, Gotshal & Manges LLP has been a preeminent provider of legal services for the past 90 years. With approximately 1,100 lawyers in offices on three continents, Weil has been a pioneer in establishing a geographic footprint that has allowed the Firm to partner with clients wherever they do business. The Firm's four departments, Corporate, Litigation, Restructuring, and Tax, Executive Compensation & Benefits, and more than two dozen practice groups are consistently recognized as leaders in their respective fields.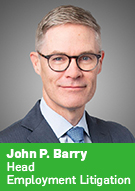 ---
Media Inquiries
Weil Public Relations
Christopher Rieck
Director, Communications