June 02, 2021
NEW YORK, June 2, 2021: International law firm Weil, Gotshal & Manges LLP announced today that Andrew ("Drew") Tulumello has joined the Firm's Washington, D.C. office as Co-Head of Weil's Complex Commercial Litigation practice. Drew will be a senior partner and leader in the Litigation Department and will lead Weil's strategic initiative to build and deepen Weil's litigation and enforcement capabilities in Washington, D.C. – one of the Firm's most significant geographic markets. Consistently recognized as a supremely talented, team-oriented and successful trial and appellate lawyer by Chambers & Partners, Benchmark Litigation, The American Lawyer and The National Law Journal, Drew will bring decades of experience handling high-stakes litigation across a range of industries to Weil.
"Drew has an excellent reputation as a trial lawyer and a track record of sterling client service. His seasoned leadership skills will help us continue to build a preeminent team in Washington," said Weil Executive Partner Barry Wolf. "We are thrilled about his joining Weil."
Weil's global Litigation Department Co-Chair David Lender commented: "Drew is a top-notch lawyer and his versatility aligns perfectly with the depth and range of Weil's Complex Commercial Litigation practice. He will be a critical addition to our Firm, and key driver of our expanding presence in Washington, D.C. – a key strategic priority for the Firm."
Drew joins Weil from Gibson, Dunn & Crutcher LLP. His practice focuses on complex commercial litigation and appellate matters, and he frequently guides companies facing multi-disciplinary challenges with advice on global legal strategy. Drew has handled high-profile matters in the healthcare, defense, biotech, transportation, consumer products and fintech sectors. He has represented several government contractors in investigations, suits and trials (both by qui tam relators and the Department of Justice) under the False Claims Act involving federal contracts worth billions of dollars. He also has argued significant appeals in the Supreme Court of the United States, several state Supreme Courts and the federal courts of appeals."
Drew commented: "I am excited to be part of Weil's first-class litigation team and look forward to delivering outstanding service to our clients and to attracting great people and top talent to the Washington, D.C. office."
About Weil's Litigation Department
Weil's more than 350-lawyer global Litigation Department provides clients with integrated and innovative legal advice in all major substantive areas of the law. Our multidisciplinary, trial-ready approach helps clients manage risk across jurisdictions and geographies, at every stage of the dispute resolution process. One of our biggest strengths is our ability to assemble the cross-practice teams necessary to tackle everything from pre-dispute counseling to multi-faceted crisis situations, whether they involve bankruptcies, product recalls, or government investigations, among other bet-the company scenarios. The Complex Commercial Litigation practice is the largest single component of the Department and includes more than 130 litigators around the U.S. and Europe who collectively possess comprehensive experience in successful high-stakes litigation on behalf of the world's largest and most sophisticated clients and across industries.
About Weil
Founded in 1931, Weil, Gotshal & Manges LLP has been a preeminent provider of legal services for the past 90 years. With approximately 1,100 lawyers in offices on three continents, Weil has been a pioneer in establishing a geographic footprint that has allowed the Firm to partner with clients wherever they do business. The Firm's four departments, Corporate, Litigation, Restructuring, and Tax, Executive Compensation & Benefits, and more than two dozen practice groups are consistently recognized as leaders in their respective fields.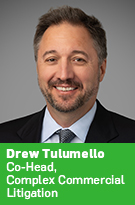 ---
Media Inquiries
Weil Public Relations
Christopher Rieck
Director, Communications
Rachel Losowski
Senior Manager, Business Development Communications