April 27, 2020
NEW YORK, April 27, 2020: International law firm Weil, Gotshal & Manges LLP announced today that Michael Moiseyev has joined the Firm as a partner. Mr. Moiseyev joins Weil after 30 years at the Federal Trade Commission, including 16 years as Assistant Director leading the Mergers I Division in the Bureau of Competition. He is part of the Firm's global Antitrust/Competition practice and is based in Washington, D.C.
"Mike is one of the most well-known, respected and successful antitrust officials in the country, and we are incredibly pleased that he has chosen to join Weil," said Executive Partner Barry Wolf. "His government experience, working with a number of our antitrust lawyers for many years, makes him an exceptionally good fit for the Firm."
Head of Weil's global Antitrust/Competition practice, Steven Newborn, commented: "Mike's track record of success at the FTC, where he was responsible for supervising the federal government's antitrust merger enforcement activities in many of the nation's largest and most important industries, including pharmaceuticals and technology, is nothing short of extraordinary. The depth of experience and knowledge he brings to Weil's already robust antitrust bench further expands the unparalleled service we can offer our clients in this space."
As Assistant Director at the FTC's Bureau of Competition, Mr. Moiseyev supervised all aspects of the Mergers I Division's enforcement activities, including oversight of investigations, formulation of legal theories, and preparing and presenting enforcement recommendations. Notably, he was responsible for many of the largest technology mergers as well as every pharmaceutical and medical device merger that took place during his tenure, overseeing more than 100 significant merger reviews across a broad range of other industries, as well.
In addition, Mr. Moiseyev has significant experience engaging with foreign competition authorities throughout the world. He has led coordination between the FTC and the European Commission, the U.K. Competition Markets Authority, the Canadian Competition Bureau, and numerous others.
Mr. Moiseyev commented: "I know firsthand that Weil's global Antitrust/Competition practice is one of the strongest and most diversified in the world, making it the ideal platform for me in this next phase of my practice. I am thrilled to be able to work alongside a group of such highly talented lawyers whom I know so well and look forward to contributing to the continued success and growth of the Firm."
About Weil's Antitrust/Competition Practice
Weil's global Antitrust/Competition practice is one of the largest, most diversified and well respected in the world. The nearly 50-lawyer group, which includes several partners who previously served as high-level government antitrust officials, has an unparalleled track record in obtaining antitrust clearance in 'bet the company' mergers, acquisitions and joint ventures. In addition, the practice offers significant experience in class actions and complex commercial litigation, including civil and criminal cases before juries and judges in multiple jurisdictions, avoiding a full trial whenever possible – but successfully trying cases where necessary. The group also has expertise in handling global cartel investigations and follow-on litigation. We represent clients including many of the Fortune 100 before the U.S. Federal Trade Commission, Department of Justice, and state antitrust enforcement agencies on a full spectrum of mergers and acquisitions, investigative and litigation matters. We also regularly appear before the European Commission and other regulatory bodies in the E.U. and around the world.
About Weil
Founded in 1931, Weil, Gotshal & Manges LLP has been a preeminent provider of legal services for more than 80 years. With approximately 1,100 lawyers in offices on three continents, Weil has been a pioneer in establishing a geographic footprint that has allowed the Firm to partner with clients wherever they do business. The Firm's four departments, Corporate, Litigation, Business Finance & Restructuring, and Tax, Executive Compensation & Benefits, and more than two dozen practice groups are consistently recognized as leaders in their respective fields.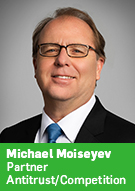 ---
Media Inquiries
Weil Public Relations
Rachel Losowski
Sr. Manager, Business Development Communications