March 20, 2017
International law firm Weil, Gotshal & Manges LLP announced today that Michael Naughton has joined the Firm as counsel. He is part of Weil's leading global Antitrust/Competition Practice and is based in New York.
"We are very excited Michael has joined Weil," said Weil Executive Partner Barry Wolf. "He is one of the nation's leading Hart-Scott-Rodino Act (HSR) experts and will further bolster our exceptional merger clearance team, which has been trusted with many of the largest mergers in the last decade."
"Michael's expertise in the HSR process will enhance our ability to provide premier merger clearance counsel to our clients," commented co-head of Weil's global Antitrust/Competition Practice Steven Newborn. "He has extensive knowledge in the antitrust aspects of information exchange in the due diligence process, integration planning prior to a merger's consummation as well as reportability issues both in the US and throughout the world."
Mr. Naughton has substantial experience counseling clients on pre-merger notification compliance, both domestically under the HSR and internationally. He has also represented clients in government investigations and reviews of mergers and acquisitions, and in government and private antitrust litigation, and counseled clients on the antitrust implications of their business activities. Mr. Naughton holds a doctorate in economics and has extensive prior academic and consulting experience in antitrust economics and industrial organization. He joins Weil from Simpson Thacher & Bartlett LLP.
Mr. Naughton commented: "Weil's global antitrust team and M&A platform are among the best in the world, and I am thrilled to be working alongside so many outstanding practitioners."
About Weil's Global Antitrust/Competition Practice
Weil's Antitrust/Competition Practice is one of the largest, most-diversified and well-respected in the world. The nearly 50-lawyer group, which includes several partners who previously held senior positions at the US Federal Trade Commission, has an unparalleled track record in obtaining antitrust clearance in 'bet the company' mergers, acquisitions and joint ventures. In addition, the practice offers significant experience in class actions and complex commercial litigation, including civil and criminal cases before juries and judges in multiple jurisdictions, avoiding a full trial whenever possible – but successfully trying cases where necessary. The group also has expertise in handling global cartel investigations and follow-on litigation. We represent clients including many of the Fortune 100 before the US Federal Trade Commission, Department of Justice, and state antitrust enforcement agencies on a full spectrum of mergers and acquisitions, investigative and litigation matters. We also regularly appear before the European Commission and other regulatory bodies in the EU and around the world.
About Weil
Founded in 1931, Weil, Gotshal & Manges LLP has been a preeminent provider of legal services for more than 80 years. With approximately 1,100 lawyers in offices on three continents, Weil has been a pioneer in establishing a geographic footprint that has allowed the Firm to partner with clients wherever they do business. The Firm's four departments, Corporate, Litigation, Business Finance & Restructuring, and Tax, Executive Compensation & Benefits, and more than two dozen practice groups are consistently recognized as leaders in their respective fields.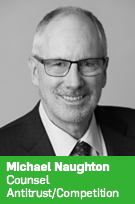 ---
Media Inquiries
Weil Public Relations
Christopher Rieck
Director, Communications
Rachel Losowski
Senior Manager, Business Development Communications