Associate

Washington, D.C.
Biography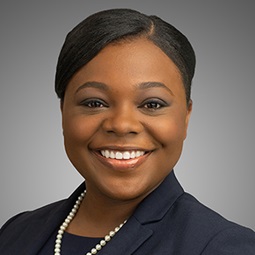 Sydnei Jones is an associate in Weil's Tax Department and is based in Washington, D.C. Sydnei participates in the representation of Firm clients with respect to the tax aspects of a wide range transactions, including matters involving domestic and cross-border mergers and acquisitions, REITs, joint ventures, restructurings and financing transactions.
Sydnei has been a part of the teams advising:
A major financial institution, as administrative agent and lead arranger, in a $1.25 billion senior unsecured revolving facility for Hasbro, Inc. and Hasbro SA
CIBC Capital Markets, MUFG, RBC Capital Markets and TD Securities, as joint book-running managers and representatives of the underwriters, in a $1.3 billion investment grade bond offering by The Williams Companies, Inc.
Hayfin Capital Management, as lender, in its senior secured term and revolving facility for Covis Finco S.À R.L. and Covis US Finco, LLC
JPMorgan Chase, as administrative and collateral agent, lead arranger and joint bookrunner, in its upsized $2.75 billion senior secured term and revolving facility for Clarios Global LP (a subsidiary of Brookfield Business Partners)
Lineage Logistics, LLC in its $208 million acquisition of Turvo Inc.
Ontario Teachers' Pension Plan in $820 million first and second lien facilities to finance its acquisition of Vantage Elevator Solutions
Susquehanna Growth Equity in its acquisition of a minority stake in Sawhorse Media LLC (d/b/a Muck Rack Software LLC)
Trebia Acquisition Corp., a SPAC sponsored by affiliates of Trasimene Capital Management and Bridgeport Partners, in $450 million senior secured revolving and term facilities to finance its $1.4 billion business combination with System1, LLC and Protected.net Group Limited (together with Trebia n/k/a System1)
Wex Inc.in its repurchase of $310 million in principal amount of its convertible senior notes from WP Bronco Holdings, LLC
Willis North America Inc. (a subsidiary of Willis Towers Watson PLC) in its $750 million senior unsecured notes offering
Sydnei is also actively involved in the Firm's pro bono efforts, including work with the Innocence Project. Sydnei is also the D.C. Co-chair for the U.S. Branch of the International Fiscal Association's (IFA) Young IFA Network (YIN).
Prior to joining Weil, Sydnei was Tax Counsel at 3M. 
Sydnei received her LL.M and a Certificate in International Tax, with distinction, from Georgetown University Law Center, her J.D. from The University of Iowa College of Law and her B.A. from Mount St. Mary's University.
Latest Thinking, Firm News & Announcements
Final Guidance on the Carryback of Consolidated Net Operating Losses Blog Post — Tax Blog — By Devon Bodoh and Sydnei Jones — July 14, 2023

On July 10, 2023, the Treasury Department issued final regulations (T.D. 9977) regarding the application of the five-year extended net operating loss (NOLs) carryback period (retroactive statutory extension) enacted by the Coronavirus Aid, Relief and Economic Security Act (CARES Act). Under the CARES Act, NOLs generated in taxable years beginning after December 31, 2017 and before January 1, 2021 may be carried back to the five taxable years preceding the tax year in which the NOLs relate, as opposed to the previously permitted 2-year carryback period. Substantively consistent with the temporary regulations published in 2020, the final regulations permit consolidated groups that acquired new members from another consolidated group (acquiring group) prior to the enactment of the retroactive statutory extension to make one of two elections to waive all or part of the pre-acquisition carryback period if certain statutory conditions are met. The two elections include an: • Amended Statute Split-Waiver Election: The acquiring group may make an irrevocable election to waive the carryback period related to the pre-acquisition consolidated NOLs of the acquired member that relate to the retroactive statutory extension and the 2-year carryback period. Thus, the acquiring group has the ability to eliminate any refund attributable to the acquired member that may have been available to the former consolidated group. • Extended Split-Waiver Election: The extended split-waiver election is analogous to the amended statute split-waiver election except that it permits the acquiring group to irrevocably elect to waive only the carryback period attributable to the retroactive statutory extension. ...
Firm News & Announcements