Biography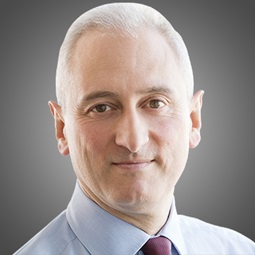 Marco Compagnoni is a senior partner in the Private Equity team in London, and co-head of the firm's global Private Equity group.
Consistently recognised as a premier private equity lawyer, Marco is acclaimed for the quality of his transactional expertise and has a distinguished reputation as the go-to adviser for private equity clients on their complex, high-value international matters across the deal spectrum. He is included in Private Equity News' 20 Most Influential Private Equity Lawyers 2023, Financial News' FN50 Most Influential List 2020 of private equity's top dealmakers, fundraisers and advisers in Europe, and their FN50 Most Influential Lawyers List 2022 and 2023 of the top business lawyers in Europe.
Described as "the absolute apex corporate lawyer in London" and one "of the most respected dealmakers in London private equity' by clients, Marco is ranked in Band 1 by Chambers UK 2023, in the 'Hall of Fame' in Legal 500 UK 2023, and as a 'Market Leader' in IFLR1000 UK 2022 for Private Equity. In Legal 500 clients state that Marco "is quite extraordinary in uniting great knowledge and technical ability with an ability to deliver results at great speed. He can plot a course that enables a deal to complete where more conventional lawyers would fail', with others commenting that Marco "is truly a counsellor and not just an executing lawyer. Go to Marco when you need the best and when the stakes are high: he will deliver when everyone else has failed". Chambers notes that "Marco is a phenomenal lawyer who is utterly committed to the client, with a very strong technical foundation. If you have a deal that can't be done, Marco will make it happen", and "his whole purpose is making things as easy as possible for the clients, and he's amazing in negotiation."
Marco has led his team to win "Private Equity Team of the Year" at the Legal Business Awards 2020.
Representative experience:
Bain Capital on a number of transactions, including recently on: the acquisition of Valeo Foods; and Bain Capital Credit on its bid to acquire LV=; the acquisition of a 60% stake in Kantar Media from WPP plc; and on the take-private of esure Group plc
Advent International on numerous transactions, including recently on: with IRCA on the carve out acquisition of Kerry Group's sweet ingredients division; the acquisitions of majority stakes in Leetchi and Mangopay, and bolt ons; the acquisition of a co-controlling stake in Planet Payment Group and subsequent bolt ons; and the acquisition of Hoist Group
Advent International and Bain Capital on their European payments transactions, including the purchases of Worldpay, Concardis, and Nexi, and recently on: the merger of their portfolio companies Nexi and Nets and of Nexi with SIA; and Mercury UK Holdco as selling shareholder on the IPO of Nexi on the Borsa Italiana and its subsequent sale of a stake in Nexi to Intesa Sanpaolo and to institutional investors
PSP on a number of transactions, including recently on: the consortium acquisition of Nestlé Skin Health; its consortium acquisition of Axel Springer; its acquisitions of Keter Plastics and Azelis; and on the sale of Sky Aviation Leasing
Providence Equity on numerous European transactions, including recently on: the take private of Hyve Group plc, its acquisition of Node4 Group; as selling shareholder and consortium member in the consortium's take-private of Masmovil Ibercom; and its acquisition of the shares in marketing services company Chime which were held by its co-investor WPP Group
Sun European Partners on the acquisition of Sports & Leisure Group, its sale of C&K Components to Littelfuse Inc., and the take private of K3 Capital Group plc
Clayton Dubilier & Rice in relation to the agreement under which Mobilux, the holding company of BUT, a CD&R portfolio company, acquired Conforama France, a subsidiary of Steinhoff International in France
OMERS Private Equity on a number of transactions, including recently on: the acquisition of Bionic; the acquisition, with Partners Group, of International Schools Partnership; acquisition of V.Group and subsequent sale; the acquisition and subsequent sale of Civica; the sale by Hayfin Capital Management of certain assets to The Future Fund; and on the acquisition of Alexander Mann Solutions
the seller of the iconic Ritz hotel in London
VINCI on the acquisition of Gatwick Airport
Access Industries, Alfa and Renova Consortium on the sale of a 50% stake in TNK-BP International to Rosneft Oil Company
Guides and Resources, Awards and Recognition, Latest Thinking, Firm News & Announcements, Speaking Engagements, Guides and Resources, Latest Thinking, Firm News & Announcements
Weil Partners Earn Top Rankings in Chambers' Inaugural List of Top 100 UK Lawyers

Award Brief — The Chambers 100 2013

Marco Compagnoni ranked Band 1 for Private Equity: Buyouts UK-wide

Award Brief — Chambers UK 2013

Marco Compagnoni named "Leading" Lawyer for Private Equity: Buyouts UK-wide

Award Brief — Chambers UK 2012
Firm News & Announcements