Biography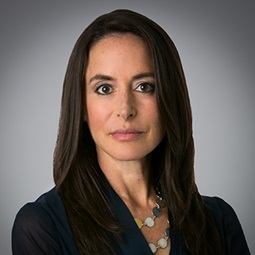 Elizabeth ("Liz") Stotland Weiswasser is Co-Chair of Weil's global Litigation Department, Co-Head of the Firm's nationwide Patent Litigation practice and its Life Sciences practice, and
a member of the Firm's Management Committee
. She has been litigating patent cases in the biological and pharmaceutical spaces for more than two decades.
Liz is lead counsel on behalf of some of the most sophisticated pharmaceutical, biotechnology, and medical device companies in the world, both in federal courts and in inter partes and post-grant review proceedings before U.S. Patent Office. She has led patent cases across the full range of biopharma technologies, including biologics, small molecules, formulation, and drug delivery. Liz's experience, along with her deep training in molecular biology and biochemistry, has made her a highly sought-after litigator and counselor in the life sciences space. Liz is a former law clerk to Judge Lourie on the U.S. Court of Appeals for the Federal Circuit and licensed before the U.S. Patent Office, where she was recognized as one of the top inter partes review practitioners in 2018 by Managing Intellectual Property, and as one of the inaugural "Top 50 Women in PTAB Trials" by the PTAB Bar Association in 2019.
Liz has received wide recognition from clients, her peers, and the broader life sciences industry as a leader in the life sciences and patent litigation fields, and particularly as one of the top women in the profession. Her many accolades, driven by market and client feedback, include:
In 2022, Liz was named "New York Litigator of the Year" at Managing Intellectual Property's Americas Awards. She is also currently recognized by MIP as one of the global "Top 250 Women in IP," and has been included in the publication's list of "IP Stars" every year since 2013.
The Financial Times recognized Liz as one of the ten "Most Innovative Legal Practitioners" in its 2021 North American Innovative Law Firms competition.
Crain's New York Business named Liz among the 2021 Notable Women in Law in recognition of her achievements, leadership, and contributions to the legal community.
In 2018, Euromoney's Americas Women in Business Law Awards named Liz as "Outstanding Practitioner," an award given to just one lawyer each year in recognition of her services to the law.
In 2017, LMG named Liz the winner of its "New York General Patent Litigator of the Year" award. LMG short-listed her for that award in 2016, 2018, 2019, and 2020, and also has named her a Life Sciences "Star" every year since 2014.
Chambers USA: Liz is currently ranked among the leading lawyers nationally for Life Sciences IP litigation by Chambers USA, which has also recognized her as a leading patent litigator for more than a decade. The publication has reported client and peer feedback that:

Liz is "is particularly well versed in advising on life sciences matters." She is "'just fantastic…extremely proactive, efficient and well organized.'"
Liz "impresses clients with her 'command of the subject matter' coupled with 'outstanding communication skills.' Her 'top-notch client service' is also praised, with sources describing her as 'a delightful person to work with.'"
Liz is "a smart and experienced litigator," "an accomplished trial lawyer" and "very litigation-savvy."
Liz "is able to manage the big picture and handle the small details simultaneously" and "continues to impress with her superb work as a patent litigator concentrating on biologics and pharmaceuticals."
Liz "inspires confidence and is praised for her 'strong background in molecular biology and the life sciences, which allows her to communicate effectively with scientists and medical professionals and explain scientific concepts to non-scientists.'"

Chambers Global: Since 2019, Liz has been recognized in Chambers' international guide as among the top practitioners in the U.S. for patent litigation.
Legal 500: Liz is currently recognized as a top-ranked "Leading Lawyer" nationally for her work in life sciences by Legal 500 US, which praises her "solid understanding of scientific issues," and has recommended her in that category every year since 2013. Since 2018, she has also been singled out for her work in patent litigation.
Expert Guides: Liz is ranked among the "Best of the Best USA" (Top 30) for both Life Sciences and Patents by Euromoney's Expert Guides.
IAM Patent 1000: Liz has been recommended for patent litigation in New York every year since 2012 by IAM Patent 1000, which noted that she has spent "decades on the frontlines of headline-writing cases." Previous editions of the publication called her "a life sciences doyenne who combines a sparkling intellect with legal creativity and commerciality," and "one of the brightest and most sophisticated IP litigators you could have the pleasure of dealing with," and who "never fails to impress clients, for whom 'her guidance on difficult patent cases and her thoughts on strategy are priceless'." IAM also specifically calls attention to her "strong technical background in the life sciences, which she combines with a top-line understanding of patent law."
Benchmark Litigation: Since 2018, Liz has been selected as one of the "Top 250 Women in Litigation" nationwide.
Super Lawyers Top Women for IP: Liz has been repeatedly named among the "Top Women" for Intellectual Property in New York by Super Lawyers.
Throughout her career, Liz has been and continues to be a leader and widely-respected colleague and mentor on her teams at Weil, in her community, and in the legal and academic fields more broadly. She regularly speaks on life sciences topics and served as an Adjunct Professor of Law at New York University Law School, where she taught Biotechnology/Life Sciences Patent Law for seven years.
Liz also is a leader in public service and in her community. She has been honored for her pro bono work by the Legal Aid Society and Westchester Residential Opportunities, for which her team received the Harriett Goldberg Fair Housing Award. She recently completed a term on the Dean's Visiting Committee of The University of Chicago Law School, and has previously served on the boards of Montclair Kimberley Academy and The Epilepsy Foundation.
From 1992 to 1994, Liz served as law clerk to the Honorable Alan D. Lourie, Circuit Judge of the United States Court of Appeals for the Federal Circuit.
Liz received her J.D. from The University of Chicago Law School, where she was a member of The Law Review, and her B.A. from Northwestern University in biochemistry, molecular biology and cell biology. Prior to entering law school, she did graduate work at Princeton University in molecular biology.
Awards and Recognition, Speaking Engagements, Guides and Resources, Latest Thinking, Firm News & Announcements
Elizabeth Weiswasser Recognized Among the Ten "Most Innovative Legal Practitioners" in North America in 2021

Award Brief — Financial Times

Elizabeth Weiswasser Named a Top-Ranked "Leading Lawyer" Nationally for Life Sciences

Award Brief — Legal 500

Elizabeth Weiswasser Named Among 2021 Notable Women in Law

Award Brief — Crain's New York Business

Elizabeth Weiswasser Named a "Leading" Lawyer for Intellectual Property: Patent, New York

Award Brief — Chambers USA

Elizabeth Weiswasser Named Among the Inaugural "Top 50 Women in PTAB Trials"

Award Brief — The PTAB Bar Association, 2019
Life Sciences Year in Review Speaker(s): Priyata Patel and Elizabeth S. Weiswasser

May 4, 2022 — Webinar — Patent Litigation associate Priyata Patel and Litigation Department Co-Chair Elizabeth Weiswasser delivered a "Life Sciences Year in Review" webinar, discussing recent legal developments in the life sciences sector, hosted by the Berkeley Center for Law & Technology as part of BCLT's Law & IP Tech Month.

The APJs Speak on Practice, Policy, and Procedure in the World of Pharmaceutical Patent Validity Changes

Speaker(s): Elizabeth S. Weiswasser

April 27, 2022 — New York — Litigation Department Co-Chair Elizabeth Weiswasser moderated a panel at ACI's Paragraph IV Disputes conference featuring Administrative Patent Judges discussing recent developments at the PTAB in the pharma and life sciences sectors.
Firm News & Announcements