Biography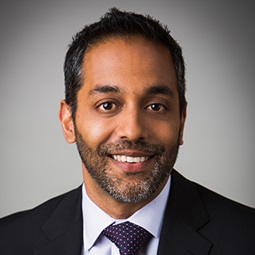 Anish Desai is Co-Head of Weil's nationwide Patent Litigation practice. He is a first-chair trial lawyer with experience leading complex, competitor patent cases in federal courts and the U.S. International Trade Commission, as well as in arbitration proceedings. Anish has also served as lead counsel in more than 100 IPR proceedings before the Patent Trial and Appeal Board, and successfully argued appeals before the Federal Circuit.
Since 2021, Anish has been recognized by Legal 500 as a recommended lawyer for Patent Litigation, and in earlier editions he was recommended for his appellate work. He is currently ranked as a "Life Sciences Star" for patent litigation by LMG, and is named among The World's Leading Patent Professionals for Patent Litigation in New York by IAM Patent 1000, which called him a "smart attorney who is excellent at simplifying technical detail for judges and juries and great on his feet." In addition, Anish was named to Lawdragon 500's list of "Leading Litigators in America" in 2022 and 2023. He has also previously been recognized on Benchmark Litigation's "40 & Under List," honored as "Best in Patent" by Euromoney in its "Americas Rising Stars Awards," and identified as a Rising Star for Intellectual Property Litigation by DC Super Lawyers.
Notable Experience
Plaintiff Altria in a patent infringement action relating to e-vapor products. First-chaired jury trial that resulted in a $95 million jury verdict in the Middle District of North Carolina.
Regeneron Pharmaceuticals in ITC, district court, and IPR proceedings involving patent infringement claims by Novartis relating to Eylea® prefilled syringes, and antitrust Walker Process claims by Regeneron. Led ITC case in which Novartis withdrew the complaint two weeks before the evidentiary hearing, and IPR proceeding resulting in a final written decision that the asserted patent is invalid as obvious.
BASF in an ITC proceeding against Sharda Cropchem relating to crystalline modifications of pyraclostrobin used for crop protection.  
Johnson & Johnson in ITC, district court, IPR proceedings against Intuitive Surgical relating to surgical staplers and robotic surgical systems.
Defendant Nuance Communications in Delaware a patent infringement suit brought by AI Visualize relating to medical imaging technology. Obtained complete dismissal of the lawsuit based on a finding of invalidity under § 101 at the pleading stage.
Counsel for Nuance Communications in Delaware and Georgia patent and antitrust lawsuits, and IPR proceedings relating to speech recognition technology. 
Plaintiff General Electric in district court patent and antitrust actions against Mitsubishi Heavy Industries. Obtained jury verdict of $170 million for infringement of GE's asserted patent in the Northern District of Texas, and summary judgment of non-infringement for Mitsubishi's asserted patent in the Middle District of Florida.
GE Aviation in IPR proceedings and Federal Circuit appeals involving jet engine technology. Filed 36 IPR petitions against 31 patents resulting in patent owner disclaiming over 200 claims and the PTAB finding over 100 claims invalid.
Sanofi in litigation, IPR proceedings and Federal Circuit appeals relating to insulin glargine formulations and insulin delivery devices.
Under Armour in district court and IPR proceedings against Adidas relating to wearable and GPS technology.
Awards and Recognition, Speaking Engagements, Guides and Resources, Latest Thinking, Firm News & Announcements
Anish Desai Named a "Life Sciences Star" for General Patent Litigation

Award Brief — LMG Life Sciences

Anish Desai Named a "Recommended" Lawyer for Patent Litigation: Full Coverage

Award Brief — Legal 500 US

Anish Desai Receives Bronze Ranking for Patent Litigation in New York

Award Brief — IAM Patent 1000 – The World's Leading Patent Practitioners

Anish Desai named to Lawdragon 500's list of "Leading Litigators in America" in 2022 and 2023

Award Brief — Lawdragon

Anish Desai Wins 2019 "Best in Patent" Rising Star Award

Award Brief — Euromoney
Firm News & Announcements