Biography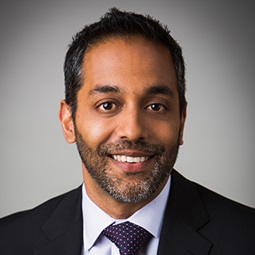 Anish Desai focuses on patent litigation in U.S. District Courts, the U.S. International Trade Commission, and the U.S. Court of Appeals for the Federal Circuit. 
Anish
has also represented clients as lead counsel in
inter partes
review proceedings. In 2018, 
Anish
was one of the top attorneys involved in Patent Trial and Appeal Board proceedings.
Anish has had significant roles in both jury and bench trials, including direct and cross-examination of key witnesses, presenting at Markman hearings, and arguing case-dispositive motions. He has served as counsel in over 100 IPR proceedings involving jet engines, wind turbines, medical devices, biologics, chemical compositions, smartphones, GPS and wearable technology, and e-vapor products.
In 2021, Anish was recognized by Legal 500 as a recommended lawyer for Patent Litigation, and in earlier editions he was recommended for his appellate work. He also has been named among The World's Leading Patent Professionals for Patent Litigation in New York by IAM Patent 1000, recognized on Benchmark Litigation's 2019 "40 & Under Hot List," and honored as "Best in Patent" by Euromoney in its "Americas Rising Stars Awards" in both 2018 and 2019. In 2014, Anish was identified as a Rising Star for Intellectual Property Litigation by DC Super Lawyers.
Recent cases that Anish has been involved with include:
Representing General Electric in infringement actions and IPR proceedings adverse to competitor Vestas Wind Systems relating to wind turbine technology.
Lead counsel for GE Aviation in IPR proceedings and Federal Circuit appeals involving jet engine technology.
Representing Sanofi in litigation, IPR proceedings and Federal Circuit appeals relating to insulin formulations and insulin delivery devices.
Co-lead counsel for Johnson & Johnson in two litigations involving thirteen patents asserted against Intuitive Surgical relating to surgical staplers. Also lead-counsel in multiple IPR proceedings filed by Intuitive Surgical.
Represented General Electric in infringement and antitrust actions adverse to Mitsubishi Heavy Industries that resulted in a $170 million patent infringement judgment for GE following a jury trial, and summary judgment of non-infringement on a patent asserted by MHI.
Represented BASF in seven IPR proceedings relating to diesel exhaust treatment. The PTAB denied institution as to several claims in four of the IPR proceedings and affirmed the validity of all challenged claims in three of the IPR proceedings after a final written decision.
Represented BASF against Bayer CropScience in a declaratory judgment litigation Bayer filed in the Eastern District of Virginia.
Awards and Recognition, Firm News & Announcements
Anish Desai Wins 2019 "Best in Patent" Rising Star Award

Award Brief — Euromoney

Anish Desai Recognized as Among Top 50 Attorneys Before the PTAB in 2018

Award Brief — Managing Intellectual Property's 2018 Top PTAB Petitioners, Patent Owners and Law Firms

Anish Desai Wins 2018 "Best in Patent" Rising Star Award

Award Brief — Euromoney

Anish Desai Named to "40 & Under Hot List"

Award Brief — Benchmark Litigation

Anish Desai Named a "Recommended" Lawyer for Patent Litigation: Full Coverage

Award Brief — Legal 500 US
Firm News & Announcements