Biography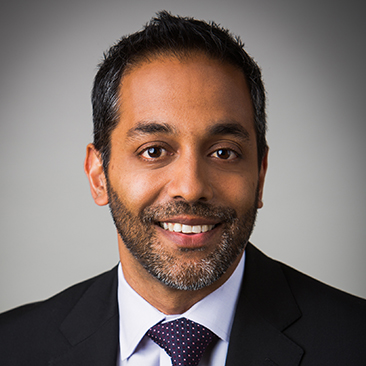 Anish Desai focuses on patent litigation in U.S. District Courts, the U.S. International Trade Commission, and the U.S. Court of Appeals for the Federal Circuit. Mr. Desai has also represented clients as lead counsel in inter partes review proceedings. In 2016, Mr. Desai was one of the top attorneys involved in Patent Trial and Appeal Board proceedings.
Mr. Desai has had significant roles in both jury and bench trials, including direct and cross-examination of key witnesses, presenting at Markman hearings, and arguing both discovery and case-dispositive motions. His representations have covered a wide array of industries including wind and gas turbine, medical device, chemical, biopharma, consumer electronics, semiconductor, and computer networking.
In 2018, Mr. Desai was again recognized by Legal 500 as a recommended lawyer for Patent Litigation, and in earlier editions he was recommended for his appellate work. He also is named among The World's Leading Patent Professionals for Patent Litigation in New York by IAM Patent 1000, recognized on Benchmark Litigation's 2018 "40 & Under Hot List," and honored as "Best in Patent" by Euromoney in its inaugural "Americas Rising Stars Awards" in 2018. In 2014, Mr. Desai was identified as a Rising Star for Intellectual Property Litigation by DC Super Lawyers.
Recent cases that Mr. Desai has been involved with include:
General Electric Company v. Mitsubishi Heavy Industries, Ltd. (N.D. Tex. and M.D. Fl.) – Counsel for GE in infringement actions relating to wind turbines that resulted in a $170 million judgment for GE, and summary judgment of non-infringement for GE on the patent asserted by Mitsubishi.
Counsel for General Electric, BASF, Apple, The Dow Chemical Company, Under Armour, and Nu Mark in over 50 IPR proceedings involving turbofan engines, zeolite catalysts, smartphone and wearable technology, OLED compounds, and e-vapor products.
adidas AG v. Under Armour, Inc. (D. Del.) – Counsel for Under Armour in a district court case brought by adidas accusing Under Armour of infringing 13 patents related to wearable technology and mobile fitness applications.
Akzo Nobel Coatings Inc. v. The Dow Chemical Company (Del. Ch.) – Counsel for Dow in a breach of contract litigation relating to ownership of patent applications relating to polymers and coating formulations.
Highland Dwellings Together We Stand Legal Action Group v. District of Columbia Housing Authority – Pro bono counsel for public housing tenants in a litigation against DCHA. Successfully argued a motion for remand before the U.S. District Court for the District of Columbia.
Awards and Recognition, Speaking Engagements, Guides and Resources, Latest Thinking, Awards and Recognition, Firm News & Announcements, Speaking Engagements, Latest Thinking, Firm News & Announcements
Anish Desai Wins 2018 "Best in Patent" Rising Star Award

Award Brief — Euromoney

Anish Desai Named to "40 & Under Hot List"

Award Brief — Benchmark Litigation

Anish Desai Named a "Recommended" Lawyer for Patent Litigation: Full Coverage

Award Brief — Legal 500 US

Anish Desai Receives Bronze Ranking for Patent Litigation in DC Metro Area

Award Brief — IAM Patent 1000 – The World's Leading Patent Practitioners
The Intersection Between PTAB Decision Times and Innovation

Speaker(s): Elizabeth S. Weiswasser and Anish Desai

September 13, 2017 — New York, NY — As part of Managing Intellectual Property's Life Sciences Forum 2017, partner Elizabeth Weiswasser will moderate, and partner Anish Desai will participate on, a panel entitled "The Intersection Between PTAB Decision Times and Innovation."

Owning and Managing Your Customer Data

Speaker(s): Randi W. Singer, Anish Desai and Charan J. Sandhu

May 20, 2015 — New York, New York — As part of the 2015 Technology, Intellectual Property & Media Lunchtime Seminar series Weil attorneys discuss whether and how companies can "own" databases of customer information collected through mobile devices, wearable devices, home electronics and the like; licensing, terms of use and other means by which companies protect and share their consumer/end user data; and the implications of building products and business models around consumer/end user data.

Firm News & Announcements