Biography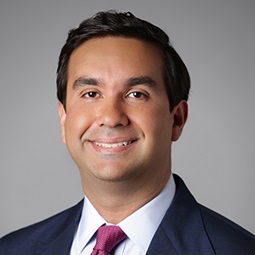 Alfonso Dulcey is an associate in Weil's Tax Department and is based in Miami. Alfonso participates in advising clients on federal income taxation of domestic and cross-border mergers, acquisitions, spin-offs, other disposition strategies, restructurings, acquisition financing and the use of pass-through entities in acquisitive and divisive transactions, with an emphasis on corporate and international tax planning.
Prior to joining Weil, Alfonso was a senior manager at KPMG.
Alfonso has been part of the teams advising:
Allego Holding B.V. (a portfolio company of Meridiam Infrastructure Partners) in its pending $3.14 billion business combination with Spartan Acquisition Corp. III, a SPAC sponsored by Spartan Acquisition Sponsor III LLC (an affiliate of Apollo Global Management)
Austerlitz Acquisition Corporation I, a SPAC sponsored by Austerlitz Acquisition Sponsor, LP I, an affiliate of Trasimene Capital Management, LLC, in its $3.2 billion business combination with Wynn Interactive, Ltd.
Berkshire Partners in its acquisition of VetStrategy
Campbell Soup Company in its $2.2 billion sale of Campbell International, Inc. and its $300 million sale of Kelsen Group A.S
Churchill Capital Corp III, a SPAC sponsored by Churchill Capital Group, in its $5.7 billion merger with MultiPlan, Inc. that has an enterprise value based on the transaction of approximately $11 billion
Churchill Capital Corp IV, a SPAC sponsored by Churchill Capital Group, in its $11.75 billion merger with Lucid Motors
Foley Trasimene Acquisition Corp. II, a SPAC sponsored by an affiliate of Trasimene Capital Management, LLC and led by William P. Foley II, in a $9 billion business combination with Paysafe Limited
Froneri International Limited (a joint venture between Nestlé and PAI Partners) in its $4 billion acquisition of Dreyer's Grand Ice Cream Holdings, Inc.
GS Acquisition Holdings Corp II, a SPAC sponsored by an affiliate of Goldman Sachs, in its $2.6 billion business combination with Mirion Technologies, Inc. (at the time, a portfolio company of Charterhouse Capital Partners)
Hologic, Inc. in its $159 million acquisition of Diagenode, Inc.
Pigments Spain, S.L. (a company of the Esmalglass-Itaca-Fritta group, a portfolio company of Lone Star Funds) in its up to $492 million acquisition of the Tile Coatings Business of Ferro Corporation
SiriusXM in its acquisitions of Simplecast and Stitcher
THI Investments in its acquisition of the university partnerships, English language schools and digital divisions of Oxford International Education Group (a portfolio company of Bowmark Capital)
Wejo Limited in its pending $1.1 billion business combination with Virtuoso Acquisition Corp., a SPAC sponsored by Virtuoso Sponsor LLC
Westinghouse Electric Company, LLC (a portfolio company of Brookfield Business Partners) in its acquisition of the North American Civil Nuclear Systems and Services Business from Rolls-Royce Holdings plc
Willis Towers Watson PLC in its proposed $80 billion combination with Aon PLC
Alfonso is the Executive Vice President of the U.S. Branch of the International Fiscal Association's (IFA) Young IFA Network (YIN) and a member of the Líderes Board of LatinoJustice PRLDEF.
Alfonso received his LLM in Taxation from New York University School of Law, his J.D. from Cornell Law School, where he was a member of the Latino American Law Students Association, and his B.A. from Johns Hopkins University, where he made the Dean's List and was a John Howard Eager Scholar.
Latest Thinking, Firm News & Announcements
Firm News & Announcements