October 28, 2019
LONDON, OCTOBER 28, 2019: International law firm Weil, Gotshal & Manges LLP today announced that Jenny Doak will join the Firm as a Tax partner in the London office.
Jenny is currently a Tax partner at Vinson & Elkins. She has a versatile practice covering restructurings (including formal insolvency arrangements and solvent restructurings); public and private M&A, joint ventures, financings, debt and equity capital markets; and loan acquisitions.
Weil Executive Partner Barry Wolf said: "Jenny is a seasoned Tax practitioner with a wide range of experience, and we are delighted to welcome her to the Firm. She joins during an exciting time of growth in our global Tax practice, and she will be an important new member of our Weil team."
"The London Tax practice is the second-largest in the Weil network, having won numerous awards in recent years," said London Managing Partner Mike Francies. "Jenny's arrival further strengthens our senior bench alongside Oliver Walker and Aron Joy. She will make a great addition to the practice and to the Firm."
About Weil
Founded in 1931, Weil, Gotshal & Manges LLP has been a preeminent provider of legal services for more than 80 years. With approximately 1,100 lawyers in offices on three continents, Weil has been a pioneer in establishing a geographic footprint that has allowed the Firm to partner with clients wherever they do business. The Firm's four departments, Corporate, Litigation, Business Finance & Restructuring, and Tax, Executive Compensation & Benefits, and more than two dozen practice groups are consistently recognized as leaders in their respective fields.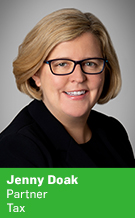 ---
Media Inquiries
Weil Public Relations
Christopher Rieck
Director, Communications