November 13, 2023
WASHINGTON, D.C., NOVEMBER 13, 2023: International law firm Weil, Gotshal & Manges LLP announced today that experienced private funds regulatory lawyer Christopher J. Scully has joined the Firm as a partner in the Private Funds practice, based in the Washington, D.C. office.
"Chris is a talented attorney with an impressive background in the private funds regulatory space, including advising on SEC rule changes that are of direct interest to our clients," said Weil Executive Partner Barry Wolf.  "He will be a great asset to the Private Funds practice and will enhance the culture of teamwork and collaboration that we embrace at the Firm."
"We are delighted to welcome Chris to the Firm.  His regulatory expertise will be invaluable as we continue to expand our market-leading Private Funds practice," said Michael J. Aiello, Chairman of Weil's global Corporate Department.
Chris focuses his practice on representing private investment funds and SEC-registered, state-registered and exempt advisers. He advises clients in connection with private fund formation, structuring and fundraising, regulatory and compliance matters, renewing and negotiating separately managed account agreements, reviewing investor communications and marketing materials, drafting operating agreements for investment advisers, and negotiating third-party contracts and seed arrangements.
Chris joins Weil from Kirkland & Ellis, where he was a partner in the Investment Funds Practice Group of the Corporate Department.
"I am very excited to be joining the team at Weil and to be supporting the Firm's private funds capabilities in this evolving regulatory environment," said Chris. "I look forward to continuing to build our practice and to providing our premier global funds clients top-of-market service."
About Weil's Private Funds Practice
Weil's Private Funds Practice has a global footprint, with highly ranked practitioners in the United States and Europe. Our team of more than 60 full-time dedicated private funds lawyers is able to serve all of our clients' needs, wherever they are based and wherever they are raising funds. Our client base covers a broad range of the fund sponsor spectrum, from some of the largest, most well-established players to emerging participants. We have formed funds for a significant number of clients ranging from multi-billion dollar funds, to middle-market funds, to funds for emerging clients.
About Weil
Founded in 1931, Weil, Gotshal & Manges LLP has been a preeminent provider of legal services for more than 90 years. With approximately 1,100 lawyers in offices on three continents, Weil has been a pioneer in establishing a geographic footprint that has allowed the Firm to partner with clients wherever they do business. The Firm's four departments, Corporate, Litigation, Restructuring, and Tax, Executive Compensation & Benefits, and more than two dozen practice groups are consistently recognized as leaders in their respective fields.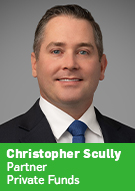 ---
Media Inquiries
Weil Public Relations
Christopher Rieck
Director, Communications
Peter Ottaviano
Senior Manager, Communications