July 05, 2022
NEW YORK, JULY 5, 2022: International law firm Weil, Gotshal & Manges LLP announced today that Regina L. Readling has joined the Firm as a partner in the Executive Compensation & Benefits practice, based in Weil's New York office.
Weil Executive Partner Barry Wolf said: "Regina brings a broad array of experience to our Executive Compensation & Benefits practice, particularly in relation to public company M&A transactions. She is a talented lawyer with an excellent market reputation and will be an outstanding fit with Weil's culture of teamwork and collaboration – we are delighted to welcome Regina to the Firm."
"Regina's sophisticated understanding of executive compensation and benefits matters and her deep experience with public company M&A and compensation advisory work will be a tremendous asset to the Firm's clients," said Paul Wessel, Co-Chair of Weil's global Tax Department and Head of the Firm's Executive Compensation & Benefits practice. "We are thrilled to have such a respected and talented lawyer join our team."
Regina joins Weil from the New York office of Sullivan & Cromwell LLP. Her practice focuses on the executive compensation and employee benefits aspects of corporate transactions, including mergers and acquisitions, divestitures, initial public offerings and other strategic transactions. In addition to her significant transactional practice, Ms. Readling has experience advising on a broad range of public and private company compensation issues and routinely counsels companies, boards of directors, compensation committees and executives on tax, securities law, disclosure and corporate governance matters pertaining to executive compensation arrangements.
"I am very excited to join the esteemed Executive Compensation & Benefits team at Weil," Regina said. "The Firm's excellence in M&A and corporate transactions provides an ideal platform for my work advising clients on compensation, governance, disclosure and compliance matters."  
Weil's Executive Compensation & Benefits Practice
Weil's Executive Compensation & Benefits lawyers are strategically located in the United States and United Kingdom. Our lawyers work in close coordination with the Firm's M&A, Private Equity, Private Funds and Restructuring practices, and regularly advise global clients on issues associated with compensation and benefit arrangements that arise in these commercial matters. Our lawyers provide a full suite of advice on the design and implementation of compensation and benefit arrangements. Weil advises companies on senior executive and management employment and compensation arrangements, including for employment, separation, retention, cash incentives, equity incentives (such as stock options, restricted stock, partnership profits and capital interests, and other alternative forms of equity compensation), deferred compensation, golden parachutes, and pension and retirement. Weil also regularly counsels clients in connection with ERISA, pension investments and fiduciary matters.
About Weil
Founded in 1931, Weil, Gotshal & Manges LLP has been a preeminent provider of legal services for more than 90 years. With approximately 1,100 lawyers in offices on three continents, Weil has been a pioneer in establishing a geographic footprint that has allowed the Firm to partner with clients wherever they do business. The Firm's four departments, Corporate, Litigation, Restructuring, and Tax, Executive Compensation & Benefits, and more than two dozen practice groups are consistently recognized as leaders in their respective fields.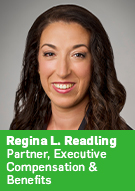 ---
Media Inquiries
Weil Public Relations
Christopher Rieck
Director, Communications