April 17, 2023
HOUSTON, APRIL 17, 2023: International law firm Weil, Gotshal & Manges LLP announced today that Omar Samji – a leading, "next-generation" energy lawyer – has joined the Firm as a partner in the Corporate Department, based in the Houston office.
"I'm delighted to welcome Omar to the Firm," said Weil Executive Partner Barry Wolf. "We're focused on offering our clients best-in-class counsel as the energy sector continues to innovate, and Omar's expertise and leadership in this space will help us to achieve that."
"As investment in the global energy sector continues to evolve and diversify, our clients are increasingly focused on emerging opportunities in this dynamic field," said Michael Aiello, Chairman of Weil's global Corporate Department. "Omar will help our clients keep abreast of next-generation technologies as climate change, decarbonization and sustainability remain top priorities."
"With his deep experience in energy and energy transition, Omar expands our capabilities in the sector – particularly in Houston where many significant companies and financing sources are based," said Courtney Marcus, Co-Managing Partner of Weil's Dallas office. "We're excited about the opportunities to build and deepen our relationships with clients across the energy spectrum."
Omar represents companies and investors in M&A, joint ventures, and project development in transitional sectors of the energy industry, including hydrogen, carbon capture, use and sequestration (CCUS), energy storage, and renewable fuels. He also counsels clients on corporate governance matters.
He joins Weil from Shearman & Sterling where he was a partner and leader of that firm's Energy Innovation Team, helping clients integrate emerging low-carbon technologies into their strategies, develop successful projects and close strategic deals.
"I'm delighted to join Weil at this exciting time for the Firm and for the energy industry," said Omar. "The opportunities for serving the Firm's premier clients in M&A, private equity investment, and low carbon energy project development are enormous. I'm also looking forward to supporting Weil's work on ESG matters, project finance, infrastructure investments and energy-related restructurings."
About Weil's Energy Practice
Weil has been involved in many of the significant M&A, restructurings, financing transactions and complex disputes that have helped shape the energy industry in recent years. The Firm has significant experience in the energy industry, which extends to all facets of the oil and gas, power and renewable sectors. Our experience includes upstream, midstream and downstream work and ranges from oil and gas exploration and production to marketing, retail power, and energy trading operations, as well as to the growing area of low carbon energy.
About Weil
Founded in 1931, Weil, Gotshal & Manges LLP has been a preeminent provider of legal services for more than 90 years. With approximately 1,100 lawyers in offices on three continents, Weil has been a pioneer in establishing a geographic footprint that has allowed the Firm to partner with clients wherever they do business. The Firm's four departments, Corporate, Litigation, Restructuring, and Tax, Executive Compensation & Benefits, and more than two dozen practice groups are consistently recognized as leaders in their respective fields.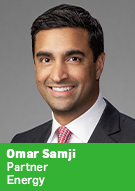 ---
Media Inquiries
Weil Public Relations
Christopher Rieck
Director, Communications
Peter Ottaviano
Senior Manager, Communications