April 01, 2021
NEW YORK, April 1, 2021: International law firm Weil, Gotshal & Manges LLP announced today that Kevin J. Sullivan joined as a partner in the Firm's global Corporate Department, based in the New York office.
"Kevin's practice focuses on complex insurance issues that arise in private equity, M&A, restructuring and other contexts," said Weil Executive Partner Barry Wolf. "His expertise will make him a great addition to the firm."
"Nearly all of our clients' public and private transactions require an intricate understanding of directors and officers policies, and Kevin brings deep experience in these key areas," said Michael Aiello, Chairman of Weil's global Corporate Department. "Notably, he has counseled an impressive roster of blue-chip companies on representation and warranty insurance and other insurance matters that arise across all types of transactions."
Kevin joins Weil with more than 20 years of insurance industry experience, forging relationships with public companies, private equity sponsors, banks and others. Most recently he served as a Managing Director at Aon PLC and before that he held the same title at Marsh & McLennan.
"After working for two of the world's most successful insurance brokers, I am excited about returning to private practice and making Weil my professional home," Kevin commented. "It's a great fit in terms of both practice synergies and cultural values – including dedication to client service, entrepreneurship and collaboration."
About Weil
Founded in 1931, Weil, Gotshal & Manges LLP has been a preeminent provider of legal services for the past 90 years. With approximately 1,100 lawyers in offices on three continents, Weil has been a pioneer in establishing a geographic footprint that has allowed the Firm to partner with clients wherever they do business. The Firm's four departments, Corporate, Litigation, Restructuring, and Tax, Executive Compensation & Benefits, and more than two dozen practice groups are consistently recognized as leaders in their respective fields.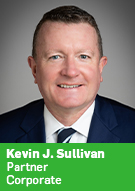 Key Contacts
Media Inquiries
Weil Public Relations
Christopher Rieck
Director, Communications
Rachel Losowski
Senior Manager, Business Development Communications