January 17, 2023
NEW YORK, JANUARY 17, 2023: International law firm Weil, Gotshal & Manges LLP announced today that Arnold (Arnie) Fridhandler is rejoining the Firm as a partner in the global Private Equity practice, based in the New York office.
"Arnie is a fantastic addition to our premier global Private Equity practice," said Weil Executive Partner Barry Wolf. "We know him well and we know our clients will greatly value the unique experience and skills he brings to Weil.  He will be a seamless addition to our practice, particularly given his strong background in deal execution."
"Arnie has deep experience navigating global buyouts, joint ventures and other complex transactions for some of the world's most respected private and public investors," said Michael Aiello, Chairman of Weil's global Corporate Department. "He brings sophisticated client-side experience along with an extensive law firm background. His return to our private equity deal team—as a former colleague and client—reflects the quality of Weil's lawyers and strong culture of the firm."
Arnie had been an associate at Weil prior to joining the New York office of GIC Private Limited in 2020, where he was Vice President and Assistant General Counsel. While at GIC, Arnie focused on private equity investments and real estate acquisitions, ranging from sponsor-backed ventures to GIC-controlled investments and take-privates.
"Weil's Private Equity team is an elite group of market leaders dedicated to delivering exceptional results for sophisticated global clients," said Arnie. "It's truly exciting to be able to work alongside some of my former colleagues and mentors again, helping to secure positive outcomes for our clients on complex transactions of all types."
About Weil's Private Equity Practice
Weil's global Private Equity practice was founded over 25 years ago and is unique amongst its peers in its focus exclusively on private equity transactions. Weil represents a majority of the largest private equity funds and is routinely recognized as one of the top firms in this area, both nationally and internationally.
About Weil
Founded in 1931, Weil, Gotshal & Manges LLP has been a preeminent provider of legal services for more than 90 years. With approximately 1,100 lawyers in offices on three continents, Weil has been a pioneer in establishing a geographic footprint that has allowed the Firm to partner with clients wherever they do business. The Firm's four departments, Corporate, Litigation, Restructuring, and Tax, Executive Compensation & Benefits, and more than two dozen practice groups are consistently recognized as leaders in their respective fields.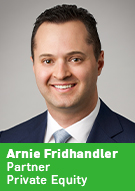 ---
Media Inquiries
Weil Public Relations
Christopher Rieck
Director, Communications