Biography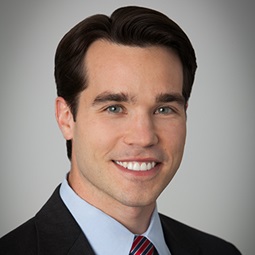 Sutton Ansley is counsel in Weil's Washington, DC office and a member of the Firm's Patent Litigation practice, where he focuses on 337 investigations before the U.S. International Trade Commission, district court patent litigation, and inter partes reviews before the U.S. Patent and Trademark Office.
Sutton has served on teams representing clients in litigations involving the fields of metallurgy, computer architecture, semiconductors, user interface, cable set-top boxes, software, smartphones, and network communications. Some representative matters on which he has worked include:
In the Matter of Certain Digital Televisions and Components Thereof, Inv. No. 337-TA-789
Motorola Mobility LLC v. Apple Inc., Consolidated Case Nos. 1:10-cv-23580-RNS and 1:12-cv-20271-RNS
In the Matter of Certain Mobile Handset Devices and Related Touch Keyboard Software, Inv. No. 373-TA-864
adidas AG et al. v. Under Armour et al., Case. No. 14-cv-130-GMS
Sutton possesses a broad skillset from his years of litigation experience. For example, he has taken and defended depositions, advised on litigation strategy, managed various phases of a case, and drafted a diverse number of filings and other papers, including granted motions, expert reports, witness statements, and briefs. Sutton has also worked on teams counseling clients on IP licensing arrangements, including those leading up to or that resulted from corporate mergers and acquisitions.
Outside of the intellectual property context, Sutton dedicates his time to pro-bono matters. He has worked towards securing the safety and rights of a class of foster care children in state custody, served on a team of attorneys representing deaf and hard of hearing inmates seeking to obtain ADA-mandated accommodations, and assisted a local small-business owner in resolving a complex legal dispute. In one matter, Sutton delivered opening remarks to a magistrate judge at a mediation, during which Sutton and the team of attorneys were able to overcome persistent barriers to a settlement while garnering several favorable outcomes for the clients.
Sutton earned his J.D. from the University of Virginia School of Law and his B.S.,
summa cum laude
, Phi Beta Kappa, in physics-engineering from Washington & Lee University.
Speaking Engagements
Recent and Upcoming Changes in Patents

Speaker(s): Sutton Ansley

September 22, 2021 — Virtual Event — Patent Litigation counsel Sutton Ansley appeared on a panel at Managing Intellectual Property's US Patent Forum discussing the current challenges and strategic outlook for patents.

Claim Amendments Under the PTAB Pilot Program

Speaker(s): Sutton Ansley

September 24, 2020 — Virtual Event — Patent Litigation counsel Sutton Ansley appeared on a panel at the PTAB Bar Association's 2020 Annual Conference providing guidance and best practices regarding claim amendments under the PTAB's pilot program.