Biography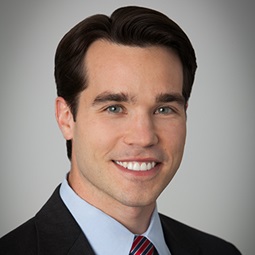 Sutton Ansley is a partner in Weil's Washington, D.C. office and a member of the Firm's Patent Litigation practice, where he focuses on 337 investigations before the U.S. International Trade Commission, district court patent litigation, and inter partes reviews before the U.S. Patent and Trademark Office.
Sutton has represented clients in litigations involving the fields of medical devices, pharmaceuticals, wind turbine technology, turbofan engines, consumer products and packaging, metallurgy, computer architecture, semiconductors, cable set-top boxes, software, smartphones, and network communications and protocols.
Sutton possesses a broad skillset from his years of litigation experience. His trial experience includes conducting examinations of expert witnesses, Markman hearings, and oral arguments before the Patent Trial and Appeal Board, as well as case management and crafting litigation strategy. He also counsels clients on IP licensing arrangements, including those leading up to or that resulted from corporate mergers and acquisitions.
Experience
Representing GE Renewables in district court litigation and inter partes review proceedings adverse to a competitor

relating to wind turbine patents

.
Representing Sanofi in litigation, IPR proceedings and Federal Circuit appeals relating to insulin formulations and insulin delivery devices.
Representing Altria in infringement litigation in multiple venues regarding a portfolio of patents directed to e-vapor and smoking cessation technology.
Representing Bio-Rad in district court litigation relating to droplet digital PCR.
Representing broadcast networks in past litigations concerning the delivery of video streaming services.
Serving as counsel to a major technology company in district court litigation involving claims of infringement of nine patents relating to software user interfaces and set-top boxes.
Serving as counsel to Under Armour in a district court litigation brought by a competitor accusing Under Armour and its subsidiary of infringing 13 patents related to wearable technology and mobile fitness applications.
Serving as counsel to Nuance Communications in multi-front district court litigation and inter partes review proceedings adverse to a competitor, related to speech recognition, computer-assisted physician documentation and transcription technology.
Serving as counsel to semiconductor manufacturer Renesas in separate ITC cases filed by and against a competitor that sought to block importation of televisions incorporating our client's chipsets.
Sutton also dedicates his time to pro-bono matters that involved the safety and rights of a class of foster care children in state custody, access of deaf and hard of hearing inmates to certain accommodations, and assisting a local small-business owner to resolve a complex legal dispute. In one matter, Sutton delivered opening remarks to a magistrate judge at a mediation, during which he and the team of attorneys were able to overcome persistent barriers to a settlement while garnering several favorable outcomes for the clients.
Sutton has given talks and led panels on various legal issues from IP procedure and practice to global IP trends. He earned his J.D. from the University of Virginia School of Law and his B.S., summa cum laude, Phi Beta Kappa, in physics‑engineering from Washington & Lee University.
Speaking Engagements, Firm News & Announcements
Recent and Upcoming Changes in Patents

Speaker(s): Sutton Ansley

September 22, 2021 — Virtual Event — Patent Litigation counsel Sutton Ansley appeared on a panel at Managing Intellectual Property's US Patent Forum discussing the current challenges and strategic outlook for patents.
Firm News & Announcements