Biography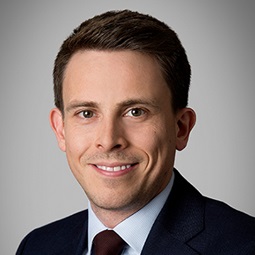 Lewis Blakey is a Private Equity partner in London, specialising in advising private equity and other financial investors on buyouts (including complex carve-out and public-to-private transactions), growth equity/minority investments, and exits (including sales and IPOs).
Lewis is ranked for his private equity practice in both Legal 500 UK 2023 and IFLR1000 UK 2022/23, and has consistently been recognised as a rising star of the private equity market. Lewis was also a key member of the Weil team awarded 2020 Private Equity Team of the Year at the Legal Business Awards for its work advising Bain Capital on the $4bn acquisition of 60% of Kantar from WPP Group. In the directories, Lewis has recently been described as "an excellent private equity/M&A lawyer", "very bright, extremely tenacious and hard-working", "a valued member of our deal team", and "a rising star, who will quickly become a leader in his field" who has an "extremely commercial perspective, with a mind that can consider the question from all angles."
In 2018, Lewis was seconded to Advent International, where he served as European Counsel, advising on acquisitions, disposals and other matters.
Lewis' experience includes leading teams advising:
Advent International on the carve-out sale of Tag (part of the Williams Lea Tag group) to Dentsu
PSG on the sale of Nomentia to Inflexion
Bain Capital on the acquisition, together with Nextalia, of Deltatre
Cobham (a portfolio company of Advent International) on the carve-out and sale of its: (a) Mission Systems division to Eaton for $2.83bn; (b) Aerospace Connectivity division to TransDigm for $965m; (c) Aviation Services UK division to Draken International (a portfolio company of Blackstone); (d) Slip Rings division to Naxicap; (e) Microwave division to FCDE; (f) Special Mission division to Leidos; (g) Regional Services division to Rex; and (h) CAES Space division to Veritas Capital
Shieldco (a portfolio company of PSG) on the acquisition of 10to8
Kantar (a portfolio company of Bain Capital) on the merger, in partnership with SilverTree Equity, of Kantar Xtel with StepUp
M&G Catalyst on the investment in Northern Gritstone, a company founded by the Universities of Leeds, Manchester and Sheffield to focus on university spin-outs in the north of England
Advent International on the investment in Medius
Bain Capital on the co-investment arrangements with NB Renaissance relating to the acquisition of Inetum SA
Sumeru Equity Partners on the investment in iProov Limited
Advent International on the acquisition, together with Viking Global, of Global Processing Services
The consortium led by Advent International on the $8bn offer for Swedish Orphan Biovitrum AB (SOBI)
PSG on the acquisition of Sign In App to form Shieldco
Aleph Capital on the entry into a strategic partnership with the J. Safra Group to create a leading pan-European non-performing loan platform and debt collection agency
Kantar (a portfolio company of Bain Capital) on the: (a) acquisition of Numerator from Vista Equity Partners; and (b) carve-out and sale of its Health division to Cerner Corporation
Transaction Services Group (a portfolio company of Advent International) on the merger with Clearent (also a portfolio company of Advent International) to form Xplor Technologies
Advent International as lead investor in the $220m Series D fundraising of Shift Technology, which was valued at more than $1bn
M&G Catalyst: (a) as lead investor in the $168m Series B fundraising of Vaccitech, a spin-out from the University of Oxford which co-invented the Oxford-AstraZeneca COVID-19 vaccine, and on the IPO of Vaccitech; and (b) on the investments in Storegga Geotechnologies, Plastic Energy and Nuclera
Hornetsecurity (a portfolio company of PSG) on the acquisition of Altaro
Aareon (a portfolio company of Advent International) on the acquisitions of Arthur Online, Fixflo and Tilt Property Software
Advent International and Bain Capital on various investments in the payments sector, including most recently on the €7.8bn merger of their portfolio companies Nexi and Nets and the merger of Nexi with SIA
Aleph Capital and Crestview Partners on the simultaneous acquisitions and merger of Framestore and Company 3 / Method
PSG on the merger of its portfolio company MAPAL Software with Flow Hospitality
Advent International on the £4bn take private of Cobham plc
Bain Capital on the $4bn acquisition of 60% of Kantar from WPP Group (for which Weil was named 2020 Private Equity Team of the Year at the Legal Business Awards)
Advent International on the acquisition of Transaction Services Group and numerous add-on acquisitions
As Advent International's European Counsel, on the acquisitions of Circet, Deutsche Fachpflege Gruppe, GE Distributed Power (now INNIO), Laird and Zentiva, the disposals of Ammeraal Beltech, KMD, MAXAM and Mondo Minerals, and the merger of Nets with Concardis
Lone Star on the €1bn acquisition of a 75% stake in Novo Banco from the Portuguese Resolution Fund
Firm News & Announcements, Firm News & Announcements
Firm News & Announcements